Red Sox stun Angels with five-run ninth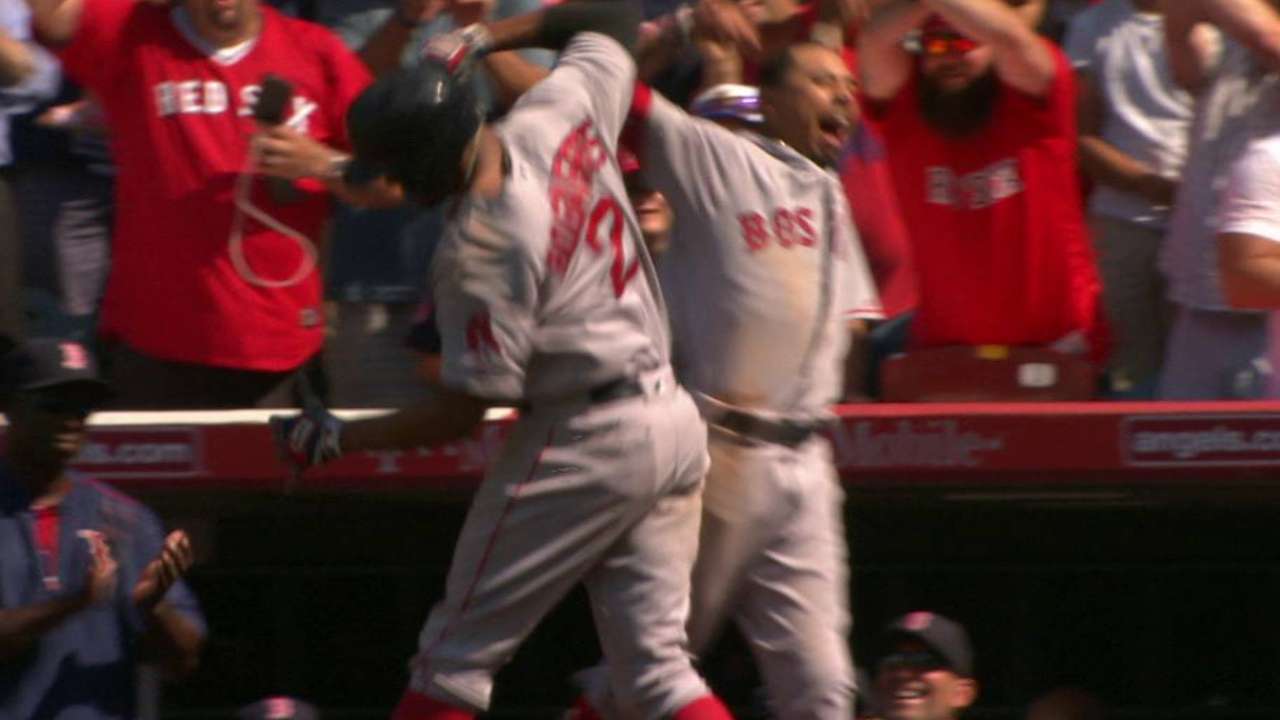 ANAHEIM -- Dustin Pedroia and Xander Bogaerts hit back-to-back homers to cap a five-run ninth inning as the Red Sox stormed back against Angels closer Huston Street for a 5-3 win in Sunday's series finale at Angel Stadium.
Down 3-0 entering the ninth, the Red Sox scratched a run off Street on a walk and two singles before the power surge. With a pair of runners on and two outs, Pedroia drove a hanging slider a Statcast-projected 417 feet to straightaway center to give Boston a 4-3 lead.
"There's 27 outs to get," said Pedroia. "I think I struck out my first three times. It's not like I was going to go cry or anything. You keep playing the game. That's the way baseball is. We're all professional and we're all going to try to win for 27 outs."
• Pedroia keys rally with winning homer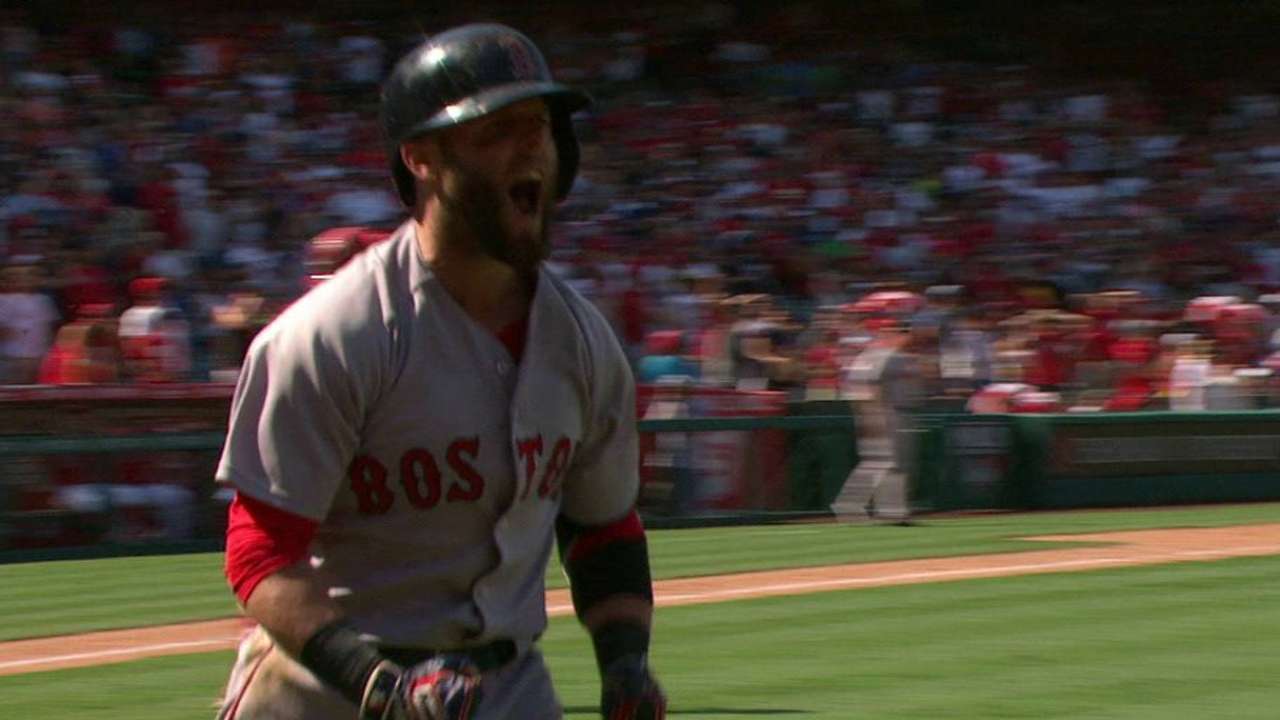 Three pitches later, Bogaerts deposited another slider a Statcast-projected 414 feet to left-center to put the exclamation point on the comeback and spoil the dominance of Angels starter Tyler Skaggs. The Red Sox's dugout erupted, as they salvaged a split of the four-game series after being in danger of losing for the eighth time in 10 games.
"It's just because we've been through a lot these few days, the past week-plus," said Bogaerts. "We've been through a lot of tough losses, and this was a special one. It can definitely change the whole season around for us. That's probably what everyone is hoping."
Skaggs, starting on the two-year anniversary of tearing the ulnar collateral ligament in his left elbow, battled through a high pitch count to turn in 5 1/3 scoreless innings. He allowed five baserunners, none reaching past second base, and struck out eight in a season-high 97-pitch outing.
"It's two years to the day," Skaggs said. "I've come a long way in those two years. I'm bigger, stronger, throwing harder. Maybe it's a blessing in disguise."
Red Sox knuckleballer Steven Wright braved a pair of early-inning rallies to keep the Angels scoreless until the fifth, when a Mike Trout line drive nicked off the top of shortstop Bogaerts' glove to bring home Yunel Escobar with the game's first run. The Angels scored twice more in the inning, knocking Wright out of the game.
It was the Red Sox's third win in their last 10 games, salvaging a series split in the four-game set. The Angels' two losses during the series were their only ones at home in 10 games since the All-Star break.
MOMENTS THAT MATTERED
Welcome back: Making his first start at Angel Stadium since July 2014 and his second overall since returning from Tommy John surgery, Skaggs was nearly unhittable, pairing a mid-90s fastball with a deadly curve. He extended his streak of scoreless innings to 29 combined over his last five starts between Triple-A and the Majors. He only really faced trouble in the fifth, allowing back-to-back one-out singles before rebounding to strike out Pedroia and Bogaerts. More >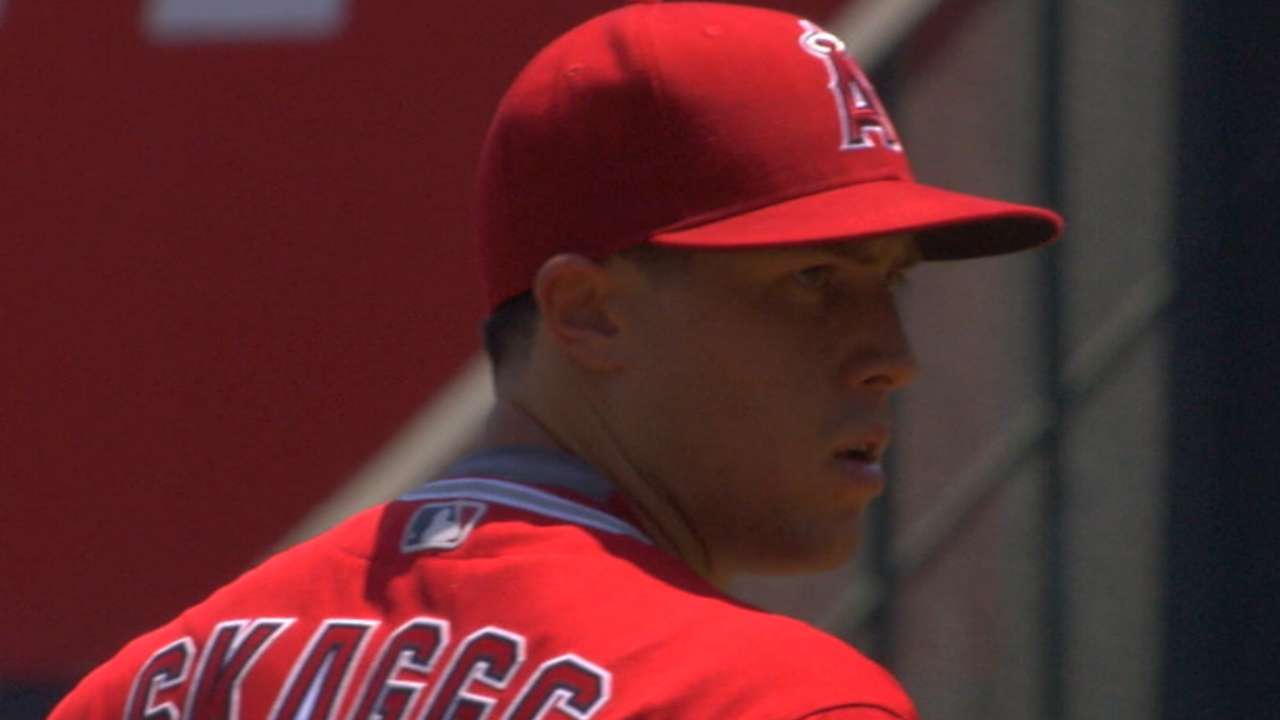 Farrell rung up in fifth: With the game still scoreless, the Red Sox had a golden opportunity after putting those runners on against Skaggs in the fifth. But the inning got away from Boston, starting when Pedroia was called out looking on a curveball. When Pedroia argued with home-plate umpire Gabe Morales, manager John Farrell quickly intervened and was ejected for the third time this season. Farrell likely saved Pedroia from getting tossed in the process, which wound up looming large considering what happened in the ninth.
"Given how quick his trigger was, yeah, he was on the verge [of getting ejected]," said Farrell. "I was out obviously supporting Pedey, and to be honest from the dugout, the height of the pitch, he had every right to complain. But as quick as his trigger was, Pedey might have been very close but thankfully, Pedey comes up big in the ninth."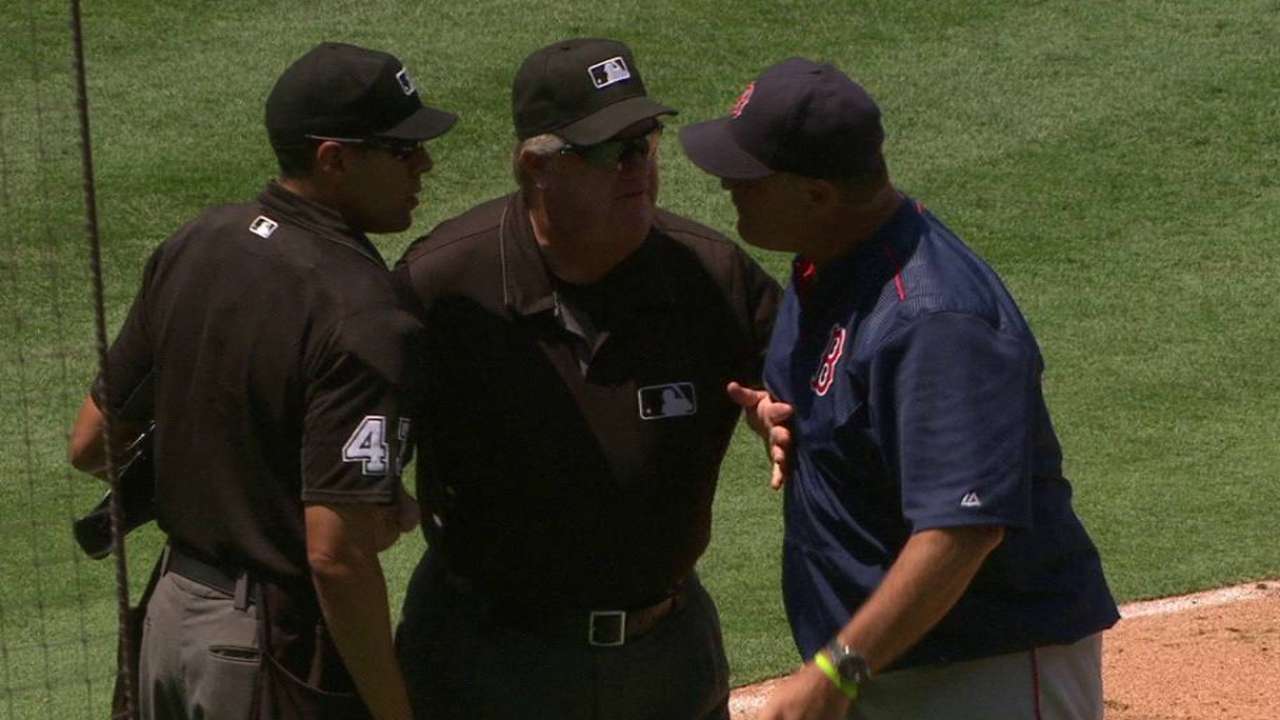 Street cleaning: Street's struggles have nagged him since returning from a left oblique injury. He posted a 1.17 ERA before the injury, but has an ERA of 8.62 in 17 appearances since. He gave up five runs in two-thirds of an inning on Sunday, the most he's allowed in an outing since Sept. 13 against Houston. Despite Street committing his third blown save this season in 12 chances (he had five in 45 chances last year), Angels manager Mike Scioscia said he's not ready to make a change at the closer role. Street said he believes he still has what it takes, using the weight of his 324 career saves to support it.
"Give me that next chance," Street said. "In my head, I'm going to go out there and get it done and figure out a way. That's what I've done my whole career. I've had way worse blown save seasons than this season. As far as hits and ERA, that stuff is terrible this season. It's not fun blowing a save. I'm not saying I'm done. I'm not saying I can't. I'll figure it out." More >
Red Sox nab two at plate in first: With runners first and second and nobody out in the first, Trout hit a single to left and Escobar was waved home. But in an effort to avoid the tag by catcher Ryan Hanigan, Escobar missed the plate. Hanigan also dropped the ball. But Wright alertly picked up the ball and tagged out Escobar, who was quite a ways from the plate. Scioscia discussed the play with Morales, but didn't ask for a review. With two outs, Andrelton Simmons struck out swinging, but the knuckleball squirted away from Hanigan, who recovered nicely and fired home to Wright for his second putout of the inning.
"The first one I really didn't know what was going on. I knew Hanny didn't make the tag because he dropped the ball," said Wright. "I didn't see the umpire make a call so I said, 'I'm better safe to grab the ball and tag him and then figure it out after that.' The second one, Hanny did a great job. He went after it and gave me a great feed, which makes it easier for me because then I'm right there on the bag and put the tag down for an out."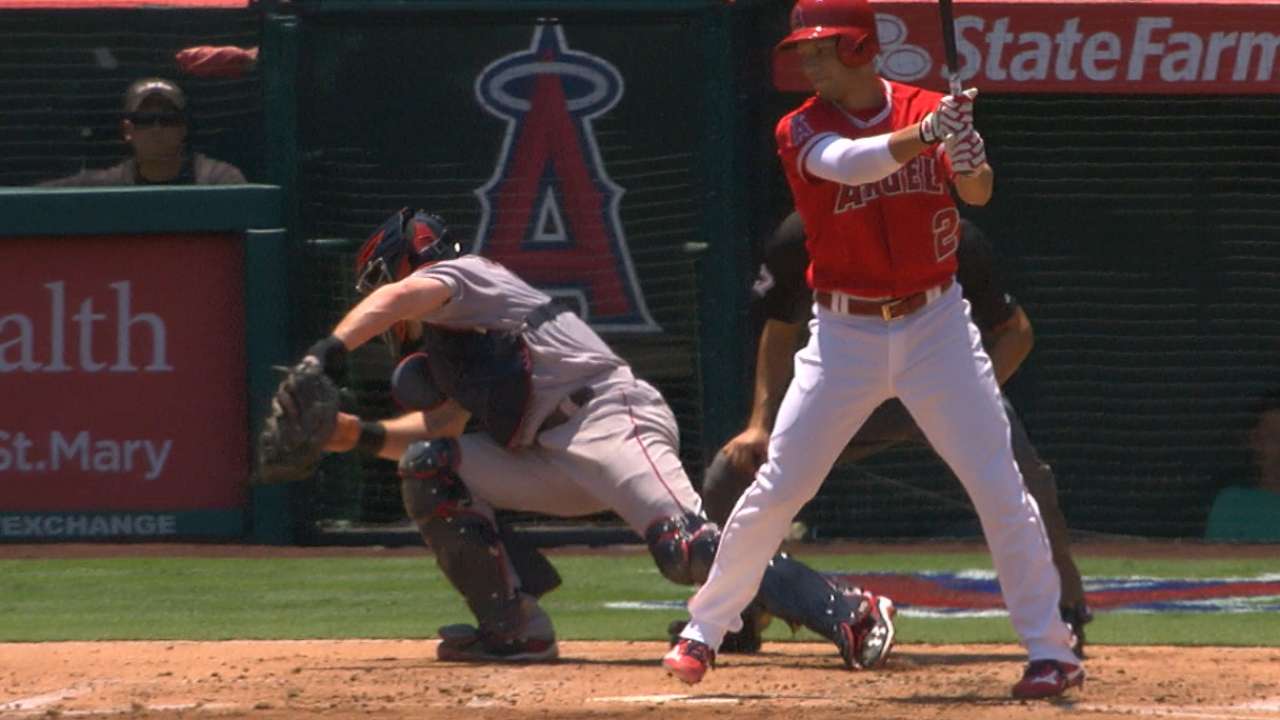 QUOTABLE
"I just said, 'I'm only 5-foot-7, I'm going to need a trampoline to hit that damn ball. What are we doing here? This is the Major Leagues." -- Pedroia, relaying his conversation with Morales
"It just wasn't very sharp. It just rolled in there, and that happens sometimes. You're trying to locate a pitch and you don't snap it off, that's probably what it was. I didn't pull it down hard enough. I thought since I put it in that location, he couldn't hit a homer." -- Street, on the slider he threw to Pedroia for the go-ahead home run
SOUND SMART WITH YOUR FRIENDS
Albert Pujols' RBI groundout in the fifth inning gave him 31 this month, the most in the Majors and the first 30-plus-RBI July since Alex Rodriguez and Delmon Young in 2010. Pujols finished just three shy of matching Jim Edmonds and Don Baylor for the club record for July.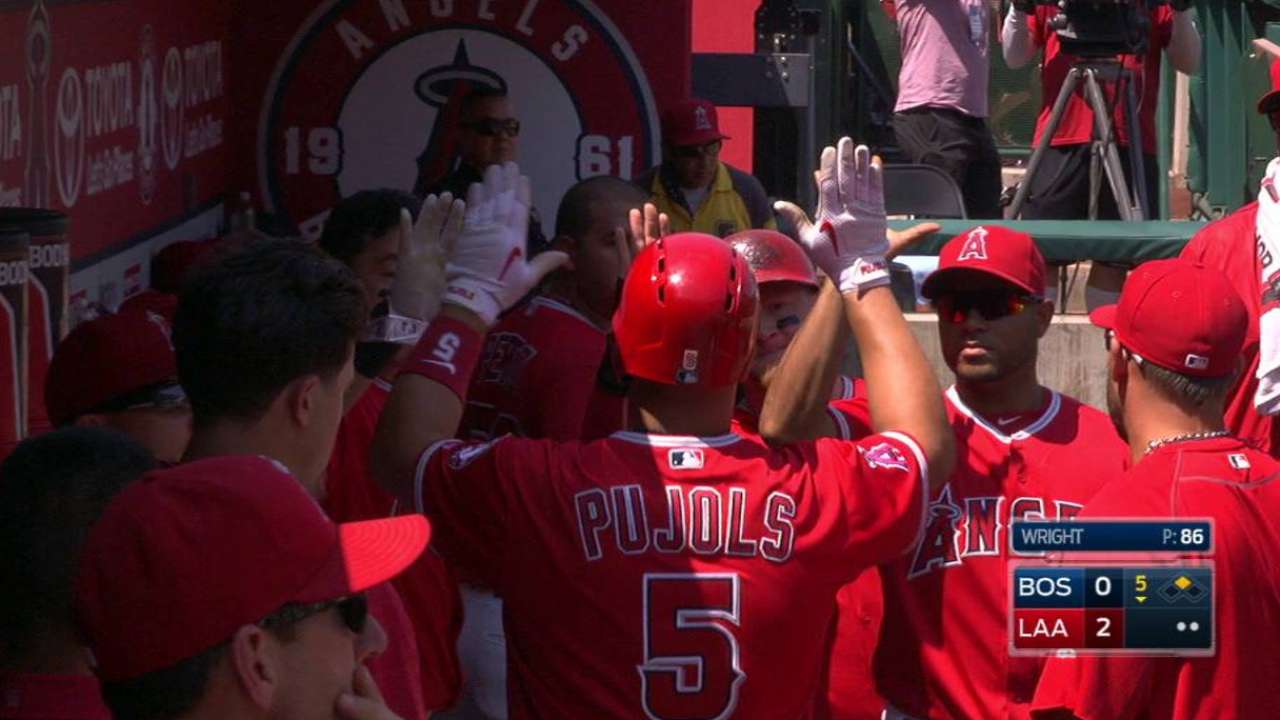 Trout is now hitting .318 this season after falling behind in the count, 0-2, compared to the Major League average of .166. He went 2-for-3 with a walk and his .425 on-base percentage is tied with the Astros' Jose Altuve for tops in the Majors.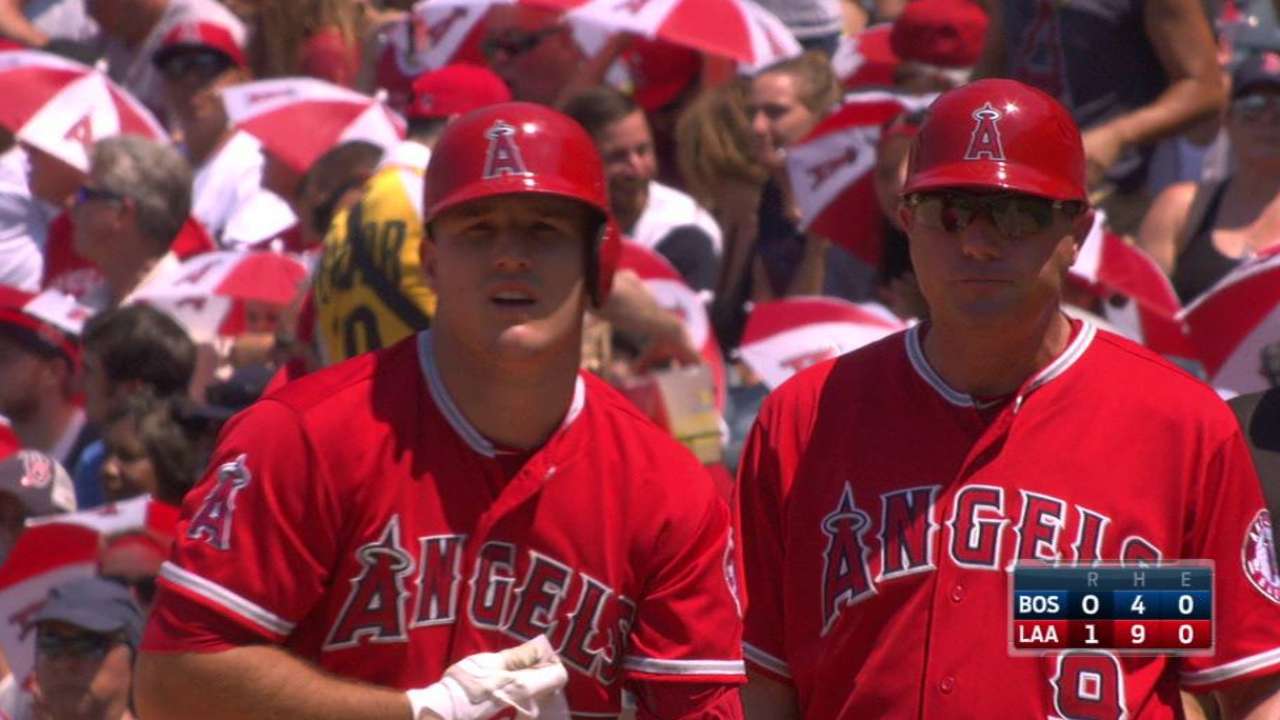 Pedroia has two go-ahead homers in his career in the ninth inning or later, and both have come off Street. The other one was on June 24, 2010, at Colorado.
WHAT'S NEXT
Red Sox: Lefty Eduardo Rodriguez gets the start as the Red Sox open a four-game series against the Mariners at Safeco Field on Monday night, with the first pitch scheduled for 10:10 p.m. ET. Rodriguez is 1-1 with a 3.06 ERA in three starts since returning from Triple-A.
Angels: The Angels will have an off-day on Monday, before opening a three-game set against Oakland on Tuesday. Matt Shoemaker will get the start in the 7:05 p.m. PT matchup. The right-hander has pitched like an ace since mid-May, including allowing just one run in two starts against the A's.
Watch every out-of-market regular-season game live on MLB.TV.
Fabian Ardaya is a reporter for MLB.com based in Anaheim who covered the Angels on Sunday.

Ian Browne has covered the Red Sox for MLB.com since 2002. Follow him on Twitter @IanMBrowne and Facebook. This story was not subject to the approval of Major League Baseball or its clubs.