Padres' trio of relievers drawing trade interest
Maurer, Buchter and Hand generating plenty of Deadline buzz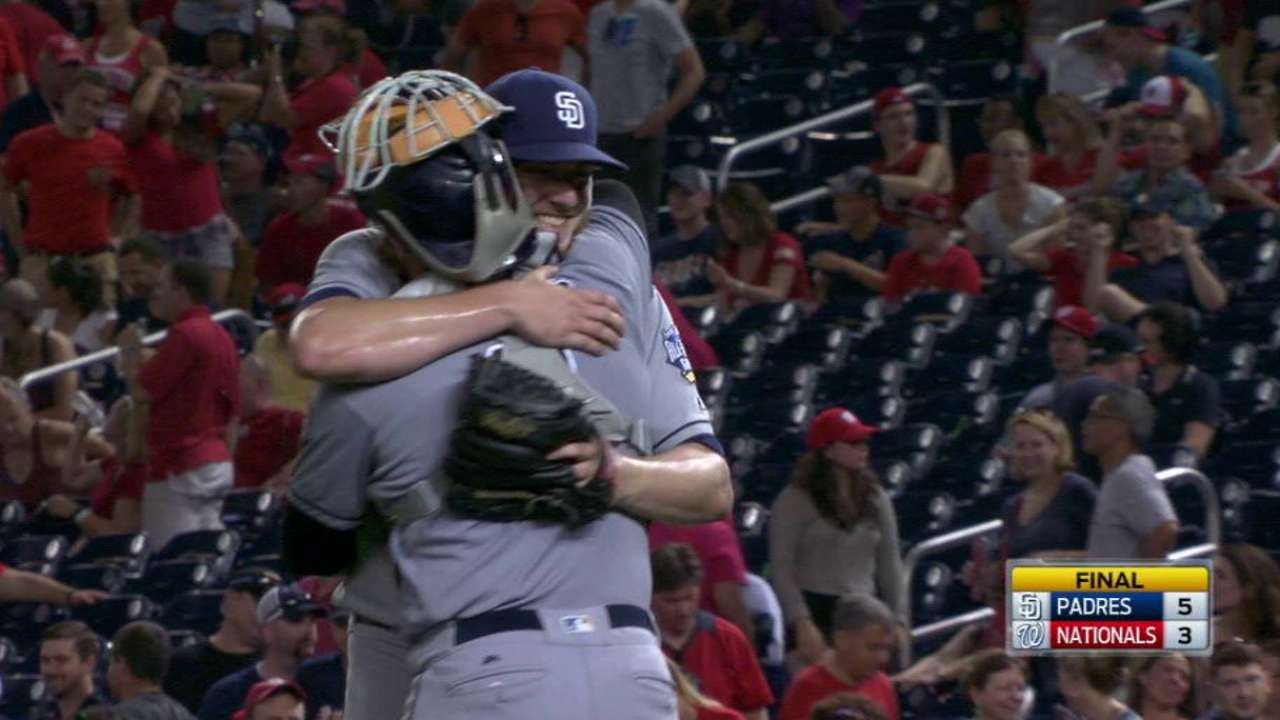 SAN DIEGO -- The Padres have been fielding calls about the three relievers at the back end of their bullpen. But the asking price might be too high for any deal to come to fruition -- in which case, Padres general manager A.J. Preller says he'd be perfectly content.
Righty closer Brandon Maurer and lefty setup men Ryan Buchter and Brad Hand all have plenty of team control remaining. Maurer and Hand will not become free agents until after the 2019 season, while Buchter isn't slated to hit the open market until 2021.
"It's going to ... take a lot for us to consider doing something with those guys, because it's a good part of our club, right now," Preller said. "There's definitely interest in our 'pen, just because of the way those guys have performed."
Preller said the trio has "been asked about a lot" in recent weeks, and understandably so.
"At this point in the year, there's always a lot of interest in relievers," Preller said. "Obviously, people are ... fighting neck and neck for a pennant. Everybody understands that a game here or there makes a big difference. A reliever down the stretch -- you're in there every single night, possibly four or five times a week. And our guys have thrown really well."
Since the Padres made Maurer closer at the start of July, the righty has a 0.73 ERA with just five hits allowed in 12 1/3 innings. In that span, Maurer's ERA has dropped from 5.83 to 4.50.
Buchter -- the least likely to be dealt because of the control the Padres still have -- owns a 2.87 ERA this season. He's only allowed runs in five of his 50 appearances this season, but three of those appearances saw him surrender four runs or more.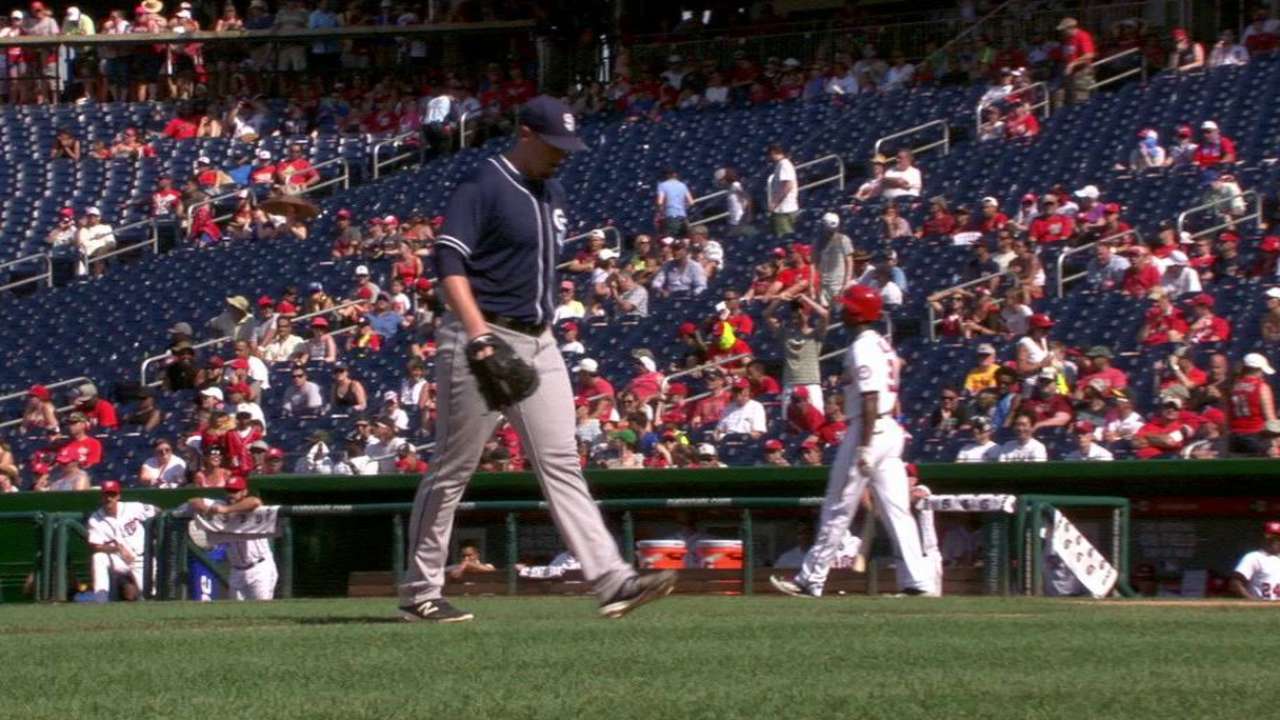 While he admits the trade talk is flattering, Buchter's preference is to remain in San Diego. He credits the Padres as the first organization to give him a big league chance after nine seasons almost exclusively in the Minors.
"I love San Diego," Buchter said. "It wouldn't [be bad] to stay here. I say that with a huge smile on my face. This place is awesome -- as a place to live and the way they treat us here. I would really enjoy staying here."
As for Hand, he's been a revelation for the Padres, who claimed him off waivers during the season's opening week. He owns a 3.04 ERA in 51 appearances and has limited lefties to a .155/.273/.250.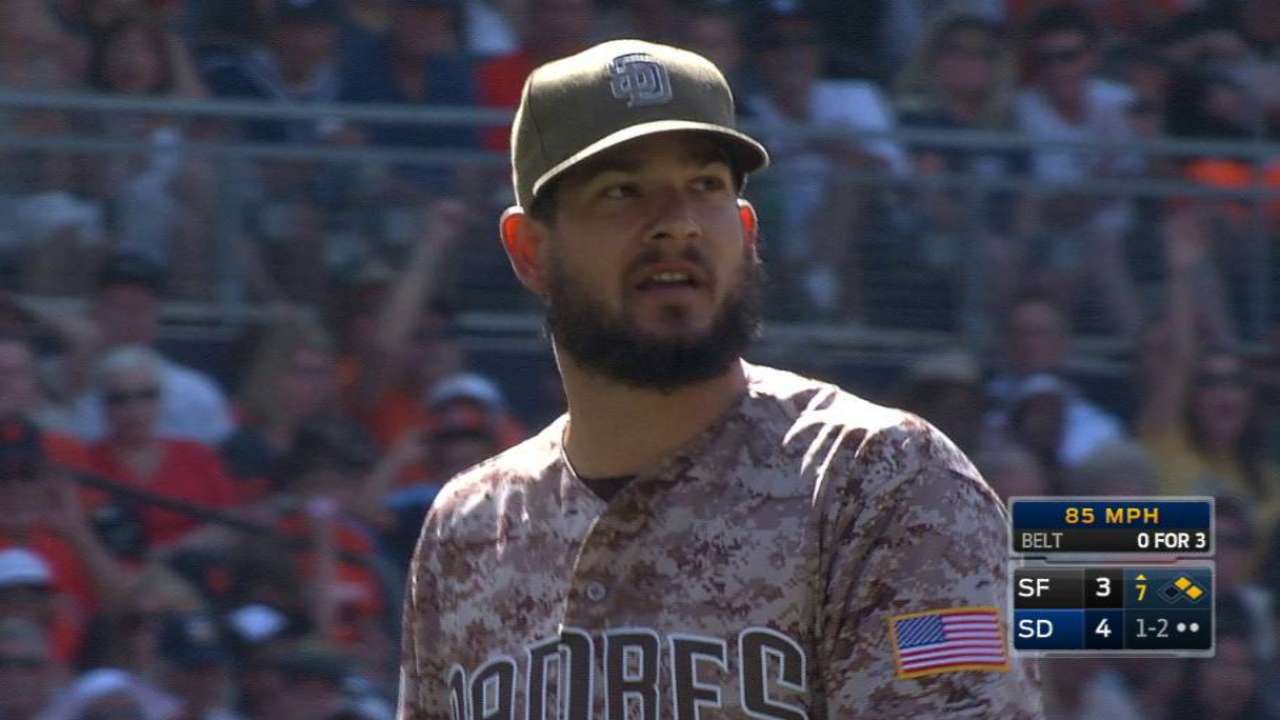 In some ways, Hand is a specialist against lefties, who can also get righties out, which should make him an appealing name on the open market.
"It's good to have your name talked about in that kind of way," Hand said of the trade rumors. "But you can't really think about it, you can't do anything about it. You just have to go out and pitch."
AJ Cassavell covers the Padres for MLB.com. Follow him on Twitter @ajcassavell. This story was not subject to the approval of Major League Baseball or its clubs.