Buchholz relief key to Red Sox's comeback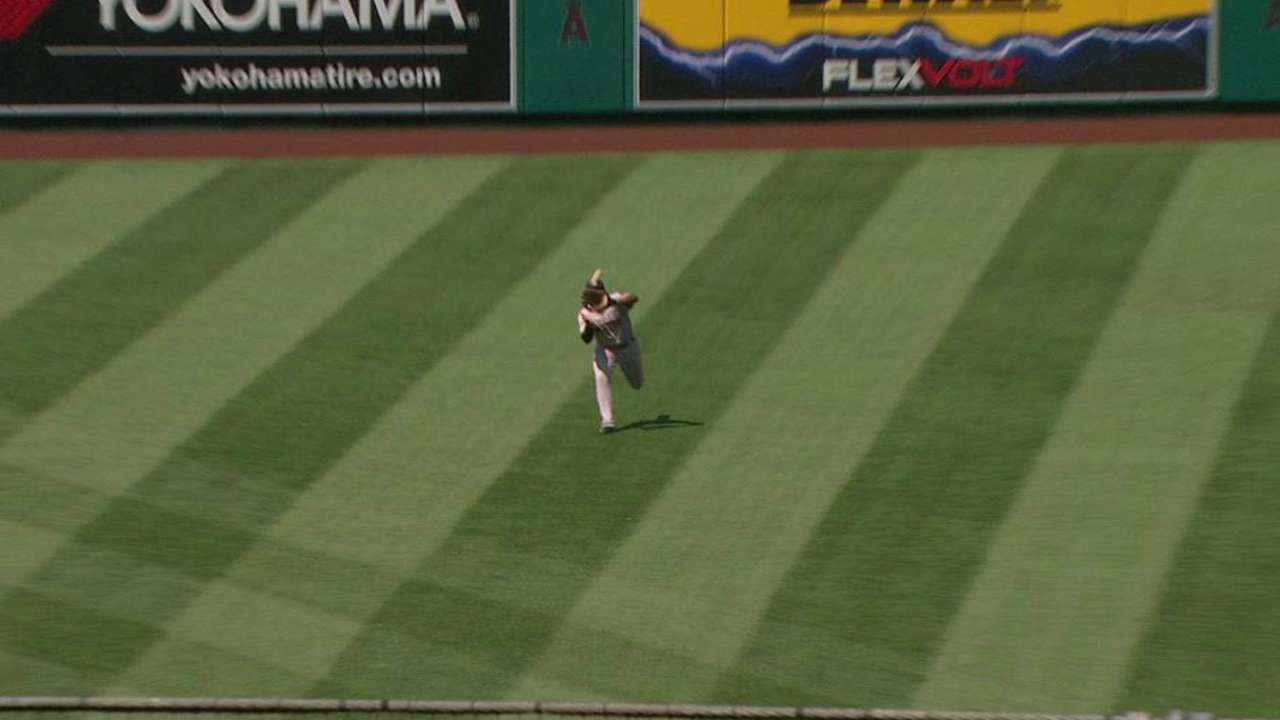 ANAHEIM -- Before those big swings in the top of the ninth from Dustin Pedroia and Xander Bogaerts, Clay Buchholz kept the Red Sox in Sunday's 5-3 win over the Angels with a standout performance in relief.
In his last appearance before Monday's non-waiver Trade Deadline, Buchholz is starting to look like a pitcher who can serve a real purpose for the Red Sox instead of one who will be dealt.
The transition to the bullpen for the career starter took a while, but Buchholz has looked increasingly comfortable his last few times to the mound.
He fired three shutout innings, allowing no hits and a walk while striking out one on Sunday. Buchholz pounded the zone, throwing 24 of his 35 pitches for strikes.
"He was very good," said Red Sox manager John Farrell. "He was down in the strike zone, he had a really good cutter, he was powerful. He's doing a good job of, obviously, following a game, getting loose and getting prepared as best possible on short notice. And those three innings proved pivotal."
Buchholz twice lost his spot in the rotation this season, but didn't moan about it. Instead, he's worked hard at gaining comfort in a role unfamiliar to him.
"A lot of it has to do with a little adjustment with the arm that I've been trying to do," said Buchholz. "I found out, I guess a month ago, that my release point has dropped a lot since 2013, and 2013 was when I was at my best.
"The only reason I think that is is because of the injuries I've had with the arm and the shoulder and the elbow. I was trying to find a spot where I could throw without it hurting. I guess slowly but surely it started creeping down. The movement on my pitches, it's been really flat this year. I guess that being said, with that arm slot, the guys can see the ball a little bit sooner than they can if I'm up top."
Buchholz can feel the difference.
"When you're throwing downhill, the angles it creates with the different pitches -- the curveball is spinning more 12 to six, the cutter is going to have a little bit more depth to it instead of staying on the barrel," said Buchholz. "That's basically the pitches that I've been hurt with, the cutter and curveball this year. There wasn't a whole lot of separation between them. Just trying to get back to what I was at one point. The work that we've been putting in, it's starting to turn a corner right now."
Ian Browne has covered the Red Sox for MLB.com since 2002. Follow him on Twitter @IanMBrowne and Facebook. This story was not subject to the approval of Major League Baseball or its clubs.