Pedroia turns day around with winning homer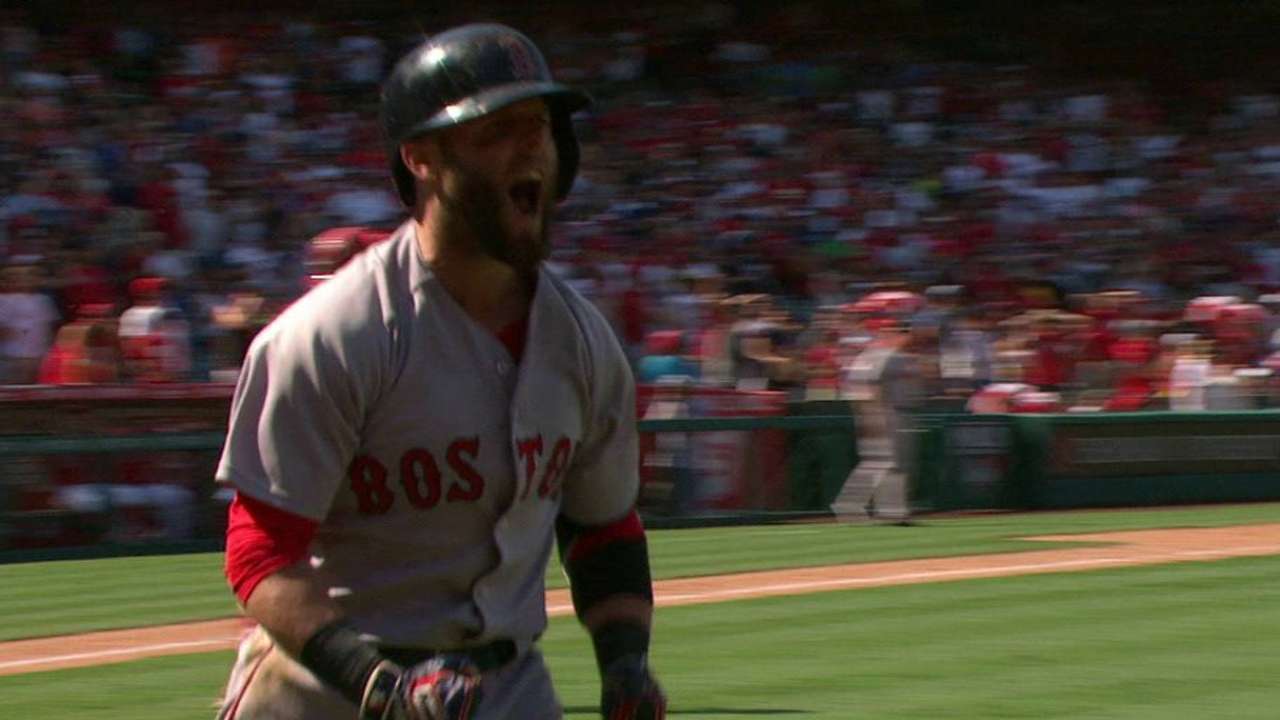 ANAHEIM -- Dustin Pedroia was having a bad day when he stepped to the plate in the top of the ninth inning on Sunday afternoon in what would turn into a wild, 5-3 win over the Angels.
But the beauty of it for Pedroia was that he was still in the game, and still in position to belt a three-run homer that was as big as any hit the Red Sox have had this season.
With two outs in the ninth, and the Red Sox down by two runs, Pedroia changed the entire day with one big swing on a 1-0 slider by Angels closer Huston Street. Pedroia scorched one over the wall in center, and set off an eruption in Boston's dugout that was practically still going on when Xander Bogaerts followed with a homer of his own.
Leading up to that at-bat, Pedroia had struck out three times and grounded out.
"There's 27 outs to get," said Pedroia. "I think I struck out my first three times. It's not like I was going to go cry or anything. You keep playing the game. That's the way baseball is. We're all professional and we're all going to try to win for 27 outs."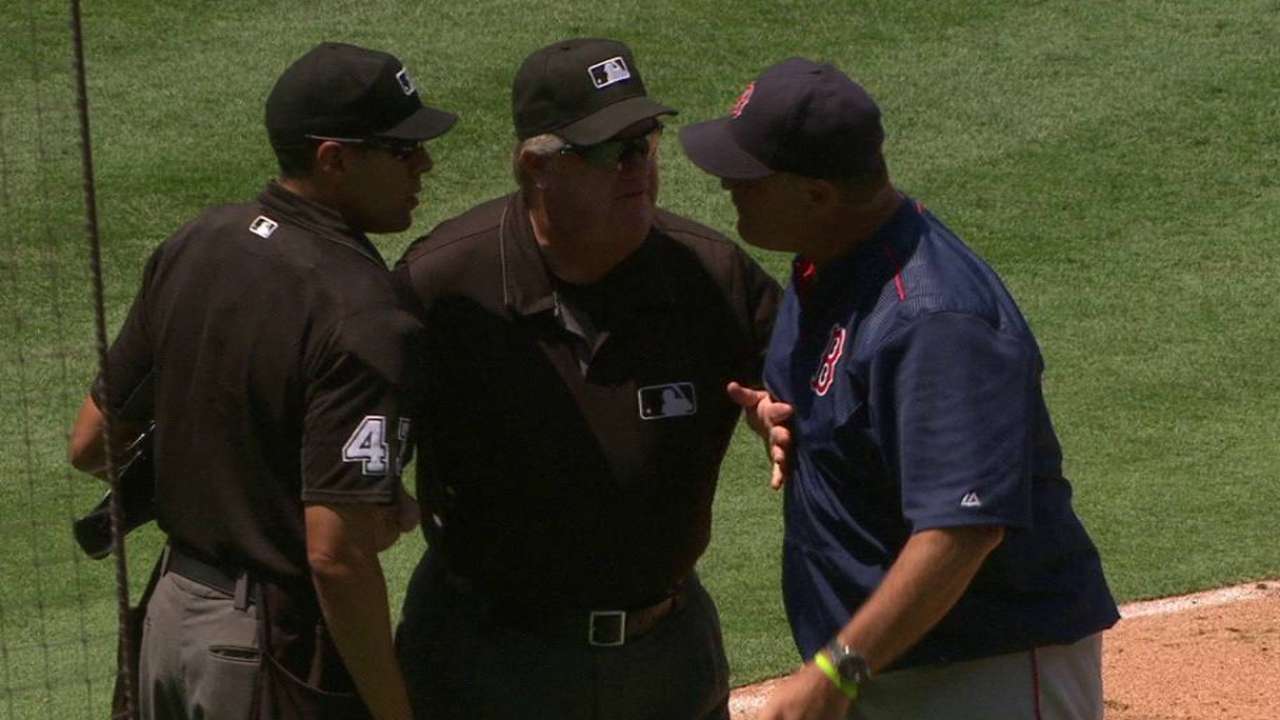 Pedroia might have come close to being ejected by home-plate umpire Gabe Morales in the fifth, when he was called out looking on a high curveball by Tyler Skaggs.
But manager John Farrell took matters into his own hands, and made sure he would be the one to get ejected.
"Given how quick his trigger was, yeah, Pedey was on the verge [of being ejected]. I was out obviously supporting Pedey, and to be honest from the dugout, the height of the pitch, he had every right to complain," said Farrell. "Thankfully, Pedey comes up big in the ninth."
What did Pedroia say to Morales?
"I just said, 'I'm only 5-foot-7, I'm going to need a trampoline to hit that damn ball. Maybe if the Rally Monkey's trampoline was out here, I could foul it off. What are we doing here? This is the Major Leagues.' I don't know," said Pedroia. "That's a part of the game. [Skaggs] was really good. He had a good curveball and he didn't need any help."
When the ball left Pedroia's bat in the ninth, Farrell was still in the manager's office.
"By the time it landed, I think I was in the runway," Farrell quipped.
In danger of losing for the eighth time in the last 10 games, the Red Sox instead came up with a stirring comeback, led by their sparkplug.
"That was huge," said Bogaerts. "It was pretty awesome. After all we've been through these past few days, it was definitely nice to have this one today."
In Pedroia's career, he's hit two go-ahead homers in the ninth inning or later. Both have come against Street. The first time he did it was June 24, 2010, at Coors Field. In fact, the only two hits Pedroia has against Street in eight career at-bats are those two dramatic homers.
"He's always tough. He's always locating the corners, changing speeds," Pedroia said. "I faced him the other night and his ball was moving late, away from, two-seam, and sliders away, things like that. I just wanted to try to let the ball travel and hopefully it would come back closer to me. I got a pitch to hit and I hit it good."
The hope now is that the Red Sox can generate some momentum from the dramatic rally.
"We've been through a lot of tough losses lately, and this was a special win," said Bogaerts. "It can definitely change the whole season around for us. That's probably what everyone is hoping."
Ian Browne has covered the Red Sox for MLB.com since 2002. Follow him on Twitter @IanMBrowne and Facebook. This story was not subject to the approval of Major League Baseball or its clubs.