Diaz exits with bruised right hand after HBP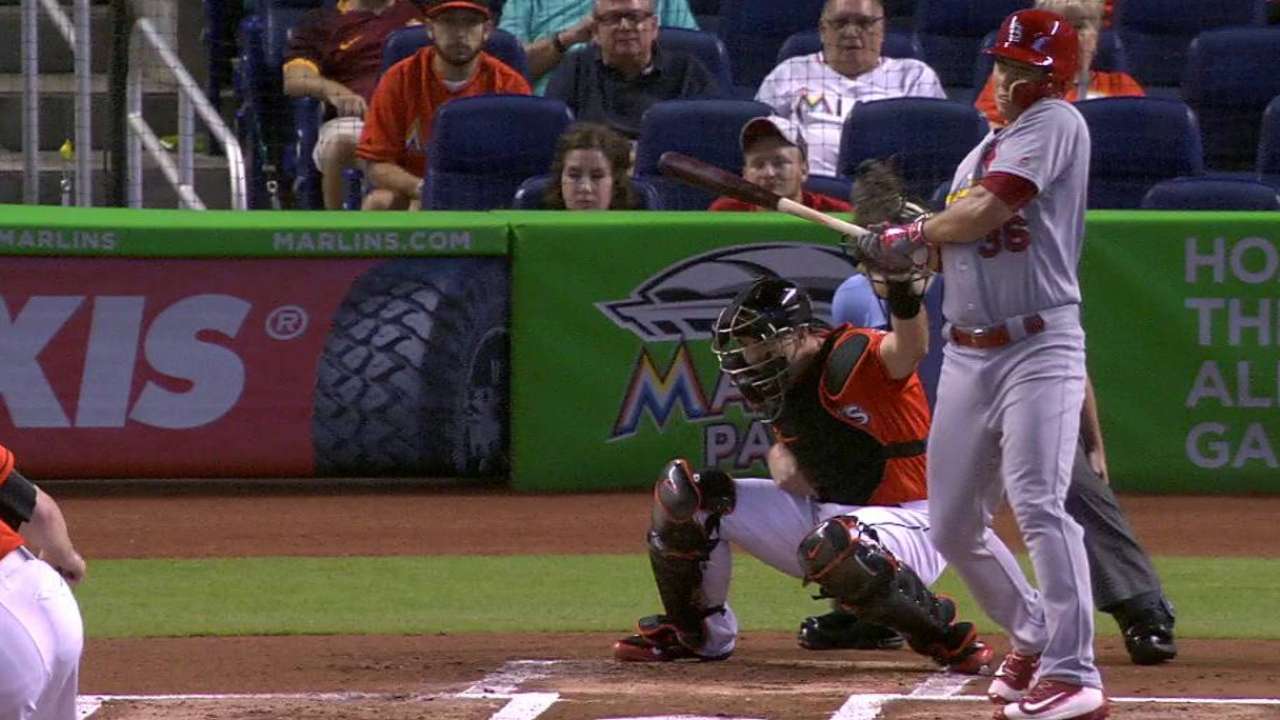 MIAMI -- Cardinals shortstop Aledmys Diaz, who took a 95-mph pitch off his right hand in his first at-bat in Sunday's 5-4 loss to the Marlins, will remain in Miami to undergo a series of additional tests on Monday.
Initial X-rays showed no fracture, and Diaz was diagnosed with a right hand contusion. However, the organization's decision to have Jhonny Peralta, who was playing in a rehab assignment game at the same time as the Cardinals' contest in Miami, move from third base to shortstop shortly after Diaz's exit indicated that the Cardinals are at least planning for the possibility that Diaz may miss some time.
"Right after I got hit, it was really hard to move," said Diaz, who had his thumb wrapped as he spoke postgame. "Obviously, I knew I wasn't going to be able to stay in the game because of the inflammation. There's a little bit of inflammation, but it's a little bit better [now] than when I first got hit."
Diaz had trouble flexing his thumb when prompted by a team athletic trainer who came to check on him as Diaz grabbed his hand near home plate. Diaz eventually trotted to first base, but after being erased on a subsequent double play, he exited the game.
"It was his throwing hand," Cardinals manager Mike Matheny said. "That's never positive, especially for a shortstop."
The pitch that hit Diaz was thrown by new Marlins starter Andrew Cashner, who knocked Matt Holliday out of a game 10 days ago with a pitch that grazed Holliday's nose. Cashner was starting for the Padres in that game. In the bottom half of Sunday's game, Cardinals starter Carlos Martinez hit Marlins slugger Giancarlo Stanton.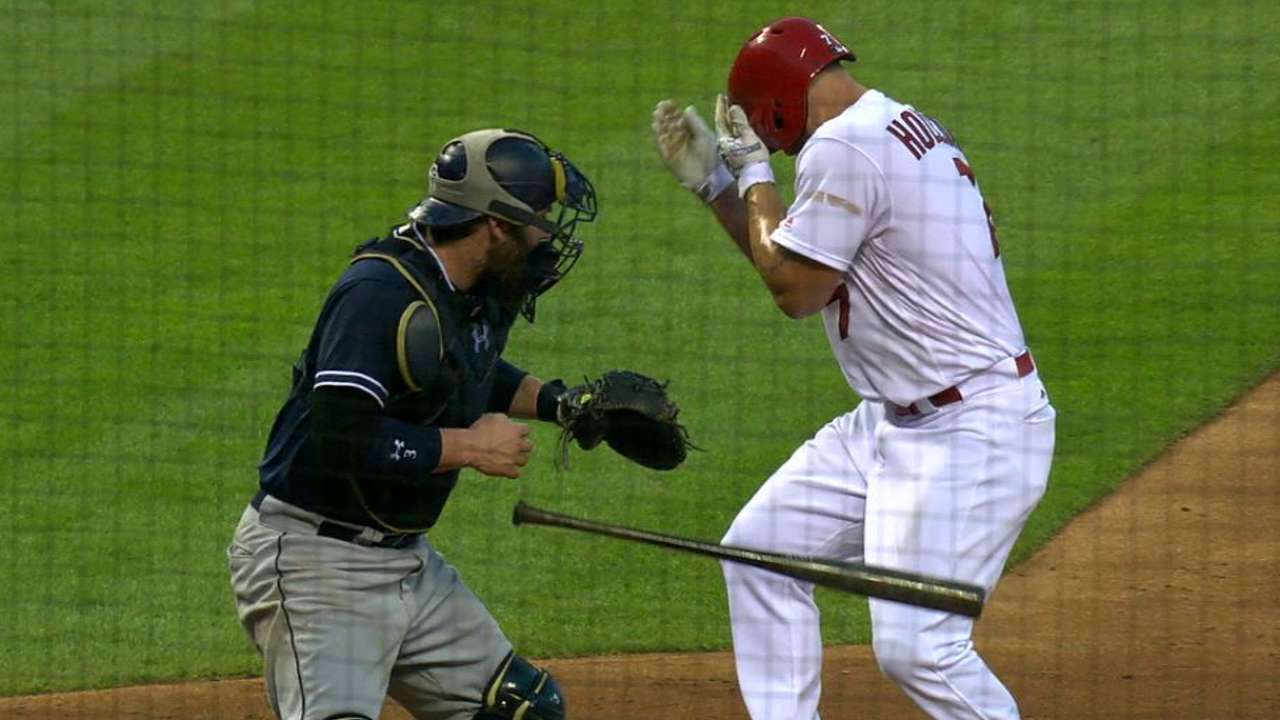 Matheny said he didn't "have a thought or anything else" regarding Cashner's pair of hit batsmen.
Losing Diaz for any period of time would be a significant blow to the Cardinals, who have utilized him as their regular No. 2 hitter since mid-May. Diaz leads the Cardinals with 32 multi-hit games, ranks 10th in the National League with a .312 batting average and is tied for seventh with 64 runs scored.
If Diaz does miss time, the Cardinals have a replacement ready in Peralta, who is expected back from the disabled list on Tuesday. Peralta, who has been rehabbing his left thumb, joined the Class A Advanced Palm Beach club on Sunday for a brief rehab assignment.
"The guy we started the season with we know is a very competent shortstop if all goes well today and tomorrow," Matheny said of Peralta. "It's the position he knows best. We'll wait and see what the doctors say."
Diaz's removal on Sunday led to all sorts of defensive shifting by the Cardinals. Greg Garcia moved from second to short, while Kolten Wong came in from left to take over at second. Tommy Pham filled Diaz's spot in the batting order and took his place in center. That bumped Jeremy Hazelbaker over to left field.
Jenifer Langosch has covered the Cardinals for MLB.com since 2012, and previously covered the Pirates from 2007-11. Read her blog, follow her on Twitter, like her Facebook page and listen to her podcast. This story was not subject to the approval of Major League Baseball or its clubs.