Tito: Miller, Allen will be used interchangeably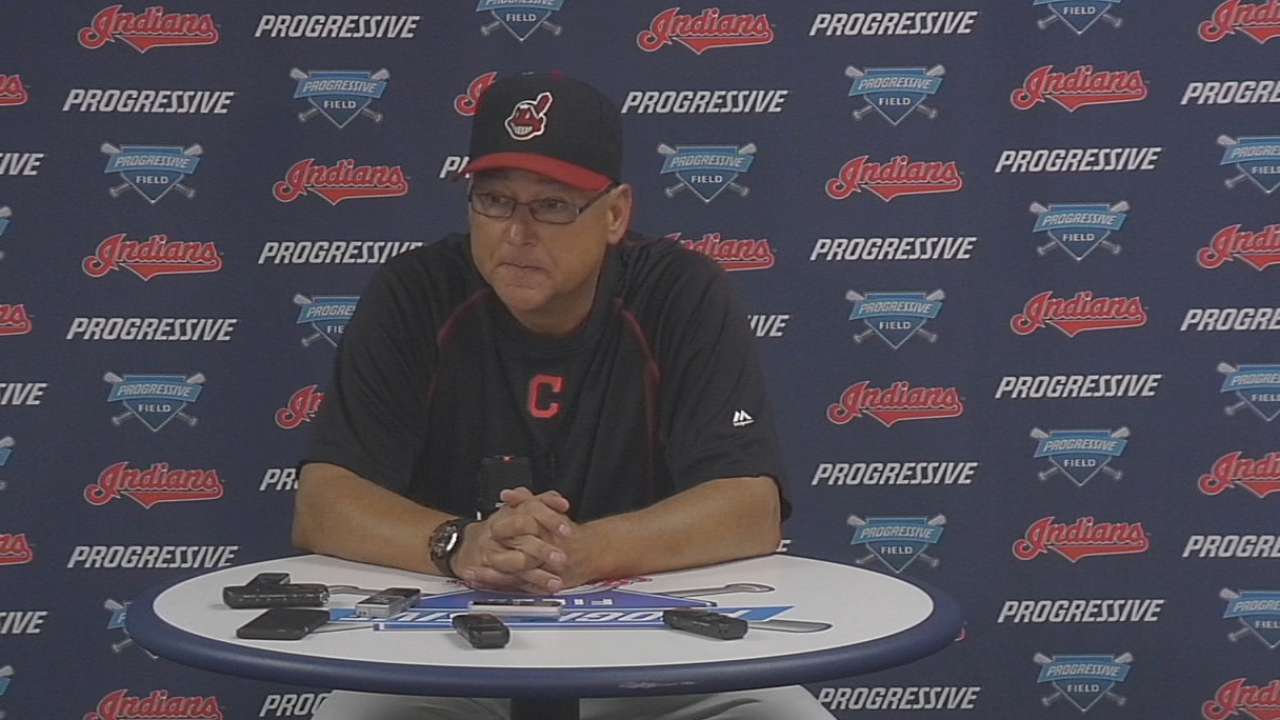 CLEVELAND -- This is a dream scenario for Indians manager Terry Francona. Whether he is constructing a lineup or mapping out a pitching staff, Francona craves balance and versatility. He wants as many options in place to plan for every possible situation.
Now, Francona has an elite bullpen duo in lefty Andrew Miller and righty Cody Allen.
• Indians acquire Miller in trade with Yankees
"We have guys at the end of the game that are a little bit interchangeable," Francona said after Cleveland acquired Miller from the Yankees for a four-prospect package on Sunday morning. "We're going to have a chance to leverage guys and, believe me, we will."
Throw the term "closer" out the window. Even over the past three years, as Allen has acted as Cleveland's primary ninth-inning arm, Francona has shied away from slapping that label on his late-inning stopper. With Miller now in the fold, the manager will surely continue to stay away from that specified job description.
In Miller and Allen, Francona has two top-tier options for the eighth and ninth inning. Making things even easier for the manager is the fact that both Allen and Miller have expressed a willingness to embrace whatever role or inning they are asked to handle.
During Cleveland's most recent road trip, Allen went as far as meeting with Chris Antonetti, Cleveland's president of baseball operations, to let him know that he was willing to move out of the closer's role, if necessary. Allen expressed as much to Francona as well.
"I want to make a specific mention of Cody Allen," Antonetti said. "He came to me and said, 'Chris, hey, for whatever it's worth, all I care about is winning. I will do anything to help the team win. So if you feel that there's some guy out there that can help us and help the bullpen, I'll pitch whenever Tito wants me to pitch.'
"And he reinforced that with us today. I can't tell you how much that means to me and speaks to Cody and his mentality and how much he cares about winning."
Francona indicated that he wants to meet in person with Allen, Miller and setup man Bryan Shaw before discussing his plans for the bullpen in more detail. Miller echoed that message in an interview with reporters in St. Petersburg on Sunday.
"[Francona] wants to talk to me," Miller said. "Whatever they ask me to do, hopefully I'll do it up to the standards that helps that team win. They've got a pretty darn good team. They've got some good pieces out in the bullpen, they've got a great lineup and their rotation is full of All-Stars. Whatever they ask me to do, I'm going to do it to the best of my ability."
Miller logged a 1.39 ERA with 77 strikeouts and seven walks in 45 1/3 innings this season for the Yankees, who used him primarily as a setup man before trading closer Aroldis Chapman to the Cubs. Last year, Miller served as New York's closer.
Entering Sunday, Allen had a 2.58 ERA with 57 strikeouts, 18 walks and 20 saves.
"It'll be one of those things where both of us will be in the situation of being ready to pitch," Allen said. "I think both of us are fine with that. I know I'm fine with that. With things he's said in the past with New York, it seems like he's going to fit in perfectly here."
Added Antonetti: "I'm not sure there's a better fit and better complement to our team than Andrew Miller."
Now armed with a versatile and dangerous back-end duo, Francona agreed.
"It certainly should help us a lot," he said. "I know when we go into New York next week, we don't have to face Andrew Miller, which will be really nice."
Jordan Bastian has covered the Indians for MLB.com since 2011, and previously covered the Blue Jays from 2006-10. Read his blog, Major League Bastian, follow him on Twitter @MLBastian and listen to his podcast. This story was not subject to the approval of Major League Baseball or its clubs.