MLB.com Columnist
Anthony Castrovince
No Lucroy, but Miller trade is special for Tribe
Indians improve mightily despite perceived .500 finish before Deadline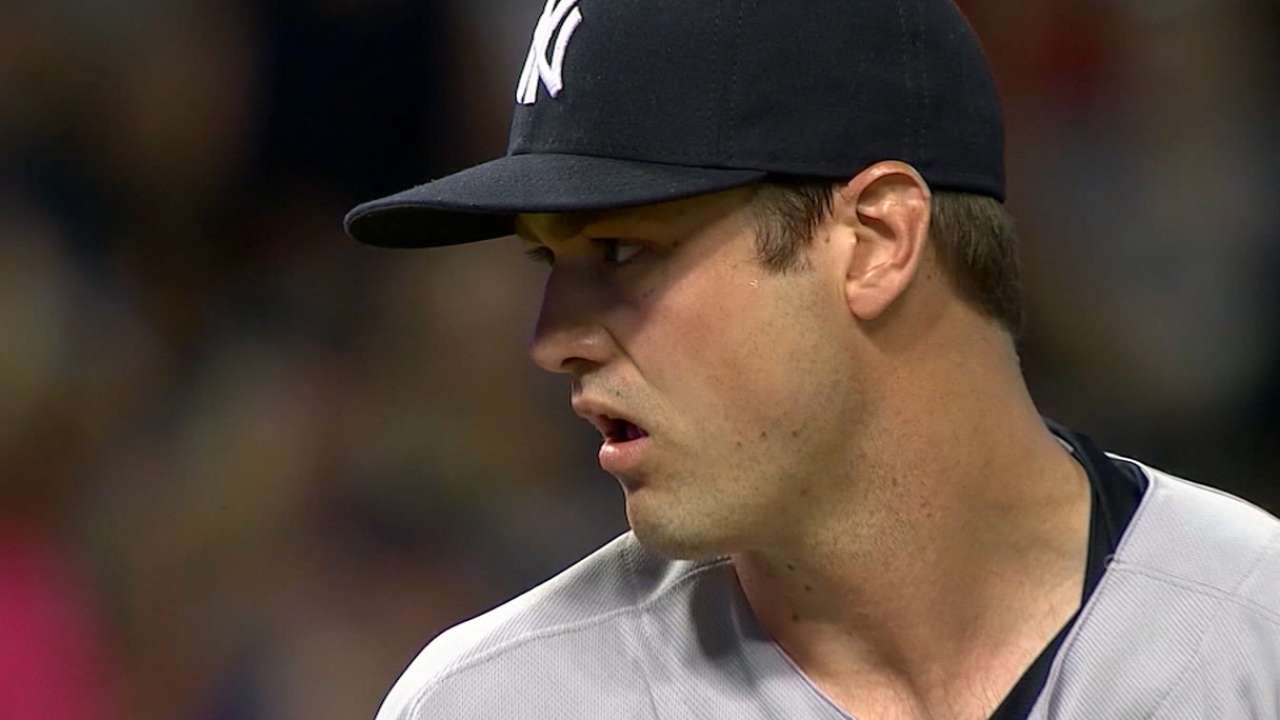 CLEVELAND -- Leverage is a powerful tool, one that can have applications on the October stage and one that can have implications in the midseason trade game. On a wild Sunday morning in the summer swap market, the Indians dramatically improved their late-inning leverage with the addition of Andrew Miller, while simultaneously suffering the effect of Jonathan Lucroy's contractually negotiated trade leverage.
Timing is a powerful tool, too. Had no news leaked of the potential Lucroy deal, which Lucroy himself reportedly vetoed, and the Miller swap been the sole Sunday storyline, the Tribe would be heralded as having acquired the market's biggest trade chip given the value of a dominant back-end presence and the two-plus years of control attached to Miller's left arm.
As it stands, what happened here will be viewed as a .500 finish, of sorts. But while a Miller/Lucroy two-fer would have been a sure stunner, don't let anybody tell you the Indians didn't just pull off something special.
Miller was no lock to be moved. Mere days ago, in fact, it was the gut feeling of multiple front-office evaluators that he wouldn't be moved, that the Yankees, having rattled the relief market with their impressive haul for two-plus months of Aroldis Chapman, would keep his price tag so astronomically high as to make it impossible for an actual deal to get done.
Well, what the Indians gave up for Miller was astronomical, especially relative to their market size and need to build from within. And that point was not lost on their two-time World Series-winning skipper or the guys in the clubhouse.
"It's costly," Terry Francona said. "But I think our team deserves the chance."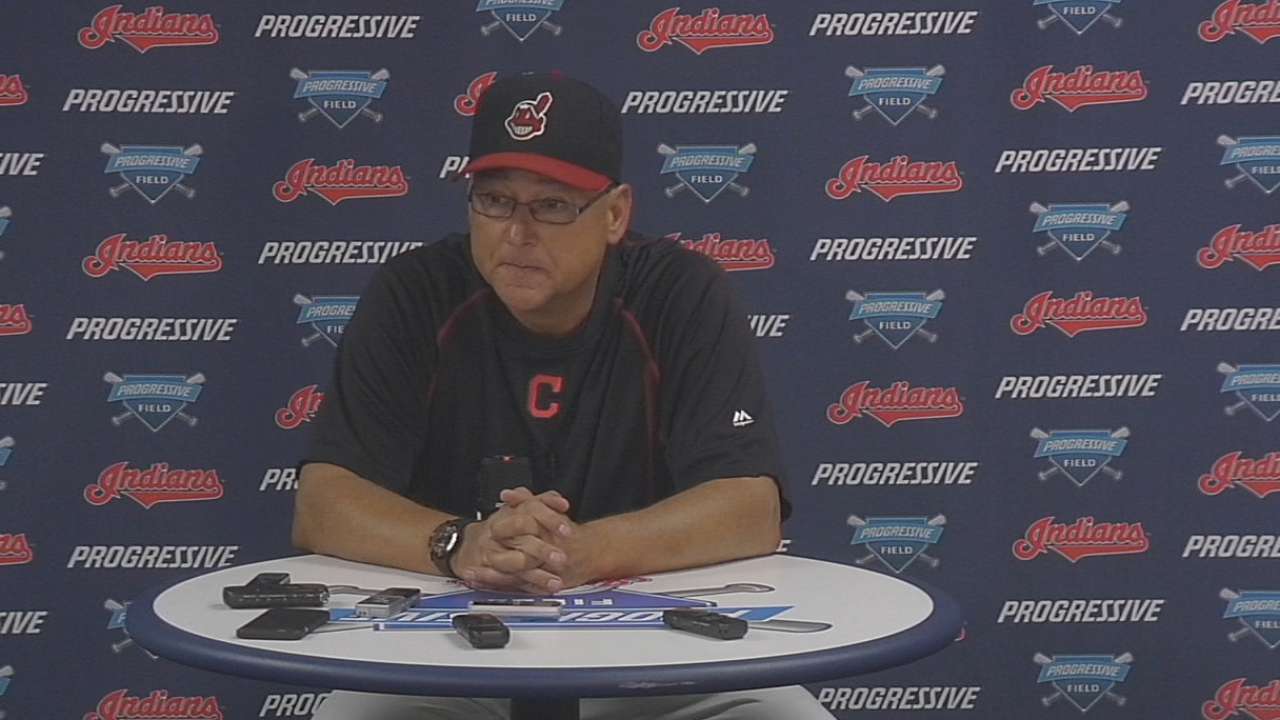 The cost: The Tribe's No. 1 prospect, per MLBPipeline.com, in outfielder Clint Frazier, as well as their No. 5 in left-hander Justus Sheffield and No. 30 in right-hander Ben Heller. Right-hander J.P. Feyereisen also went to the Yanks.
Frazier might have rated as Cleveland's great red-headed hope, a right-handed hitter with inordinate bat speed and tremendous raw power who was sure to inspire many a Wig Night at Progressive Field. And Sheffield was a focal point in a system rich with lower-level pitching prospects, a group that also included the hard-throwing reliever Heller.
To give up all that in addition to taking on the roughly $21 million still owed to Miller through 2018 (as it stands, Miller would essentially tie Jason Kipnis for the Tribe's richest contract for '17, unless Carlos Santana's $12 million option is exercised), was a move more bold than we're traditionally accustomed to seeing from the Indians.
"We would not have parted with the talent we did," said team president Chris Antonetti, "if not [for] multiple years of team control."
It has been suggested that the Indians could always flip Miller this offseason and get back, say, 70 cents on the dollar, in terms of prospect value. And sure, you can spring for a Versace dress in advance of your sister's wedding and then plan to sell it off on eBay after the fact.
But what if you spill red wine on the dress? What if Miller's UCL is suddenly uncooperative?
Make no mistake: There's risk here that we can't assume to be offset at the next Winter Meetings.
So give credit to the Indians for maximizing this moment, because this moment is all that's guaranteed to them. This is a club built around a ridiculously affordable and effective starting rotation -- the kind of group that pushed the Mets to the precipice of a championship last fall. And as the Mets' staff has illustrated this summer, the inherent fragility of elbows in this game means that executives like Antonetti and Mike Chernoff can never be certain if or when that signature strength will be compromised.
Cleveland is going for it, with or without Lucroy, who woulda shoulda coulda shored up a catching situation, in which Roberto Perez's early production has been every bit as disappointing as what was seen from previous starter Yan Gomes before the 29-year-old separated his shoulder on July 17. Antonetti said he expects to be active in discussions right up until Monday's 4 p.m. ET non-waiver Trade Deadline, and perhaps the catching slot will be addressed alternatively or the Lucroy deal will be reworked altogether. Worst-case scenario, the Indians talk themselves into Gomes' eventual return being a plus.
But the Tribe's truly non-negotiable need was lefty relief. They didn't just fill it with a viable veteran having a solid season. They added a guy who is every bit as effective as Chapman (minus the 105-mph fastball) and has proven to be more pliable. Miller has had absolutely no qualms about pitching in the seventh or eighth inning, and he showed in 2015 that he can handle the ninth. Meanwhile, established Cleveland closer Cody Allen, whose performance the last couple years still rates as underrated, approached Antonetti earlier this month and assured him he is open to any role in the bullpen if it means winning it all.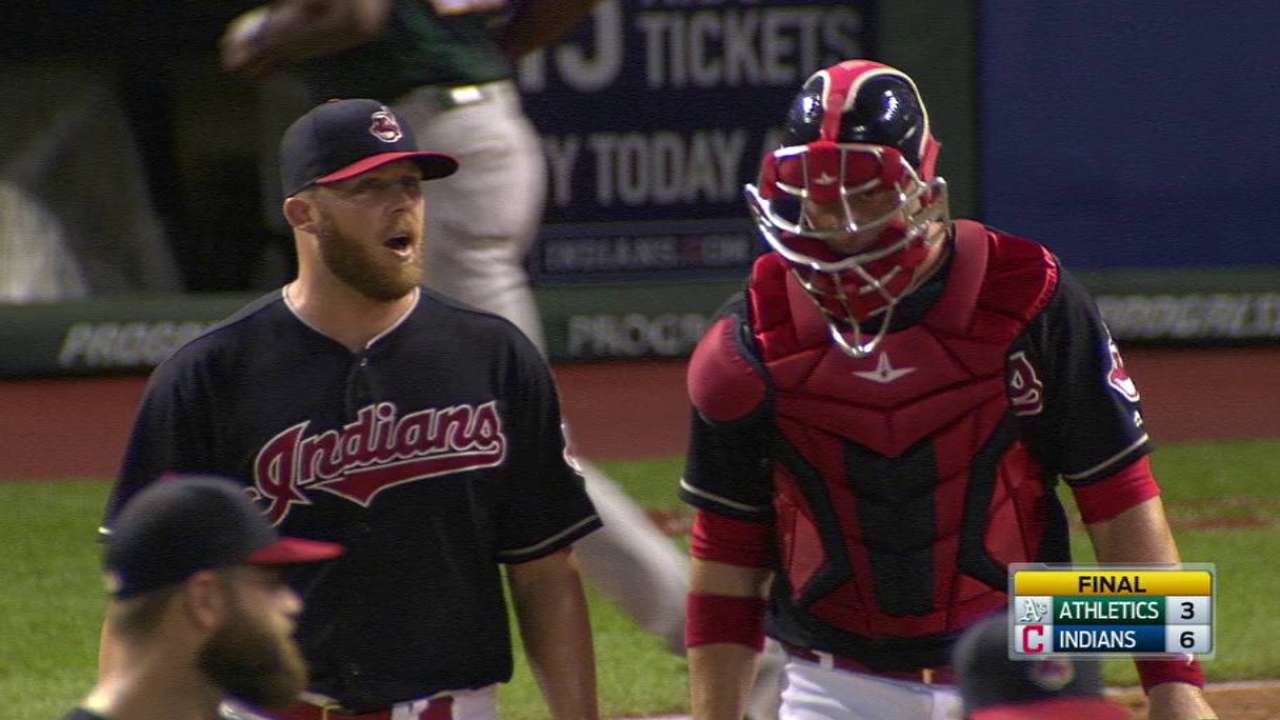 Francona loves versatility with his lineups, and now he has it -- as he put it, in both willingness and skill set -- with his late-inning leverage. And as an added bonus, his new addition is a guy he knows well, having been at the helm in Boston in 2011, when Miller was the Red Sox's chief reclamation project.
"It's exciting when you envision something," said Francona, "and then it actually happens."
For the Indians, Sunday was about what happened and what didn't happen. They got Miller, but they didn't get Lucroy. Maybe that feels like compromise, but it was definitely a win.
Anthony Castrovince has been a reporter for MLB.com since 2004. Read his columns and follow him on Twitter at @Castrovince. This story was not subject to the approval of Major League Baseball or its clubs.