d'Arnaud's future uncertain with Lucroy veto
Mets catcher back on trade block as Deadline nears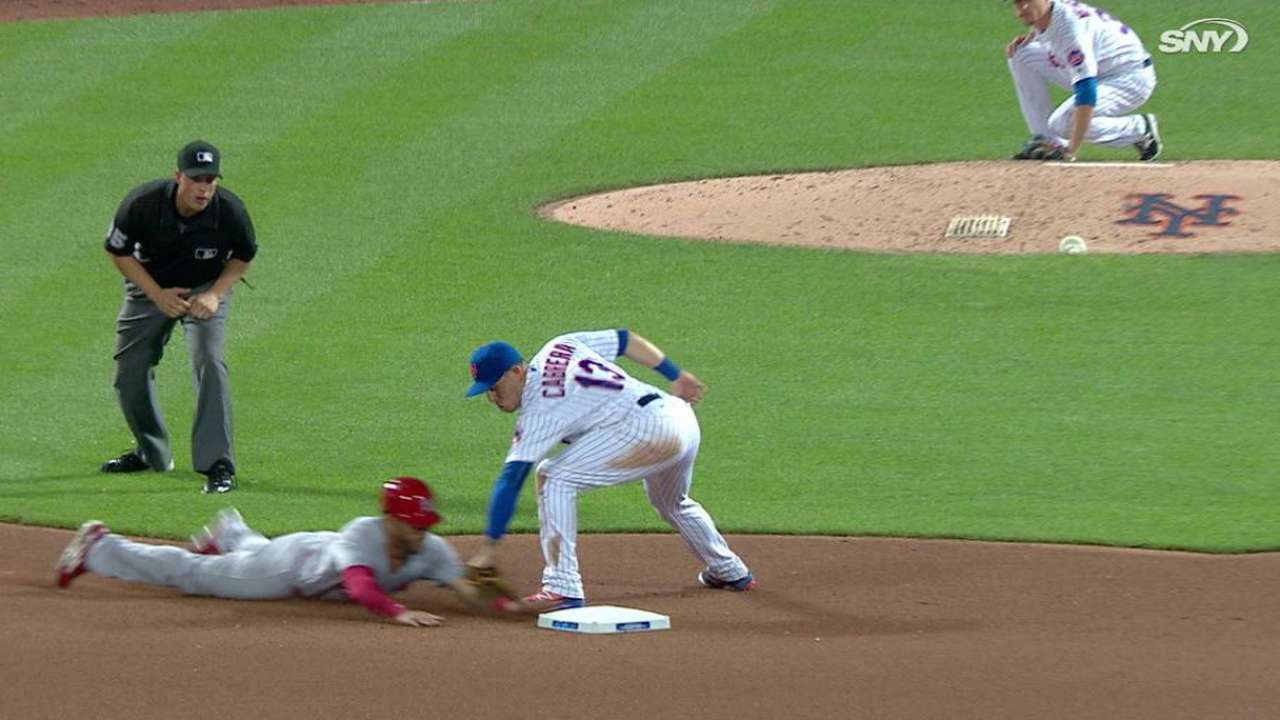 NEW YORK -- Travis d'Arnaud was standing in front of his locker Sunday morning, answering questions about his seemingly comfortable short-term future in New York, when a lightning bolt struck him. News broke on social media that Jonathan Lucroy had vetoed a trade to the Indians, putting Lucroy back in play for the Mets -- and d'Arnaud back on the trade block.
"I can't control it," d'Arnaud said before the Mets' 6-4 win over the Rockies, hearing the report for the first time with reporters clustered around him. "So I just focus on the moment, and focus on going out there and trying to win today."
• Oh my, Ohio: Tribe gets Miller, but not Lucroy
When the Indians reportedly agreed to a trade late Saturday night with the Brewers, d'Arnaud's job with the Mets seemed safe. The Mets had pivoted to outfielder Jay Bruce in their quest to upgrade their offense, but without a frontline catcher such as Lucroy coming in, d'Arnaud could no longer be a logical piece in any deal.
That changed in an instant Sunday. And it thrust d'Arnaud back in limbo until Monday's 4 p.m. ET non-waiver Trade Deadline.
"I wasn't really paying attention to it," d'Arnaud said of the initial rumors swirling around him. "It's something that was out of my control. I figured if I thought about it, it would probably tear me up a little bit."
The Mets reportedly put a three-player offer of d'Arnaud, outfielder Brandon Nimmo and one other piece on the table early Saturday, before the Brewers instead reportedly accepted Cleveland's deal of Francisco Mejia and three other prospects. But the Indians, unlike the Mets, are on a list of eight teams to which Lucroy can veto a trade. He pulled that string Sunday morning.
That put the Mets back in play for Lucroy, and with increased leverage than they had before. Still, a deal is no given; with Lucroy under team control through 2017, the Brewers could also opt to keep him, or attempt to trade him over the winter.
Lucroy's All-Star season for the Brewers includes a .300 average with 13 home runs and an .844 OPS in 94 games. He represents a significant upgrade over d'Arnaud, who owns a .239 average, two home runs and .611 OPS in 39 games, missing nearly two months due to a right rotator cuff strain.
"It's not what I want it to be," d'Arnaud said of his season. "I'm more upset that I'm not back there catching winners, so I've got some things to work on in that aspect. I've just got to keep working. We've got [59] games left. From what we all saw last year, everything's possible."
Anthony DiComo has covered the Mets for MLB.com since 2008. Follow him on Twitter @AnthonyDiComo and Facebook, and listen to his podcast. This story was not subject to the approval of Major League Baseball or its clubs.