Kazmir takes first loss since May 9
Dodgers veteran lefty struggles early, but goes deeper into game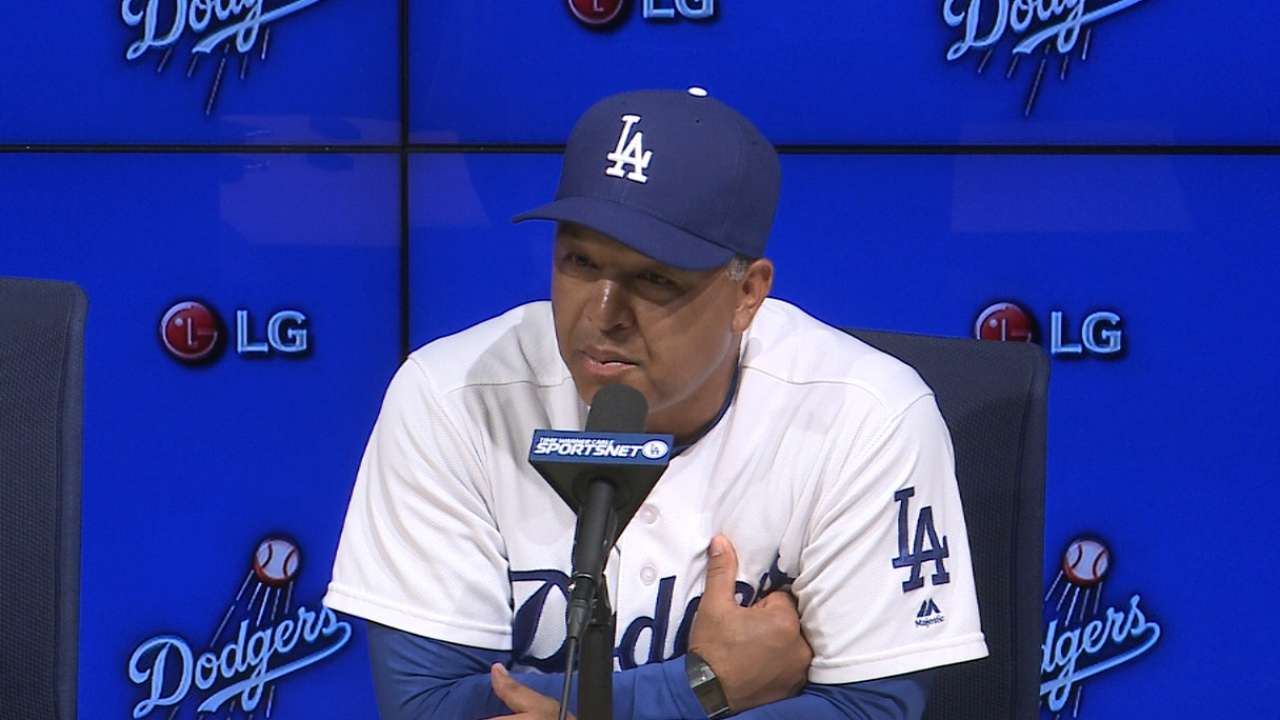 LOS ANGELES -- At times, Scott Kazmir starts can feel like a familiar story. He'll struggle in the early going, piece things together, but still exit the game a little earlier than the Dodgers might hope for.
Step one happened in Saturday night's 4-2 loss to the D-backs, then step two. However, step three never materialized as Kazmir managed to last 6 2/3 innings to help preserve what seems to be a perpetually gassed bullpen.
"With Scott this year, it's started a little slow, but he always seems to finish strong," manager Dave Roberts said. "We needed length out of the starter. I thought he was starting to feel better and commanding his pitches."
Kazmir opened the game ignominiously, allowing a leadoff home run to shortstop Jean Segura on an 0-2 count, on a pitch he said he overthrew. Adding that to the 18 earned runs he had allowed in 20 first innings this season going into Saturday, gives him an 8.14 ERA in the opening frame this season.
Two more runs scored in the second inning thanks to three doubles from Arizona, leaving Roberts in a potentially tough situation.
However, things straightened out from there, as Kazmir allowed just two singles over the next four innings. Kazmir has been cognizant of the recent pressures the bullpen has faced due to short starts, especially with Kazmir who had exceeded five innings pitched just three times since June 1.
"I think I've been aware of that for the past month or so," Kazmir said. "Just not as nice and sharp early, but once I made adjustments, using my cutter a lot more in the later innings, I was able to get some quick outs."
Despite the positive to be taken from lasting longer than usual, Kazmir did have one unfortunate thing happen. With just two runs of support, the southpaw took his first loss since May 9. Of course, that streak was due less to -- and possibly in spite of -- Kazmir's 3.73 ERA over that span, and more because of the Dodgers' average of 6.31 runs scored in those 13 starts.
The loss didn't seem like too big of a deal to Kazmir though, as he used his performance as encouragement that his length problems could be behind him.
"I feel like I'm past that," Kazmir said. "'Here we go again' is not really a good way to approach it. It's unfortunate, it's frustrating, for sure. Having to always to work through that first inning to put yourself in a good position the rest of the game, but I'm still confident out there."
Jack Baer is a reporter for MLB.com based in Los Angeles. This story was not subject to the approval of Major League Baseball or its clubs.