Berrios joins rotation, Duffey to bullpen
Twins' No. 1 prospect to start Monday's series opener vs. Indians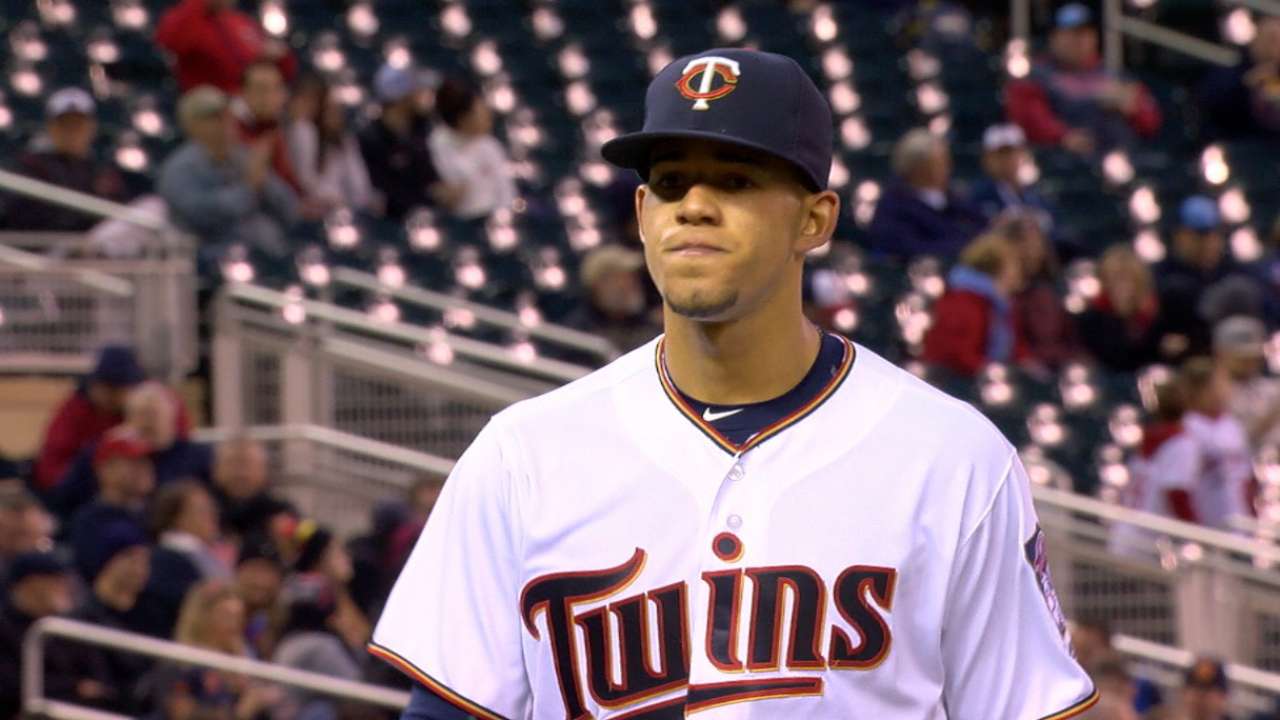 MINNEAPOLIS -- Right-hander Jose Berrios, the No. 1 prospect in the Twins' organization, received his long-awaited recall to the Major Leagues on Saturday night and will make his fifth MLB start on Monday night against the Indians.
According to manager Paul Molitor, the corresponding roster move to make room for Berrios will be announced Monday.
"There's some feeling that it's time to get him up here as we have with some of our position players getting experience, that maybe this would be a good thing for him to get back up here and see how he reacts," Molitor said.
Berrios will start on Monday night on his regular rest in line with his Triple-A pitching schedule. He will make his first MLB appearance since May 16 and take right-hander Tyler Duffey's rotation spot. Duffey was moved to the bullpen for Sunday's 6-4 victory over the White Sox and will remain there for the time being.
Duffey's 6.12 ERA is third-highest among starters with at least 80 innings pitched this season. He finished July with a 7.77 ERA in five starts and allowed a combined 11 runs in 3 2/3 innings in his last two starts.
"We needed an extra arm [in the bullpen], and that's probably the way it's going to stay [with Duffey], at least for now," Molitor said. "It'll be fun to see [Berrios] back up here and we'll see how he jump-starts the road trip for us."
Berrios is 10-5 with a 2.44 ERA in 16 starts with Triple-A Rochester this season with 111 strikeouts and 35 walks. He was optioned back to Rochester on May 17 after recording a 10.20 ERA in four Major League starts in his first stint with the Twins, but he did flash his potential with 20 strikeouts in 15 innings.
Nine of Berrios' 13 appearances since returning to Rochester have been quality starts, including a four-hit, 87-pitch complete game on July 3, for which he was named International League Pitcher of the Week.
"Reports are good," Molitor said. "They're not glowing from the standpoint of he's harnessing all the potential. We feel that there's room [for improvement] there. Obviously as a young kid there should be room there."
Molitor noted that Berrios' command seems to have improved since his first stint with the Twins and that the 22-year-old is getting more bite on his slurve-like breaking ball.
Do-Hyoung Park is a reporter for MLB.com based in Minneapolis. This story was not subject to the approval of Major League Baseball or its clubs.