Kennedy irons out issues, delivers 7 strong
Royals starter takes no-decision in 2-1 loss to Texas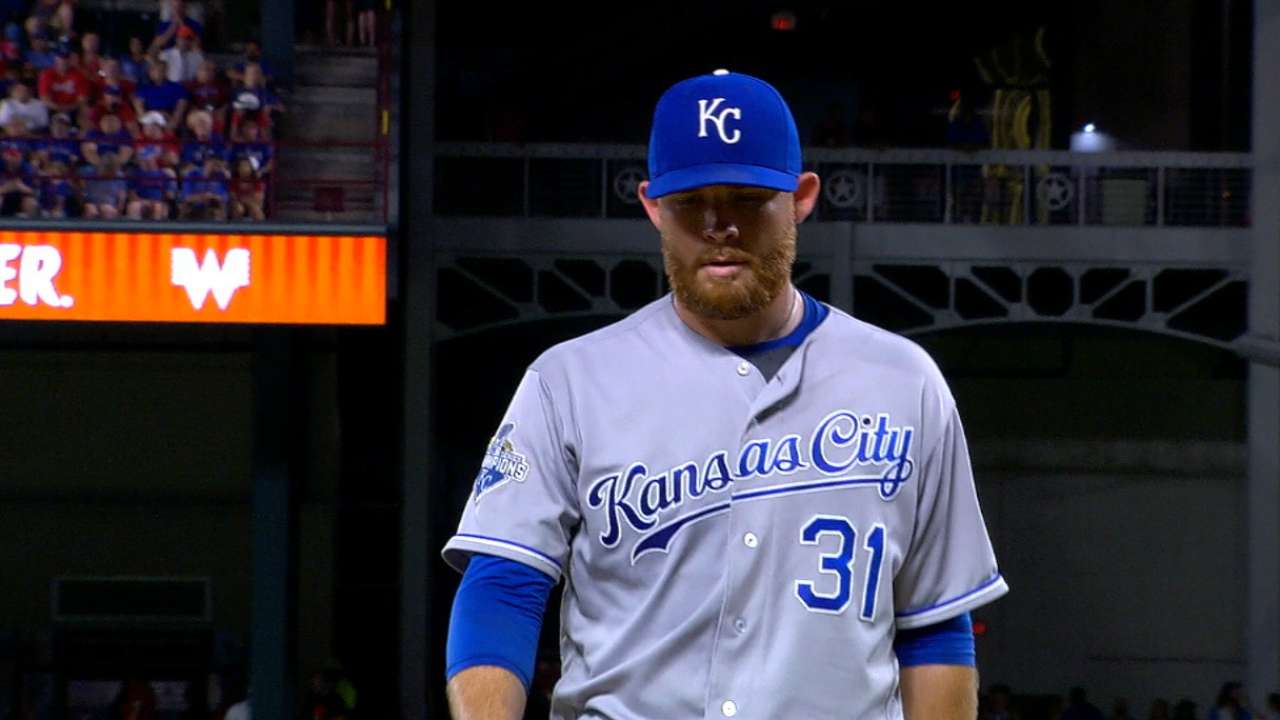 ARLINGTON -- After Royals right-hander Ian Kennedy's last outing, he vowed to work through some mechanical issues that he thought would make a huge difference.
Mission accomplished.
Kennedy threw seven innings of one-run, six-hit ball, walked none and struck out six. It wasn't enough, though, as the fading Royals lost their third straight and seventh in eight games, 2-1, to the Rangers on Saturday night.
"I was just executing the ball down," Kennedy said. "Everything I worked on from the last start really worked tonight.
"Sometimes you pick up things from start to start and work on it, and then the next day it's not there. But it was there this time. I got the muscle memory going, and just stayed back a little longer in my delivery. I was able to execute my curveball down."
Kennedy wound up pitching his best outing since June 26 against Houston, also a seven-inning, one-run performance.
"Everything was working," he said. "Even when I missed, it was a good miss, not a bad miss."
The assignment wasn't easy, either, against a Rangers team that has hurt the Royals and scored eight runs the previous night.
"If you don't execute, they can hurt you," Kennedy said. "They do make you work for it. They've been hot all year. They went through a little stretch where they weren't. But here in this ballpark, they're tough."
Jeffrey Flanagan has covered the Royals since 1991, and for MLB.com since 2015. Follow him on Twitter @FlannyMLB. This story was not subject to the approval of Major League Baseball or its clubs.