Dahl-ed in: Rockies rookie socks big homer
Two-run blast against Mets helps put Colorado in position for sweep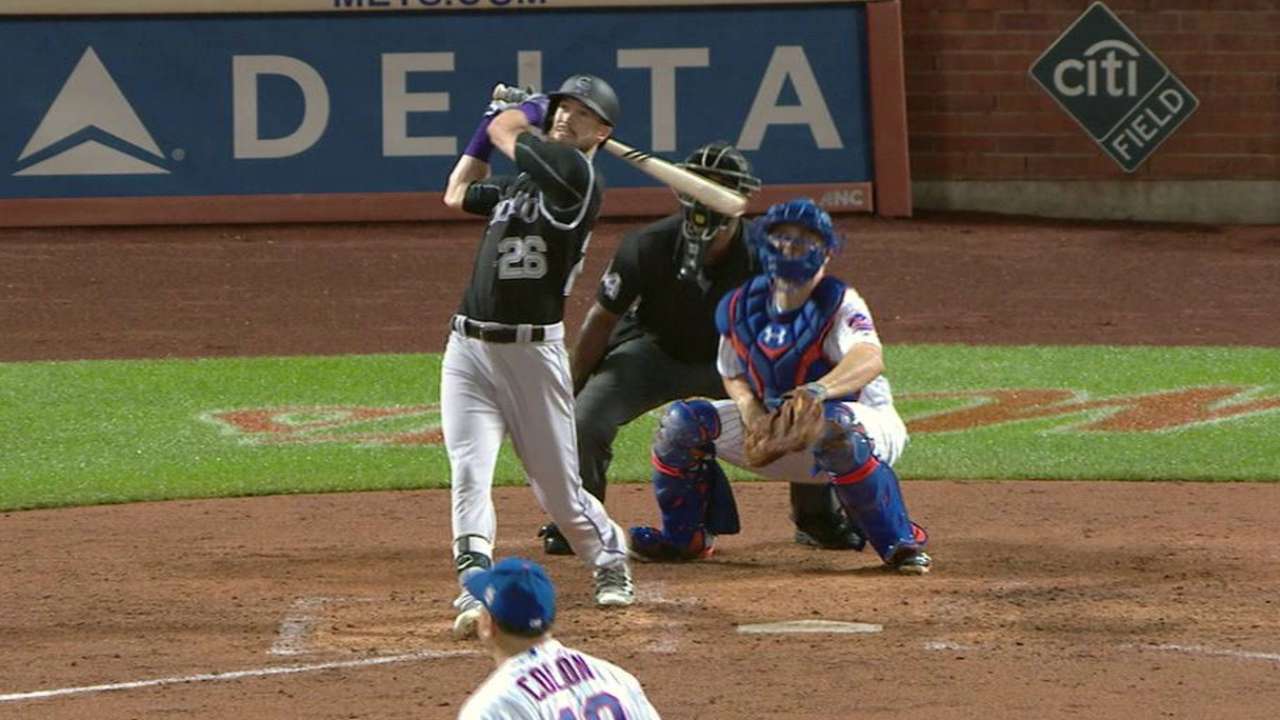 NEW YORK -- Never know when you'll rub shoulders with baseball history. Rockies rookie outfielder David Dahl did so Saturday night, in just his sixth career game.
Dahl, 22, watched a pregame ceremony as the Mets retired Hall of Fame catcher Mike Piazza's No. 31. Then, Dahl faced Bartolo Colon, who played his first pro game at the Rookie level in 1994 -- the year Dahl was born. Both pieces of history landed in Dahl's hands after the Rockies' 7-2 win at Citi Field.
In the fourth inning, Dahl's second at-bat against Colon after a grounder to first base in the second inning, Dahl skied a two-run homer to right field to give the Rockies a lead they wouldn't relinquish.
Afterward, bullpen coach Darren Holmes flipped Dahl the home-run ball, which was stamped with a special logo commemorating the Piazza's feats.
"Pretty cool," Dahl said, showing a logo that seems to make Piazza, bat in hand, materialize from the shape of home plate -- a fitting icon for arguably the game's greatest hitting catcher.
Dahl said he first watched Colon pitch when he was "8 or 9." As Dahl grew, Colon grew into a savvy pitcher who relies on knowledge and pitch movement, which were attributes that baffled the Rockies for two innings. But Nolan Arenado singled, Carlos Gonzalez doubled and Trevor Story singled, and Dahl knew the Rockies had caught up to Colon.
Dahl blasted an 89-mph sinker.
"It was pretty cool to face a guy who has been in the big leagues for that long, with that kind of stuff -- a lot of movement," Dahl said. "I'd never seen movement like that before.
"I got 3-1 the at-bat before, and I saw so much movement I pulled out, rushed and hit it off the end of the at-bat. The next at-bat, I tried to really focus on staying up the middle and got a good pitch to hit."
No one is discussing history when it comes to Dahl, of course. After seeing him blow through Double-A Hartford and Triple-A Albuquerque, the Rockies promoted Dahl to the Majors on Monday with hopes his bat will bring energy and production.
All Dahl has done is hit safely in all six games. Saturday's homer was his second, and he is batting .348 with three RBIs. His presence has been one of a panorama of happy developments during a road trip that has seen the Rockies go 5-1 and put themselves in position on Sunday to go for a sweep of the four-game series against the Mets.
With the Rockies languishing at the All-Star break, it seemed the entrée of Dahl and other prospects would be the reason to watch the second half. Now, Dahl is a character as the Rockies, 12-4 since the break and winners of nine of their last 10, try to change the narrative. They're 52-52 and four games out of a National League Wild Card spot.
The lineup has generally produced all year. Still, the addition of the talented left-handed-hitting Dahl is a boost.
"He's a well-rounded player," manager Walt Weiss said. "He's shown power already. He can hit the ball out to the big part of the field. He hits the ball from line to line. He runs well. He defends. He's a good player. Throwing him into the mix has certainly given us a shot in the arm."
Thomas Harding has covered the Rockies since 2000, and for MLB.com since 2002. Follow him on Twitter @harding_at_mlb, listen to podcasts and like his Facebook page. This story was not subject to the approval of Major League Baseball or its clubs.