Flores, Collins miffed by overturned home run
Umpires rule out by interference after fan reaches over railing above left-field wall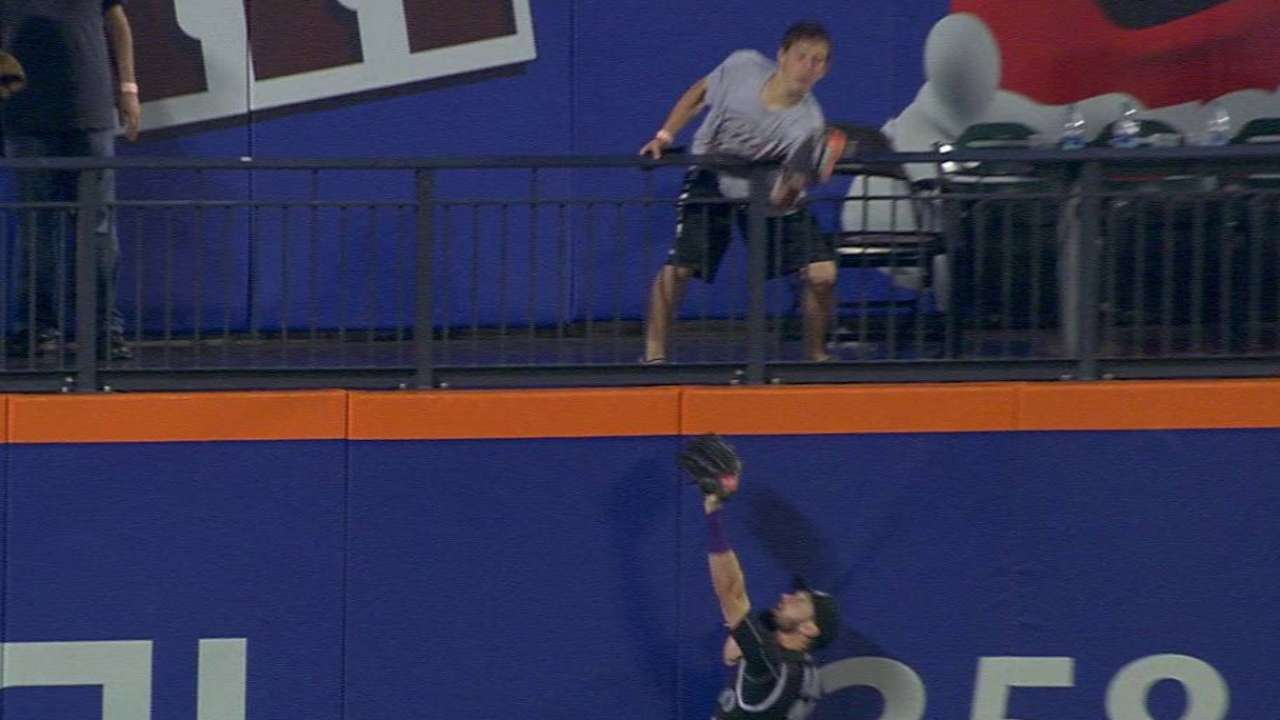 NEW YORK -- A week of frustration for the Mets came to a head near the conclusion of their 7-2 loss to the Rockies on Saturday night at Citi Field.
As the rain fell and fans filed for the exits with the Mets closing in on their fourth consecutive loss, Wilmer Flores seemingly squeaked a 95-mph fastball from Gonzalez Germen over the left-field wall for his 11th home run of the season and eighth in July.
First-base umpire Jeff Kellogg, however, called for a crew-chief review, and Flores was ruled out because a fan reached over the railing atop the wall and prevented Rockies left fielder David Dahl from making the catch.
"You can't assume he's going to catch the ball," Flores said. "I don't know what the rule is, but watching the video, you cannot ... assume."
Following the ruling, Mets manager Terry Collins was ejected by Kellogg for arguing about a reviewed play. Collins, as well as Flores, believed the third baseman should have been awarded at least a double.
"I don't understand how they can assume that ball is going to be caught," Collins said. "I saw the replay when I came by and I certainly see what they were saying, but I don't know that he catches it. That's all I was saying."
"Who says he is going to catch the ball," Flores added. "You can look at the video and see he didn't even try to reach for the ball. He didn't even jump."
Dahl, who instantly pointed to the fan and said "He reached over" before turning his attention to the scoreboard in center to watch the replay, thought differently.
"He took the ball away from me and gave me the [Dikembe] Mutombo finger [wag] and was yelling," Dahl said. "I was going to catch it, though. I was camping under it, and the next thing I knew another glove takes it away. I was on it."
Per MLB Rule 3.16: If spectator interference clearly prevents a fielder from catching a fly ball, the umpire shall declare the batter out.
A sellout crowd of 42,207 packed into a damp Citi Field to see Mike Piazza become the fourth Mets player to have his number retired before the game, but after a 38-minute rain delay before the first pitch, there was little for fans to cheer about until Flores' homer. Then, just like that, it was as if it never happened.
"What am I going to do? I can't just go out there and fight for it," Flores said. "It's their rule. What am I going to do? It's frustrating. You are out there trying to do your job and you do and then that happens, it's not fun."
Troy Provost-Heron is a reporter for MLB.com based in New York. This story was not subject to the approval of Major League Baseball or its clubs.