Santiago, Smith get it done as Deadline looms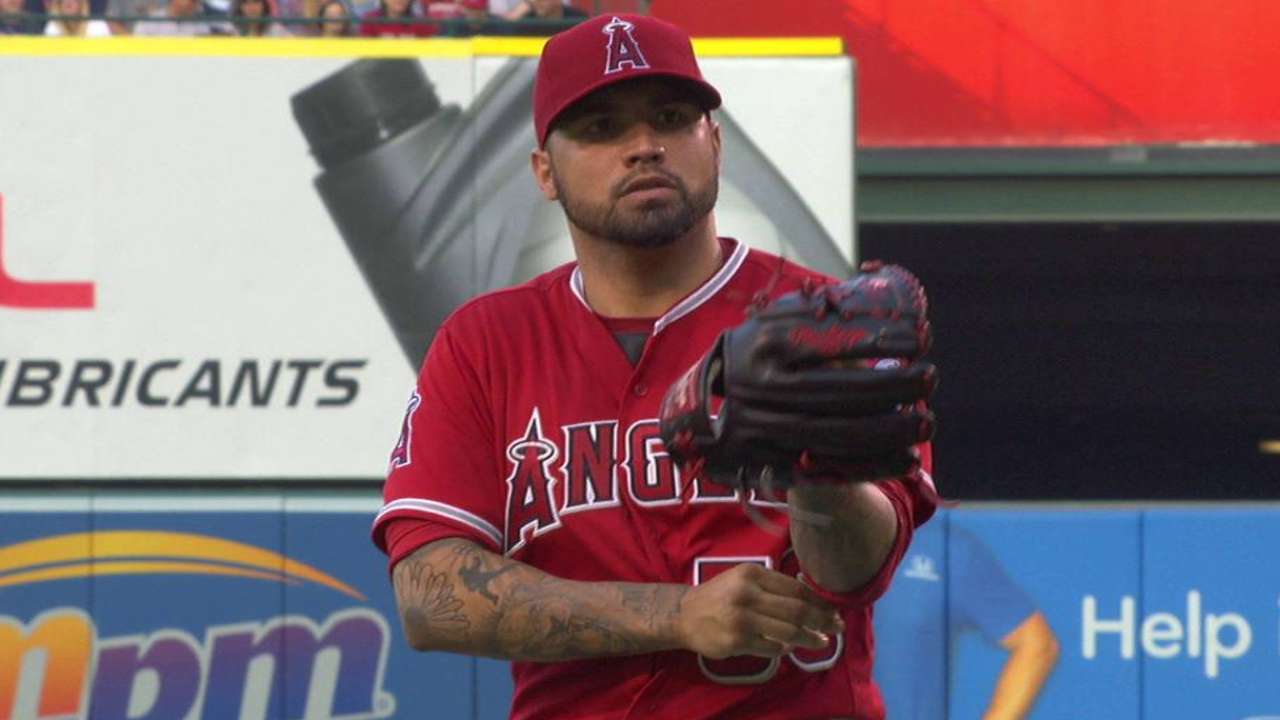 ANAHEIM -- Hector Santiago got the win, his sixth this month, despite allowing 10 baserunners and exceeding 100 pitches before the end of the fourth inning. Joe Smith retired all four of the batters he faced, running his scoreless streak to 7 2/3 innings. And after they were done, neither could be sure if they would ever play for the Angels again.
The non-waiver Trade Deadline is Monday, at 1 p.m. PT, less than 40 hours from the time the Angels beat the Red Sox, 5-2, on Saturday night to capture their 14th win in the last 21 games. Santiago, an accomplished starting pitcher in a market devoid of them, and Smith, a free-agent to be with a sterling track record as a setup man, are two of the Angels' most likely trade pieces.
"Yeah, you wonder it," Smith said regarding whether he'd be dealt. "Anybody would. Any day you walk in there it might be your last."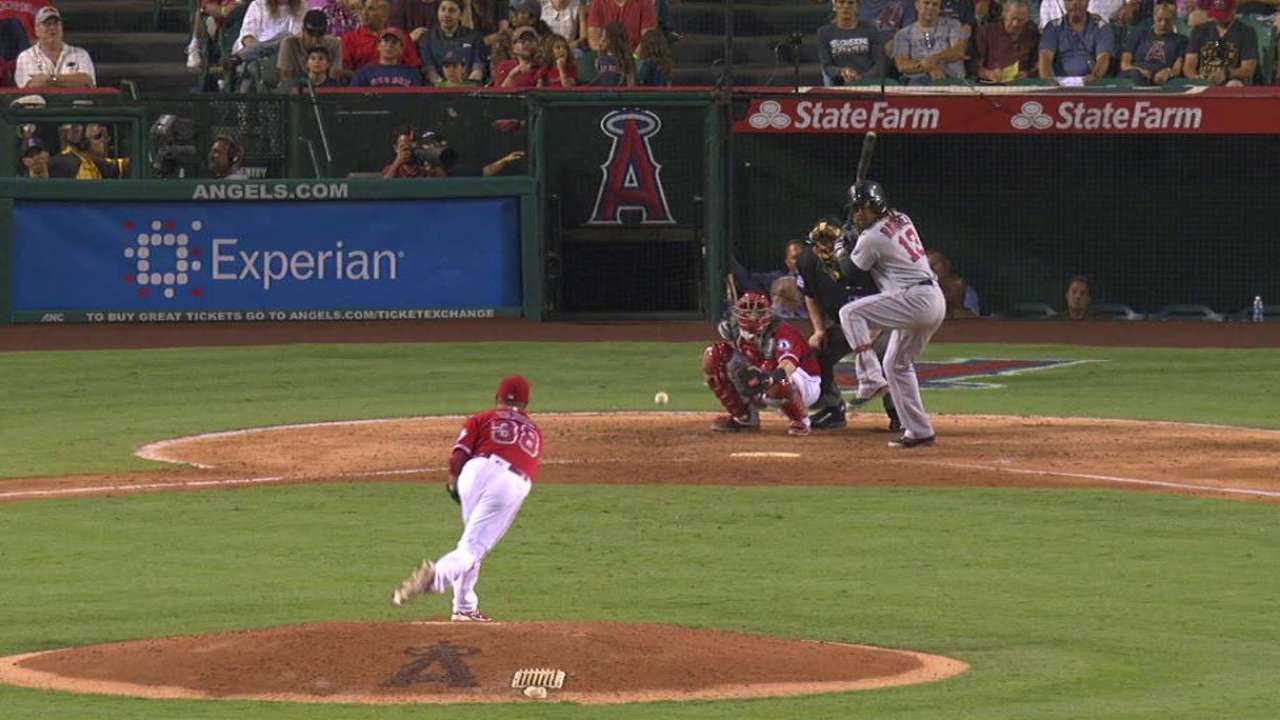 Santiago, seemingly a perpetual trade candidate, is a little bit more accustomed to this kind of thing.
"I'm not worried about that," he said. "It's not in my plans or in my mind. I'm just trying to go out there and compete."
Santiago counts the pitches in his head during his starts, just to keep track. He knew he needed 39 of them to complete a two-run first inning, and that his pitch count was at 74 through the first three frames, and that the second out of the fourth came on his 100th pitch.
"I was like, 'Man, I don't know if they're going to let me go back out there.'"
But Santiago gave up only those two first-inning runs, on a leadoff homer by Mookie Betts and a single by Hanley Ramirez. He breezed through the fifth, ending his start with a career-high 119 pitches. And he joined Joe Kelly of the Red Sox as only the second pitcher to allow just two runs despite needing at least 115 pitches through the first five innings this season.
Santiago has a 1.27 ERA this month, and he's done that despite allowing 26 hits and 21 walks over a stretch of 35 1/3 innings.
"Somehow I just find a way to make the pitch at the right time," Santiago said. "I'm just trying to figure out how to do that before I get in that situation with guys on. That's the key. Something inside me clicks and it's like, 'Hey, you're not scoring.' Literally. I said that three times to them. There were guys on second and third, and I'm like, 'You're staying right there.' That's the mindset I get with guys on base."
Santiago loaded the bases in three innings but didn't give up any runs in spite of it. His left-on-base percentage ranks third in the Majors this month, and within the top 25 going back to his first year with the Angels in 2014. It has Santiago wondering if he should simply pitch out of the stretch at all times, an approach that tends to put more stress on a pitcher's arm.
He brought it up to the Angels' pitching coach, Charles Nagy, and both sides are good with it.
"But it's just a matter of me being comfortable doing it from Pitch 1 to Pitch 100," Santiago said. "It might be something for these next couple starts, if not next year."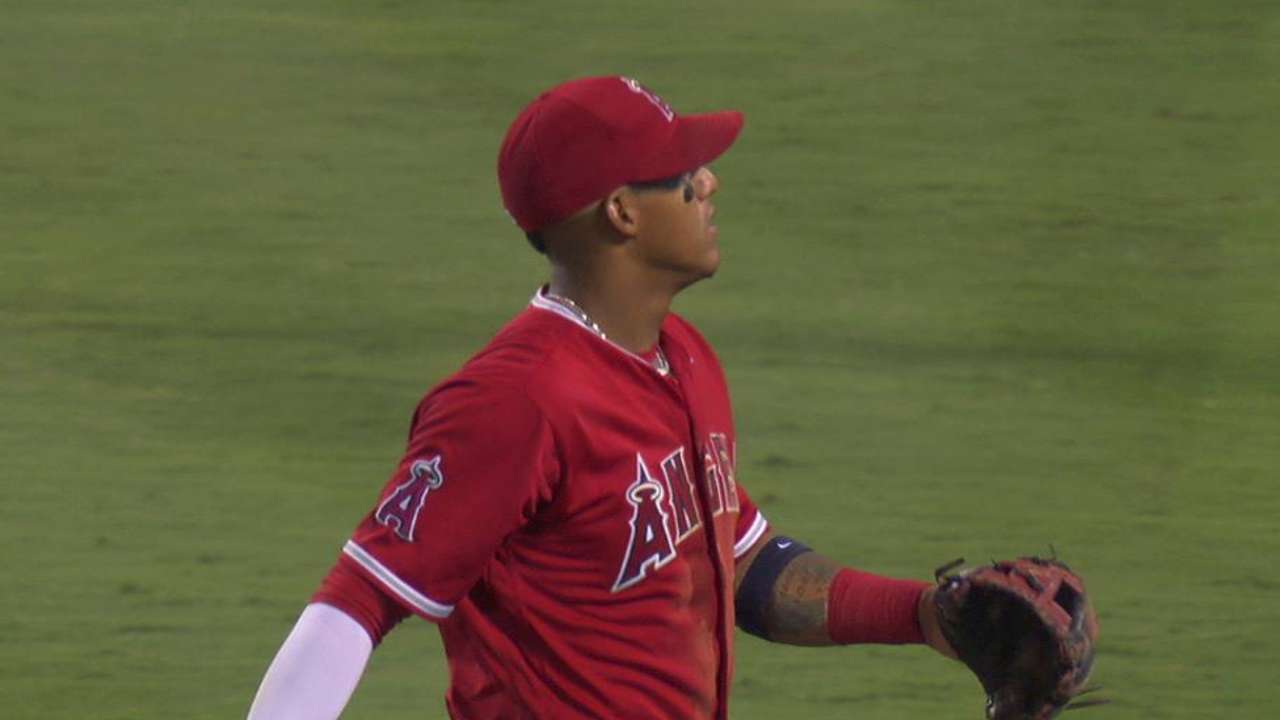 Smith got on track thanks in large part to the Angels' bullpen coach, Scott Radinsky, who has known Smith for about 10 years and worked to refine his delivery so that he is driving towards home plate as opposed to fading towards the third-base side.
Smith, who has previously dealt with a nagging hamstring and a sore back, has been supplanted by the young, upstart Cam Bedrosian in the setup role. But his ERA has dropped from 4.80 to 3.82 since July 9.
"It's just fun being healthy," Smith said, "and to actually have an idea of where the ball is going when you throw it."
Over his previous six appearances, Smith had thrown 90 percent of his pitches for strikes.
He faced his first three-ball count since July 17 on Saturday.
"I was pissed," Smith said, smiling. "You have no idea how pissed I was."
Alden Gonzalez has covered the Angels for MLB.com since 2012. Follow him on Twitter and Facebook, and listen to his podcast. This story was not subject to the approval of Major League Baseball or its clubs.