Mets cautious with Cespedes' sore right quad
Collins said club will do everything possible to avoid DL stint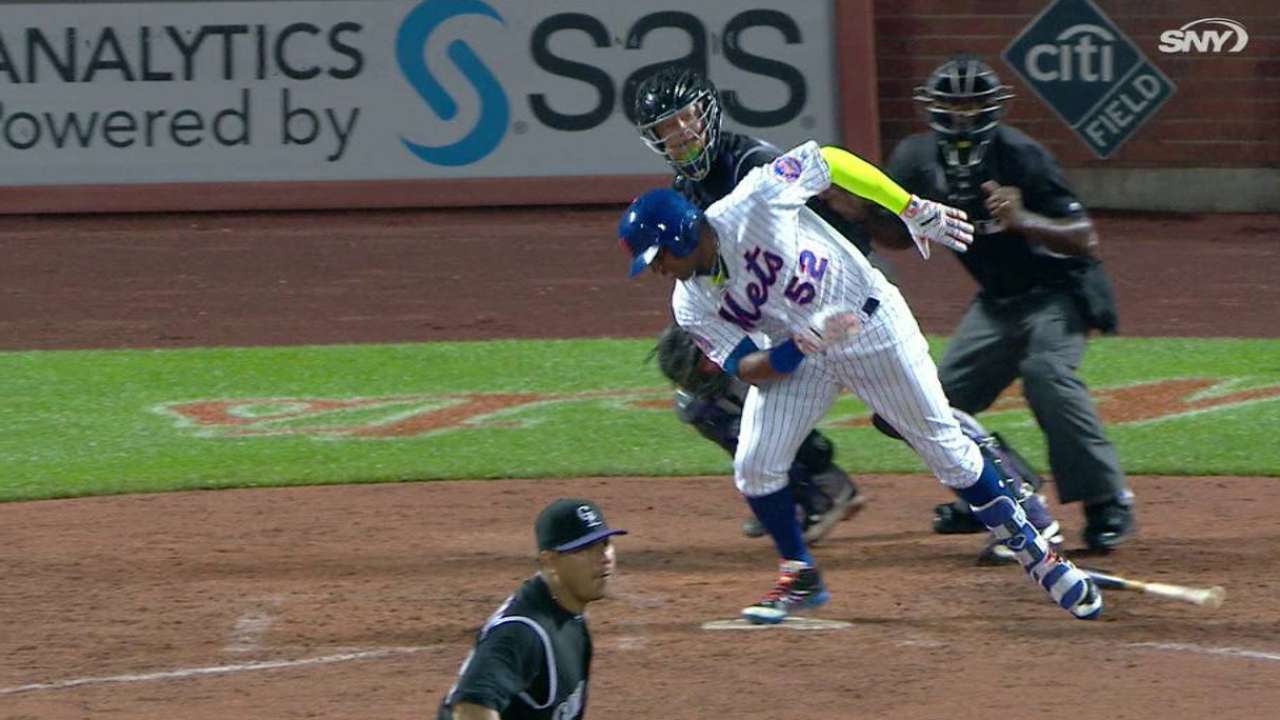 NEW YORK -- Yoenis Cespedes hobbled off the basepath in the fifth inning on Saturday, retreated into the dugout and never returned. The Mets called the outfielder's removal from their 7-2 loss to the Rockies "precautionary," with manager Terry Collins saying afterward that the plan is to keep Cespedes and his sore right quad off the disabled list at all costs.
"We're going to do the best we can to make sure he stays off the DL," Collins said. "We need him. We need his bat in the lineup."
It is a telling state of things for the Mets, who have lost 12 of their last 18 games and have seemingly nowhere else to turn. Minutes after dropping their fourth in a row, the Indians reportedly swept one of the Mets' prime trade targets, Jonathan Lucroy, out from under them. Even if the Mets are able to acquire a different big bat such as Jay Bruce prior to Monday's non-waiver Trade Deadline at 4 p.m. ET, there are no guarantees that will be enough for an offense that has scored four runs over its last 29 innings.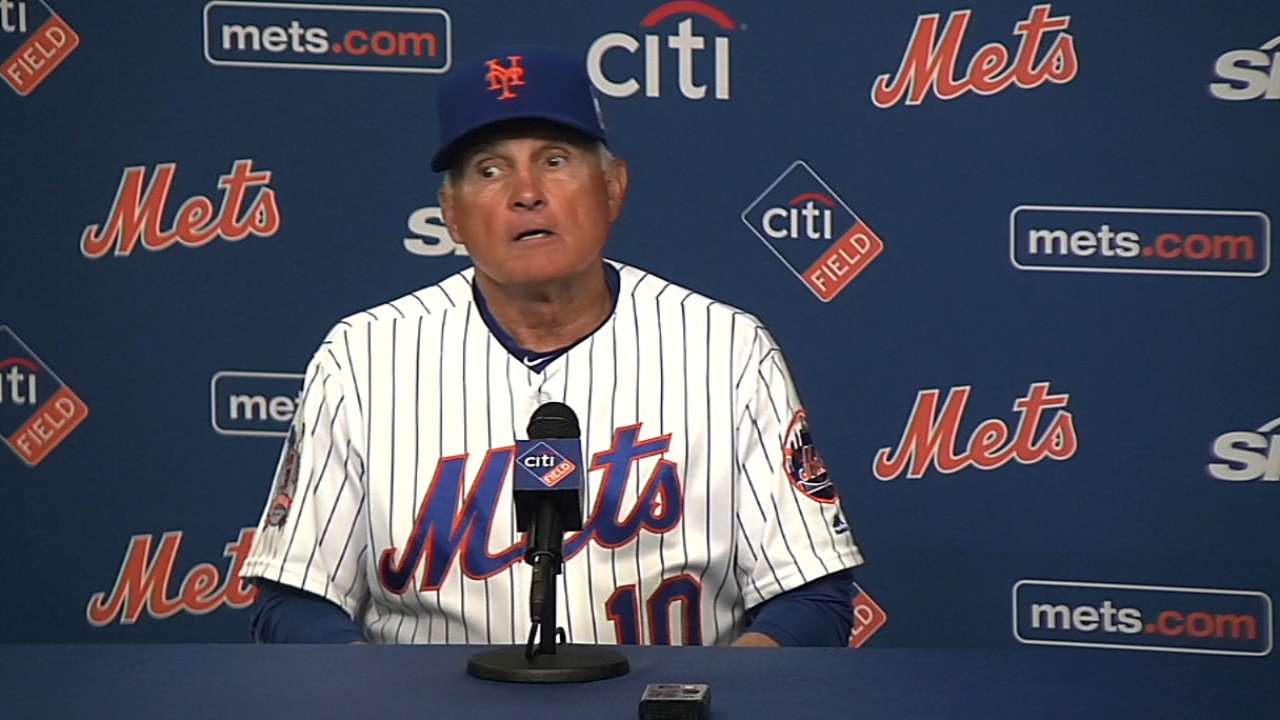 "Teams, just like players, go through slumps," Cespedes said through an interpreter. "We're obviously going through a slump right now. But I know that every guy that goes out there, they can play hard. They're going to keep working at it. And eventually, we're going to come out of this."
Knowing that, the Mets have attempted to let Cespedes play through his weeks-old quad injury with mixed results. He hit a go-ahead, two-run homer on Wednesday against the Cardinals, but was out of the starting lineup one night later due to lingering discomfort in his leg. The injury dates to July 8; since that time, Cespedes has started only 11 of the Mets' 17 games.
"If I had to play another game right now," Cespedes said late Saturday night, "I'd say no, I probably can't."
It would be easy to blame injuries such as that one for the Mets' recent struggles, considering Cespedes is ailing, Matt Harvey and David Wright are out for the season, Juan Lagares is scheduled to undergo thumb surgery, Jose Reyes just landed on the disabled list, Lucas Duda remains in limbo, and Noah Syndergaard and Steven Matz are pitching through elbow issues. The list goes on.
But injuries aren't the only issues haunting the Mets. Healthy players who have underperformed has been just as much of a culprit, whether it's Curtis Granderson at the top of the lineup, Neil Walker in the middle or Travis d'Arnaud at the bottom. It is with that in mind that the Mets have searched feverishly this week for offensive upgrades like Lucroy or Bruce. New York signed Justin Ruggiano on Saturday to replace Lagares, and expect at least to add a reliever before the Trade Deadline.
The results of those trade conversations may spark them, just as Cespedes did a year ago. Or the Mets simply may not have a miracle in them this time, with the Rockies joining a host of other teams holding National League Wild Card aspirations.
It was exactly one year ago on Saturday that the Mets hit rock-bottom, losing a rain-soaked, twice-delayed game to Justin Upton and the Padres on the eve of the Trade Deadline.
A day later, they traded for Cespedes, Wilmer Flores hit a walk-off home run against the Nationals and the Mets were on their way. So if nothing else, this club understands the blueprint.
"We've still got to come every day," Collins said, "and grind it out."
Anthony DiComo has covered the Mets for MLB.com since 2008. Follow him on Twitter @AnthonyDiComo and Facebook, and listen to his podcast. This story was not subject to the approval of Major League Baseball or its clubs.