Puig slated to be in lineup for series finale
Dodgers right fielder has been nursing hamstring injury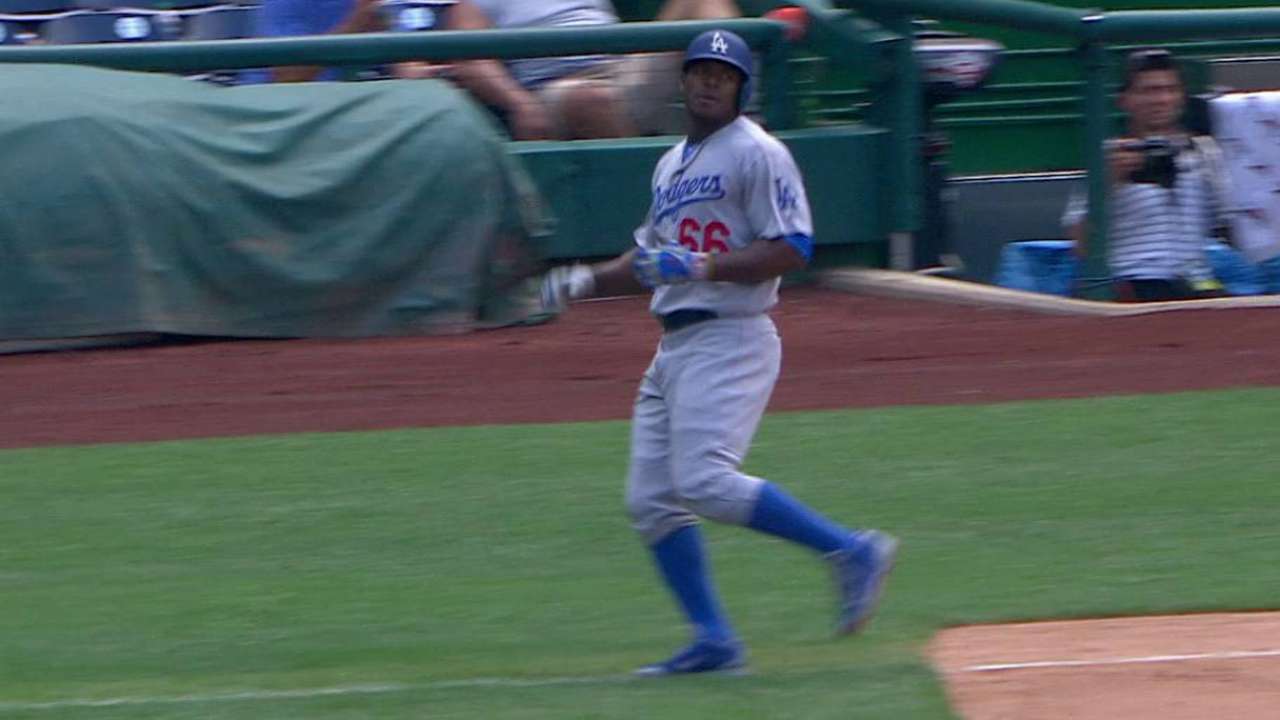 LOS ANGELES -- Dodgers right fielder Yasiel Puig will make a return to the lineup for Sunday's game against the D-backs, his first time starting since he exited the game on July 21 after his hamstring tightened up.
Puig appeared in Friday's 9-7 win as a pinch-hitter, his first appearance since the injury, and flied out to center. Manager Dave Roberts said if Puig were to start, he would have to expect a full nine innings.
"I don't play him just to play seven," Roberts said. "I don't feel he's 100 percent, but every day that we've given him he's got better and better."
While Roberts was firm before Saturday night's 4-2 loss that Puig would start Sunday, he slightly softened the plan after the game, saying it was in place "unless something drastic changes."
Trade speculation has surrounded Puig for the last couple days and Roberts opted to use backup shortstop Chris Taylor over the outfielder in a pinch-hitting situation in the eighth inning Saturday night.
Roberts said he decided to use Taylor because Puig didn't take batting practice on the field before the game.
Puig's time off the field preserved the possibility of a retroactive DL placement, but his appearance Friday ended any chance of that. Roberts described the decision-making progress as a balancing act between not thinking he needed the DL and trying to keep him out of harm's way.
Further complicating that balance is the strong play of rookie Andrew Toles, who has started in right field for five of the Dodgers' six games in Puig's absence. After being out of baseball in 2015 and beginning 2016 at Class A Advanced Rancho Cucamonga, Toles has registered a .324/.395/.412 line in 38 plate appearances while displaying excellent speed in the outfield.
"Andrew's done a great job for us on both sides of the baseball, adds that speed element," Roberts said. "But I think for us, he'll be off the bench and certain spots against right-handed pitching, he'll be in there and getting the start."
Injury notes
Kiké Hernandez (rib cage) has appeared in six games during his rehab assignment at three different levels, going 3-for-24, and is nearing a return. Roberts said the team will make decision whether to activate him in the next couple of days.
Clayton Kershaw hasn't begun baseball activities yet, but Roberts said that step should be "on the horizon."
Jack Baer is a reporter for MLB.com based in Los Angeles. This story was not subject to the approval of Major League Baseball or its clubs.