It's business as usual for Reds' Bruce, Cozart
Despite trade rumors, players focused on the game
SAN DIEGO - As Monday's non-waiver Trade Deadline looms around the corner, Reds right fielder Jay Bruce and shortstop Zack Cozart continue to wait it out and try to perform under challenging circumstances.
On Saturday, a source told MLB.com that the Mets were "very involved" in a pursuit of Bruce. This came after Friday's speculation centered on the Dodgers having interest. Cozart was linked to the Mariners as an interested club by ESPN on Friday.
"Honestly, I'm not even thinking about it," Cozart before Saturday's game against the Padres. "I am here. I'm playing today. Whatever happens, happens. If I get traded, it means I'm on a winning or contending team. It's part of the business."
While Bruce is making $12.5 million in the final guaranteed year of his contract with a $13 million club option for next season ($1 million buyout), Cozart remains under club control by the Reds for 2017. He will be arbitration-eligible for the third time this winter.
Bruce, who saw his five-game home run streak end in Friday's 6-0 win over the Padres, has done an admirable job of blocking out the uncertainty while on the field. Although he hasn't figured as prominently in rumors, the same could be said for Cozart's ability to compartmentalize. He was 2-for-5 with a triple and run scored on Friday and took a 10-game hitting streak into Saturday.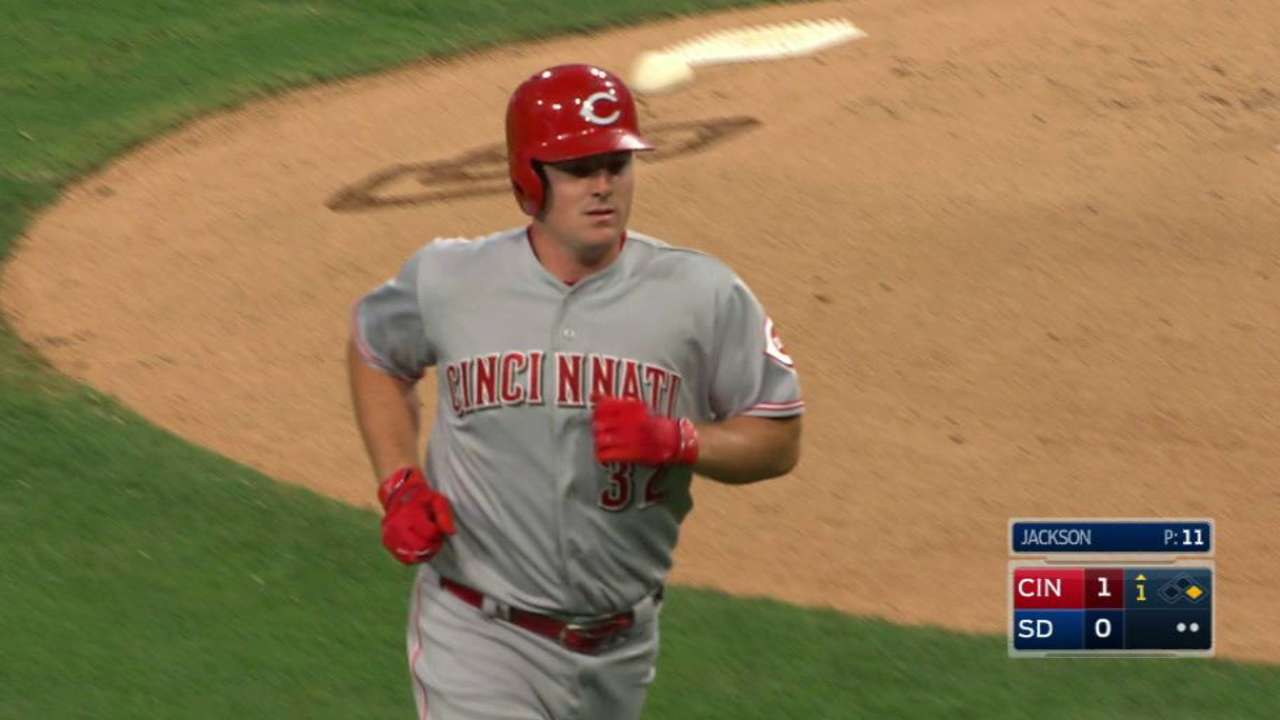 Cozart said it's not hard to tune out the distraction.
"I might think about it away from the field every once in a while. While I'm here at the field and playing the game, I'm definitely not thinking about it," said Cozart, who is making $2.9 million this season. "I'm thinking about what I can do to help the team win. That keeps me occupied most of the time. We've been playing really good baseball, which makes it a lot more fun to come to the park."
Reds executives, including president of baseball operations Walt Jocketty and general manager Dick Williams, have been huddled at the team hotel in San Diego. Manager Bryan Price has not been given any word that any deals are close, but acknowledged that he would have more involvement and input if the team was in buying mode instead of selling.
"Quite often when you make those deals, you don't get somebody you can plug right into your lineup," Price said. "I think it's different if you're a buyer or you're a seller. I really do."
Price acknowledged that these aren't easy times for players in his clubhouse.
"It is particularly when you have guys here for a long time that want to stay," Price said. "That's the hardest thing -- for guys who put it all and leave it all on the field that would like to stay in Cincinnati and continue to work through where we are right now. It's a challenge more for the players. The not knowing how it's going to affect your family, things of that nature.
"Hearing your name and knowing you're possibly going to be moved to another ball club is a challenge. But it's a challenge for every team that's in a seller's position. That's where we are. We will be there until we can get this thing turned around."
Mark Sheldon has covered the Reds for MLB.com since 2006, and previously covered the Twins from 2001-05. Follow him on Twitter @m_sheldon and Facebook and listen to his podcast. This story was not subject to the approval of Major League Baseball or its clubs.