Wright isn't concerned with weather affecting knuckleball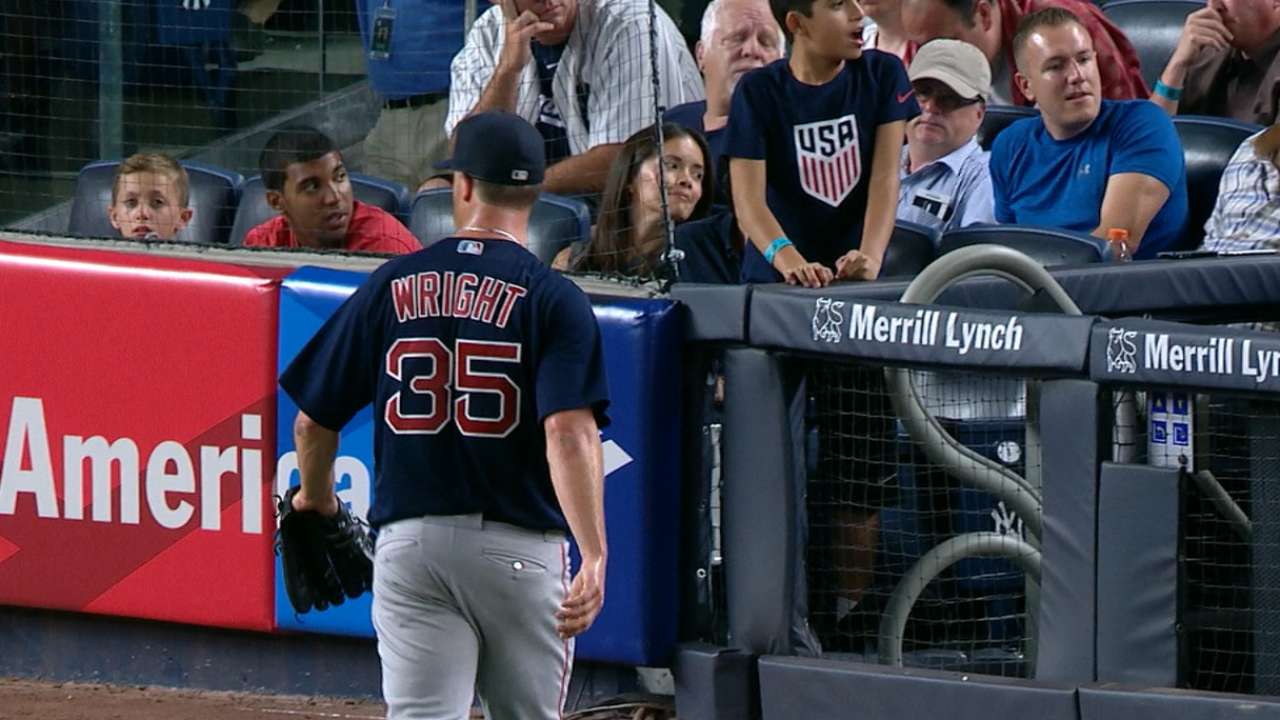 ANAHEIM -- Knuckleballer Steven Wright wants to clear something up about his last start, when he allowed a season-high eight runs over 4 2/3 innings against the Tigers.
"The weather didn't affect me the last game," said Wright. "The only time I ever felt like the weather affects me is rain, and then the one time in Texas -- that's the only time I felt like I had a tough time holding onto the ball."
It will be humid and hot again on Sunday at Angel Stadium -- perhaps close to 90 degrees -- when Wright pitches the matinee finale of a four-game series against the Angels. He said not to worry.
Wright's start against the Tigers, he said, was simply the case of having a bad night at the office.
"You're going to have outings like that, where you don't feel your best," Wright said. "You try to do everything you can to survive. It stinks though when you're a starting pitcher and get eight runs of support and you get a no-decision. That's bad on my part, the fact that we got eight runs and I can't get through the fifth inning. But that's baseball. It just [stinks] that I've had like three of them like that in my last six starts."
Manager John Farrell had discussed the possibility of Wright wearing long sleeves.
"To me, we talked about it the other day, to wear long sleeves and keep the sweat from running down the back of his hands," Farrell said. "We see him many times trying to wipe it off, trying to do what he can to maintain the consistency to the feel."
It doesn't sound like Wright feels that's necessary.
"I go out and throw my bullpens in the daytime and it's just as hot or hotter than it is in the game and I feel fine," said Wright. "I think it was just one of those days where the ball wasn't moving as much. I just don't think about it. I just turn the page."
Worth noting
• Red Sox closer Craig Kimbrel faced three batters and got one of them out while throwing 17 pitches in the start of a rehab assignment for Triple-A Pawtucket on Saturday. The club will soon decide whether Kimbrel, coming off left knee surgery, will continue to rehab in the Minors or join the Red Sox for their four-game series in Seattle that starts Monday.
• With David Ortiz getting Saturday night off against Angels lefty Hector Santiago, Jackie Bradley Jr. batted cleanup for the first time in his Major League career. In fact, it was the first time Bradley batted fourth since college.
"I wanted to be sure we broke up the right-handers and not run a string of four, which, you look at their bullpen," said Farrell. "It's a predominantly right-handed-heavy bullpen, and Jackie is swinging the bat well, has swung the bat well all year. And to keep that continuity, keep the string of right-handers broken up, Jackie is the logical choice."
• While Farrell talks about how much it will help the team when outfielder Chris Young returns from his right hamstring strain, there's no such certainty when or if Blake Swihart will be back this season. The outfielder/catcher suffered a severe left ankle sprain on June 5.
"It's probably too early to tell yet," said Farrell. "We felt once we left on the road trip these next seven to 10 days would be pivotal on what his next steps were. As the intensity ramps up, how he was going to respond physically was going to be the predictor of a rehab assignment and eventual return. I can't say he's out of the woods yet with the ankle injury."
Ian Browne has covered the Red Sox for MLB.com since 2002. Follow him on Twitter @IanMBrowne and Facebook. This story was not subject to the approval of Major League Baseball or its clubs.