'Reinvigorated' Hawk looking ahead to '17
Long-time announcer working scaled-back schedule in 2016 season
MINNEAPOLIS -- It didn't take long for Ken "Hawk" Harrelson, the colorful television play-by-play voice for the White Sox, to make a decision about his broadcasting future.
After lightening his workload to road games, Opening Day and the recently completed home games against the Cubs in 2016, Harrelson loved the changes so much that he almost immediately wanted to return in 2017 for a 33rd season in the broadcast booth.
"I actually made up my mind after about April 15, tax day. In fact I texted [White Sox chairman] Jerry [Reinsdorf]," Harrelson said on Saturday. "He asked me how I liked it and I texted him and said Aris and I have options now that we haven't had in over 40 years.
"And I said, 'I'm loving it.' It was two things: As long as I feel this way, I'm going to keep going -- barring any health problems. I'll be 75 next month. And right now, I feel great. I just hope that we can make a comeback of some sort."
Harrelson had conversations with Reinsdorf before the 2015 season about scaling back his workload. But Harrelson didn't want to make the move because he felt the team was going to be too good. While the team has been a bit of a disappointment this season, Hawk has enjoyed working with Steve Stone and having Jason Benetti expertly call the games as well at home.
"I talked with four or five announcers a few years ago about cutting back. They said, 'Hawk, you won't believe how reinvigorated you will be,'" Harrelson said. "It's the truth. I look forward to coming to the park every day. I look forward to driving to the airport when we go on the road trip. I look forward to coming into the booth every day."
There have been a few occasions this season where Harrelson has made the trip from near South Bend, Indiana to Chicago. He laughed Saturday while saying he wondered how he made those long journeys regularly for eight straight years, but wouldn't have changed a thing because he got to see his grandchildren.
Eaton throwing strong
With two outfield assists in Friday's 2-1 loss to the Twins, Eaton now has 16 for the season. He's on pace to record 25 assists, which would tie for the fifth-most in franchise history. It's a sizable accomplishment from Spring Training, when Eaton was going through a strenuous throwing program in working his way back from offseason shoulder surgery.
"The staff has done a great job. I don't give myself credit too often. But I'll give myself some credit -- some really long days with [physical therapist] Brett [Walker] and [head athletic trainer] Herm [Schneider] in the training room to get myself ready for this year," Eaton said. "It definitely was a task in the offseason, having surgery and coming back from that. But hard work pays off, trying to get my arm ready and in shape to be back. A lot of credit goes to those guys.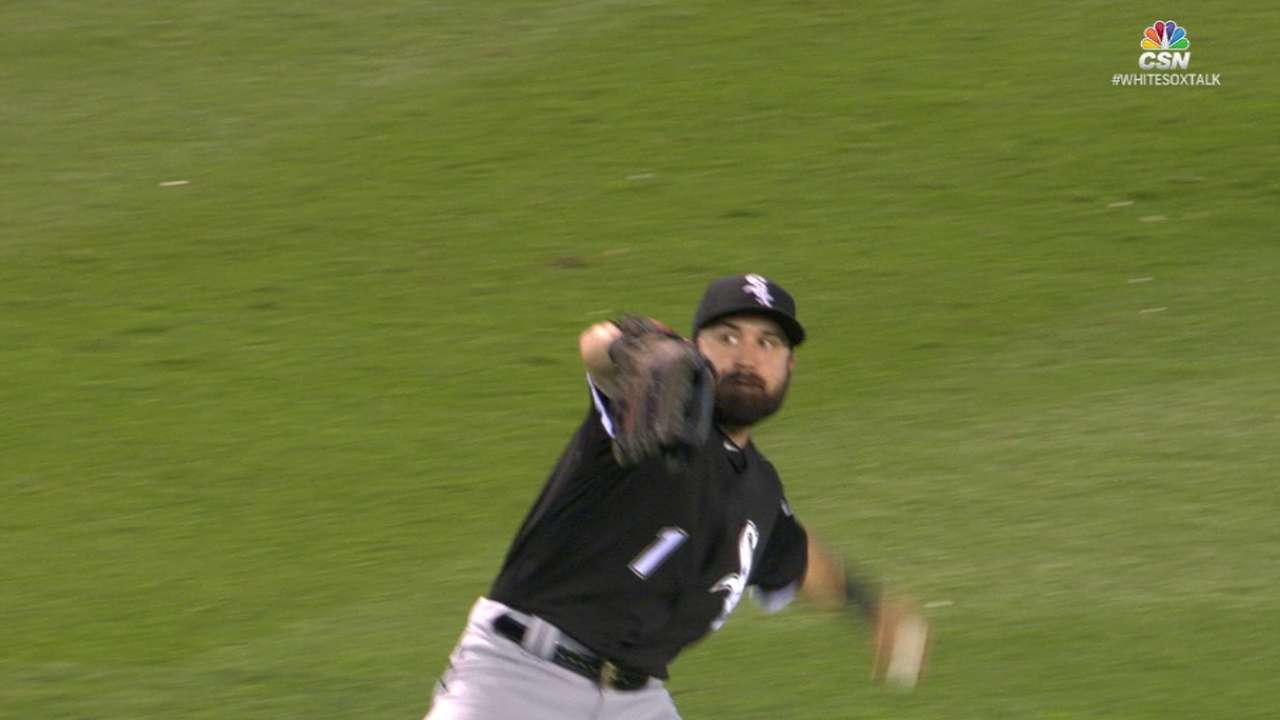 "I don't want them to run, even on a ball to the wall. I want to get it to the cutoff man as fast as I can to try to make that third-base coach stop them because I don't want to give them an opportunity to try and get home."
Scott Merkin has covered the White Sox for MLB.com since 2003. Read his blog, Merk's Works, follow him on Twitter @scottmerkin, on Facebook and listen to his podcast. This story was not subject to the approval of Major League Baseball or its clubs.