Could Choo's progress alter Texas' trade plans?
Rangers seek starter, reliever, could be in play for hitter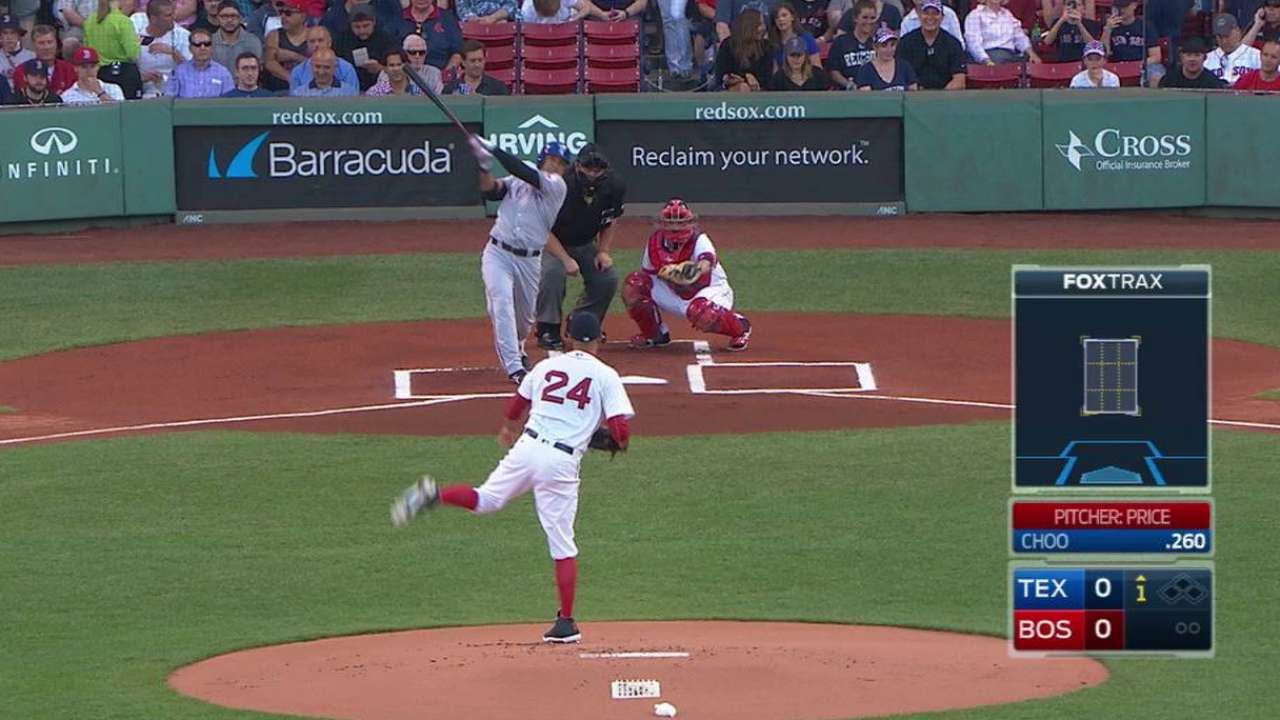 ARLINGTON -- Outfielder Shin-Soo Choo, on the disabled list because of tightness in his lower back, is doing all baseball activities and feeling good about his progress.
"I'm doing everything normal," Choo said. "I feel normal."
Choo is scheduled to hit off Derek Holland during a simulated game on Tuesday in Baltimore and that could tell if he'll be ready to come off the disabled list on Thursday.
But the Rangers keep coming up in odd trade rumors about available hitters, including Carlos Beltran of the Yankees, Jay Bruce of the Reds and possibly even Kendry Morales of the Royals. That seems to suggest the Rangers still have some concerns about Choo being able to produce at a high level down the stretch.
"I have concerns on all [players] when they are on the shelf," Rangers manager Jeff Banister said. "But [Choo] has kind of hit all the marks. He's gotten better."
The Rangers are down one hitter with Prince Fielder out for the season after undergoing neck surgery on Friday. Joey Gallo has been called up to replace Fielder at designated hitter, although the Rangers might be more aggressive toward a veteran hitter if they weren't so focused on pitching.
Club officials on Saturday continued to suggest that's where the Rangers were still focused: at least one starter and possibly a backend reliever.
All the available starting pitchers remain in play with little movement since the Marlins acquired Andrew Cashner early Friday morning. The Rangers have explored every possible pitching option but so far have winced at the high demand in return, especially for White Sox left-hander Chris Sale and Rays right-hander Chris Archer.
The Rays are also holding tight to left-hander Matt Moore and right-hander Jake Odorizzi, and the Rangers have talked to the Phillies about Vince Velasquez and Jeremy Hellickson.
That doesn't preclude them from at least asking about position players, including catchers as the Padres have Derek Norris and Twins have Kurt Suzuki available. The big prize as far as catchers is Jonathan Lucroy of the Brewers, and it appears all but certain he'll be traded.
The Rangers haven't had a sense of urgency toward Lucroy to this point, but it does appear they are determined to do something.
"It would be nice," third baseman Adrian Beltre said. "Any team in the big leagues needs help. Nobody has a complete, 100-percent perfect team. We would welcome help but, if not, we'll continue to do our job and try and win the World Series."
The Rangers understand what it meant to acquire pitcher Cliff Lee midseason during the 2010 run to their first World Series and Cole Hamels last year when they won the American League West.
"The Cliff Lee thing was pretty insane," said Michael Young, the former Rangers infielder now working in the front office. "That's probably the gold standard of a Trade Deadline move, when you get a guy that transforms your team -- transforms your city, really. Cole was very, very similar. It does give you a shot in the arm and a bit of a boost."
The Rangers have made one trade. They acquired right-handed starter Lucas Harrell and left-handed reliever Dario Alvarez from the Braves on Wednesday. Harrell is scheduled to start Sunday against the Royals.
"But the other thing with a team like this, is that this team has already tasted the postseason a little bit," Young said. "They won the division last year, they're leading it right now. So they know, regardless of who comes through this door at the Trade Deadline, they have what it takes to compete and win."
T.R. Sullivan has covered the Rangers since 1989, and for MLB.com since 2006. Follow him on Twitter @Sullivan_Ranger and listen to his podcast. This story was not subject to the approval of Major League Baseball or its clubs.