Sale clears air with Ventura, teammates
Lefty ace moving past suspension stemming from jersey controversy
MINNEAPOLIS -- Chris Sale stood in front of his teammates Thursday night following a loss to the Cubs and spoke to them about his actions the previous Saturday that produced a five-game, team-imposed suspension.
Sale also talked with manager Robin Ventura in an attempt to put the throwback jersey controversy in the past.
"It's all squared away. Got on the same page," Sale said. "We are back to where we were before, trying to win games. Putting that in the forefront. I got my point across. I said the things I wanted to say and you move forward.
"I talked to everybody involved personally, one on one. Cleared the air, had some good talks. Learned some things. Talked about some things we already knew. It was good. It was very productive."
Ventura discussed a "long talk" he had with Sale and how the two "continue to move on." Ventura wasn't about to divulge the details.
As for the working relationship between the White Sox manager and his ace, there doesn't seem to be a lingering issue for either side.
"Again, I'm not going to discuss what we talked about," Ventura said. "But it was a good conversation."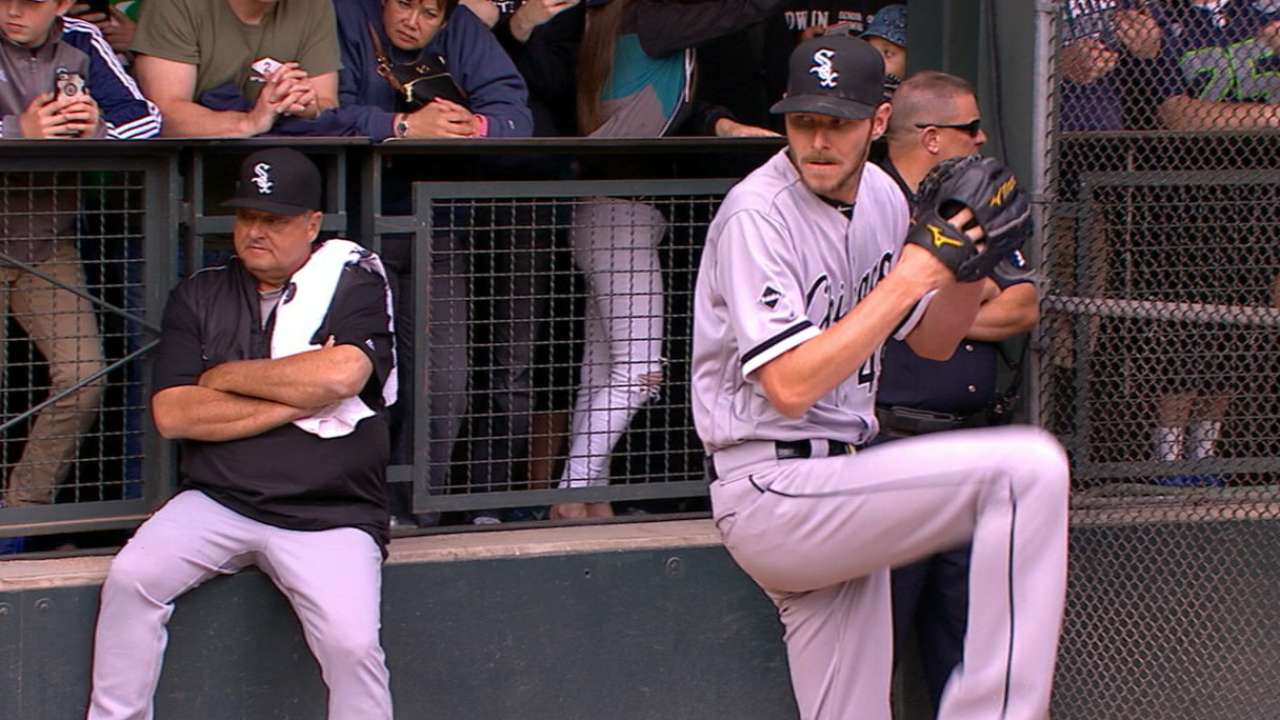 "Like I said, everyone is making a little bit bigger deal of this," Sale said. "Ten or 15 years ago, this wouldn't have been a story. There was no such thing as Twitter, and I don't think as much information leaked out as it does nowadays. It's just something that people gravitate to. It's the nature of the beast. I understand that. You move forward and keep a positive mind frame and come in every day with the same mindset."
With a 14-4 record and 3.17 ERA, Sale stands as one of the top pitchers in all of baseball. That status, along with an unprecedented contract leaving him under team control through 2019, at a potential $38 million owed after this season, makes him a prime trade target as Monday's non-waiver Trade Deadline approaches.
To get Sale, though, teams such as the Rangers or Red Sox or Yankees will have to put up or move on. The White Sox will have their exact demands met or else will be happy to give the ball to their five-time All-Star for Wednesday's start at Comerica Park against the Tigers.
A laid-back Sale didn't seem worried Saturday about the swirling trade rumors. He's totally focused on baseball, aside from trying to figure out a charitable component stemming from the 1976 jersey discarding one week ago.
"When I get back to Chicago, I'm going to try to talk to some people and figure out the right thing to do with it. I want to make it right, but I don't have any idea what's going on with it," Sale said. "It was honestly, it was my wife's [Brianne] idea.
"She was like, she's the smart one in the house apparently," added Sale, with a laugh. "She brought it up and it came to my attention it could be possible. So any time something bad happens like what happened, you always try to find something positive. If we can make a positive out of negative, it's perfect. Works out well."
Scott Merkin has covered the White Sox for MLB.com since 2003. Read his blog, Merk's Works, follow him on Twitter @scottmerkin, on Facebook and listen to his podcast. This story was not subject to the approval of Major League Baseball or its clubs.