Piazza emotional as Mets retire his No. 31
Hall of Fame catcher delivers another moving speech at Citi Field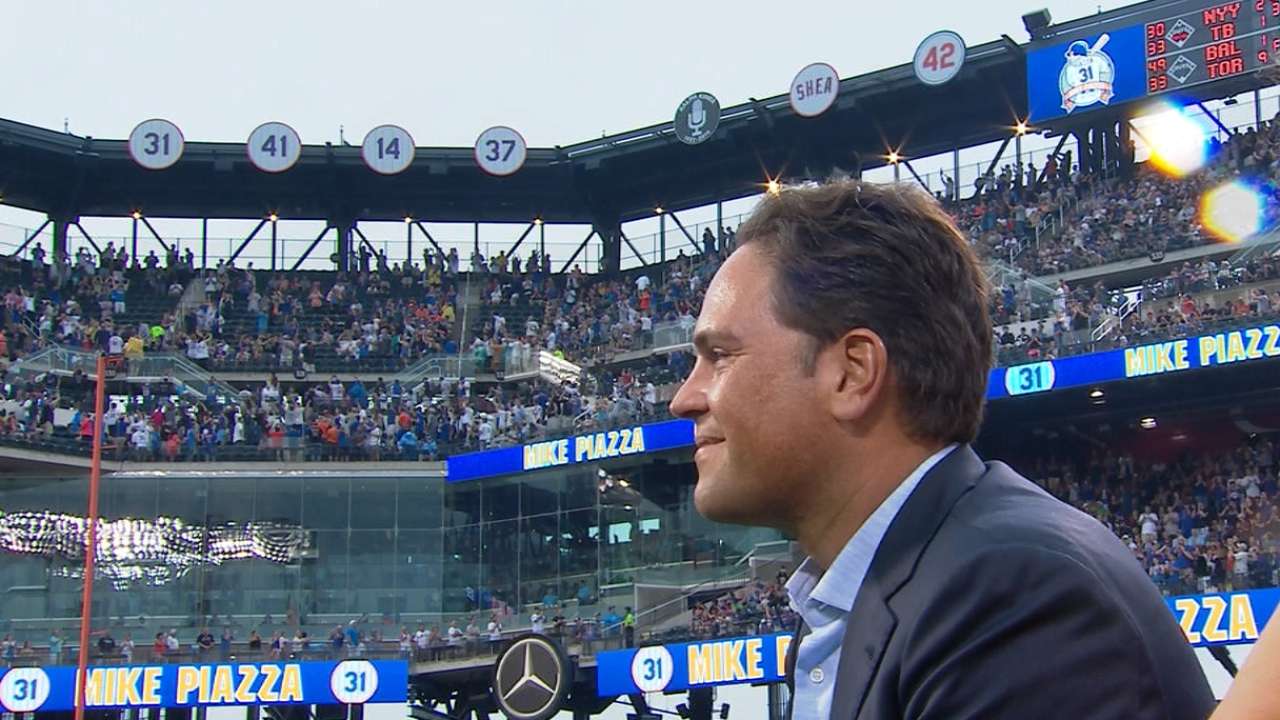 NEW YORK -- Before having his No. 31 retired, former Mets star Mike Piazza stood behind a podium and said that he'd try to avoid crying during his pregame speech on Saturday. For insurance, though, the Hall of Fame catcher began his speech in front of a damp, yet eager Citi Field crowd by saying, "With all due respect to Tom Hanks, there is crying in baseball."
Ultimately, though, no tears were shed. A week after being inducted into the National Baseball Hall of Fame in Cooperstown, N.Y., there was nothing but celebration at Citi Field as Piazza became the fourth player in Mets history to have his number retired.
"I've been a wreck emotionally this week," Piazza said during his news conference prior to the ceremony. "This occasion feels a little more festive, which is great, and it should be for the fans. But I can't help it because I feel like I've been honored more than any man deserves to be. I feel like I'm being honored more than any ballplayer deserves to be, so that can really reach in and tug at your heart a bit."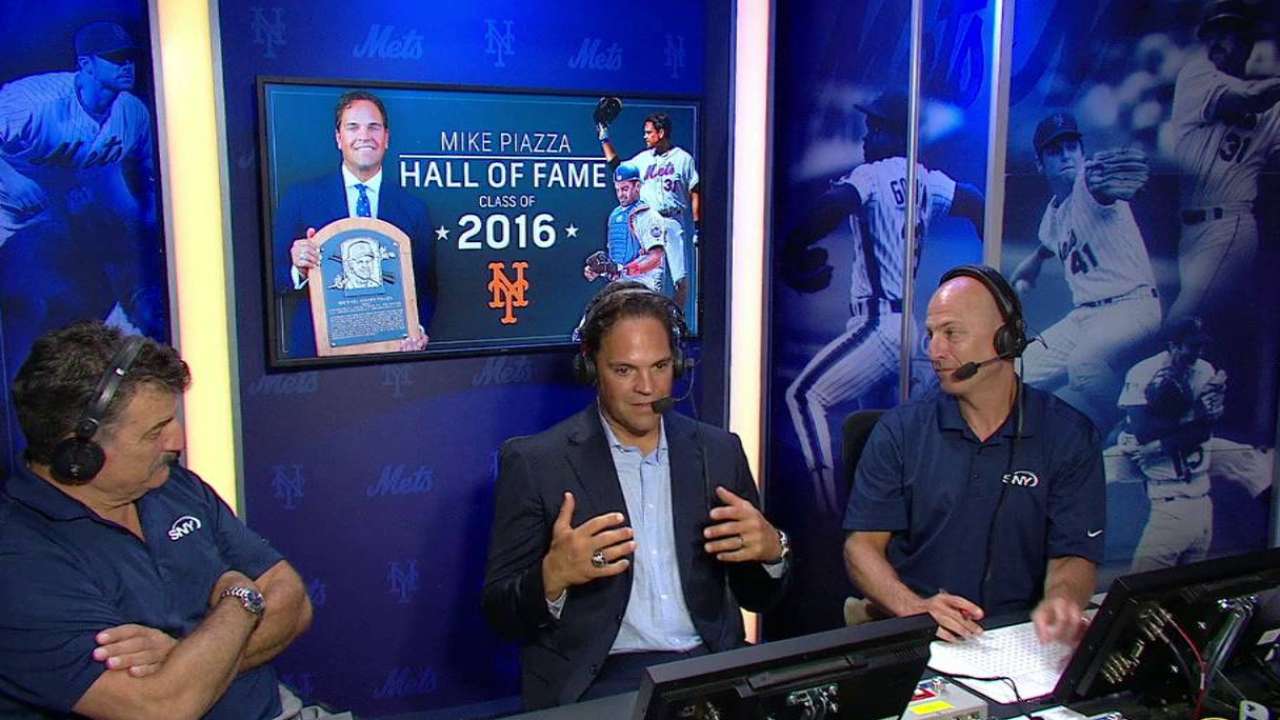 Before taking the podium placed in front of the No. 31 cut into the grass out in center field, a video of Piazza's greatest moments as a Met played. Included was the three-run home run that capped a 10-run inning as they rallied to beat the Braves, 11-8, on June 30, 2000, and of course the two-run home run off Atlanta's Steve Karsay in New York's first sporting event since the 9/11 attacks on Sept. 21, 2001.
It was those plays, as well as countless others, that endured Piazza to Mets fans, who chanted his name every chance they got during Saturday's ceremony.
"It's something that I think defies any explanation the way they have embraced me and my family," Piazza said. "It's so heartfelt. ... Maybe it's a culmination of a lot of things, just my journey here and the struggle in the beginning and staying here and embracing the city, and it's just been wonderful. I can't really describe it, so naturally when I was voted in there wasn't even [a debate]. I tried to keep it a little bit of a secret, but I didn't do a good job. It was always going to be the Mets."
Now Piazza's legacy with the Mets will last forever, not just in Cooperstown, but in Flushing as well.
"It's a tremendous honor," Piazza said. "Every team maybe has a different philosophy on retiring numbers, so I think it's great that the Mets keep it very exclusive, so that makes even that much more special. Symbolically, my son is here and he's too young now to realize, but it's going to be fun to take him to a game here and say, 'Hey, your dad was cool once.'
"It's going to be up there forever and it's just overwhelming."
Pointing to his newly-retired number resting above the upper deck in left field, Piazza drove home that point one final time at the end of his speech to the people clad in blue and orange who he said entered the Hall of Fame alongside him.
"That means I'll always be with you," Piazza said.
Troy Provost-Heron is a reporter for MLB.com based in New York. This story was not subject to the approval of Major League Baseball or its clubs.