Angels activate Robinson, DFA Gentry, Nava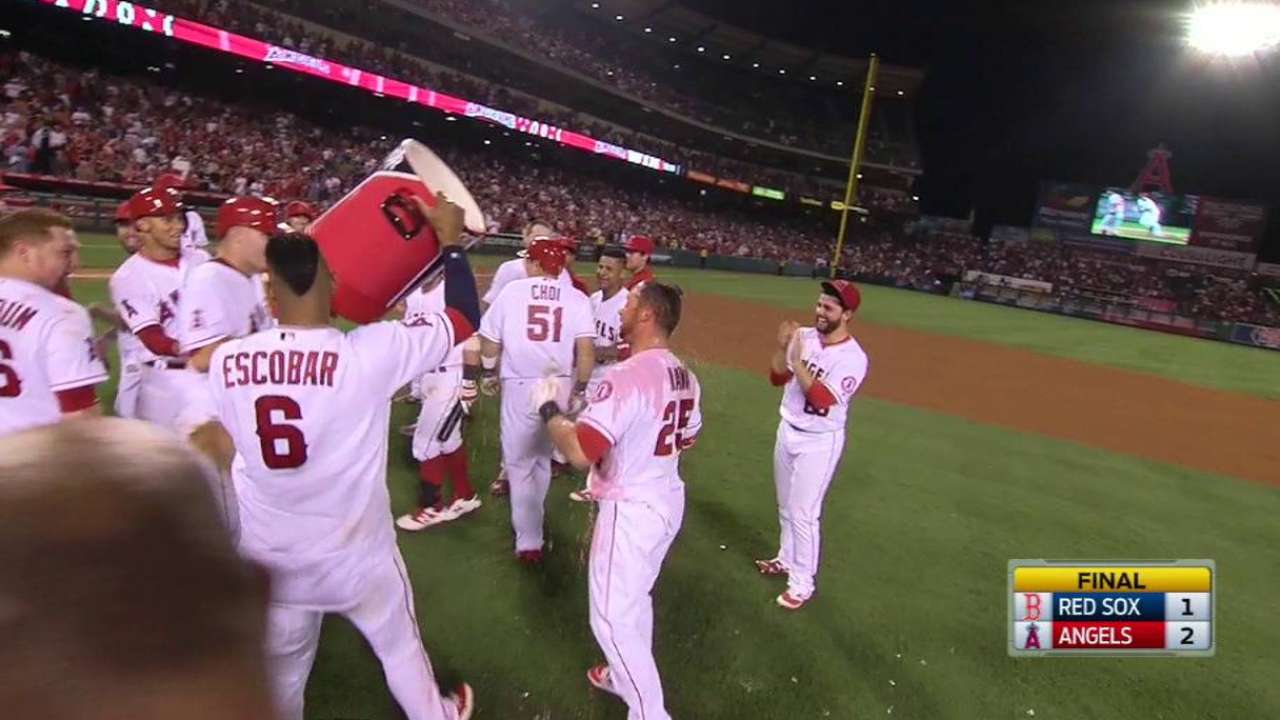 ANAHEIM -- The Angels' offseason plan for left field has proven not to be a success, as both of their free-agent signings -- Daniel Nava and Craig Gentry -- were designated for assignment on Saturday.
To take Nava's spot on the 25-man roster, the Angels activated Shane Robinson. Robinson batted ninth and played right field in Saturday night's game against the Red Sox.
Nava, who signed a one-year, $1.375 million deal with the Angels during the offseason, was hampered by injuries throughout this season, notably left knee tendinitis and a left groin strain that caused him to make separate trips to the disabled list.
The 33-year-old wound up playing 45 games for the Angels, hitting .235/.309.303 with one homer and 13 RBIs. On Thursday night, he pinch-hit and chopped a ball to first base in what wound up being the game-winning play in the team's 2-1 win over his former team, the Boston Red Sox.
"Daniel was banged up," Angels manager Mike Scioscia said. "I think it's still in him to do some of the things he's done in his career. He was banged up last year. He had a great spring with us, started off the season and missed some time and just never quite got there."
Scioscia said the team elected to designate Nava instead of optioning one of their relief pitchers because the team needs bullpen depth with the starting rotation struggling to provide length.
Gentry, 32, signed a one-year, $1 million deal in the offseason with the idea of platooning with Nava. He was also hampered by injuries, as he didn't play in a game after April 23. He originally missed time with a right lumbar spine strain, then appeared close to coming back before being moved to the 60-day disabled list with a "personal medical condition." He only appeared in 14 games for the Angels, recording five hits in 34 at-bats and two RBIs before succumbing to injury.
Scioscia said Gentry, who has been working with Triple-A Salt Lake since July 18, was healthy enough to make a return but was "never able to get on track" enough to warrant an activation. To make the move, the club activated him from the 60-day DL before designating him for assignment.
With Nava and Gentry gone, the Angels will now have four likely left-field options: Robinson, Gregorio Petit, Jefry Marte and Ji-Man Choi. Only Robinson is a natural left fielder, and only Choi is a left-handed hitter. Scioscia said Cliff Pennington, who is primarily a shortstop, is also an option to play left when activated off the DL.
Worth noting
• Scioscia hopes to have first baseman C.J. Cron back within a "couple weeks." Cron, who hasn't played since July 8 because of a fractured left hand, will be evaluated on Tuesday and could begin swinging a bat soon after. He was originally given a timetable of 6-8 weeks to recover.
• Scioscia said Pennington is "close" to a return from his hamstring injury and will be evaluated again Sunday before making a decision. Sunday is the first day he is eligible to be activated.
• The Angels will look to reshuffle their starting rotation after Monday's off-day, Scisocia said. They currently have a pair of lefties, Hector Santiago and Tyler Skaggs, working back to back, and Scioscia said he'll likely break up the two.
• Red Sox designated hitter David Ortiz will be playing in his final game against the Angels on Sunday after his day off on Saturday. Ortiz hit .275/.370/.555 for his career against the Angels, hitting 32 homers and driving in 91 runs in 125 games. He hit his first career homer as a member of the Red Sox while at Angel Stadium, driving a pinch-hit home run to win an extra-inning game against the Angels on ESPN's Sunday Night Baseball on April 27, 2003.
• The Angels gave Kole Calhoun just his second day off of the season on Saturday.
Fabian Ardaya is a reporter for MLB.com based in Anaheim. This story was not subject to the approval of Major League Baseball or its clubs.