Martin bests former Cuban teammate Chapman
Mariners' go-ahead two-run double comes against MLB's hardest thrower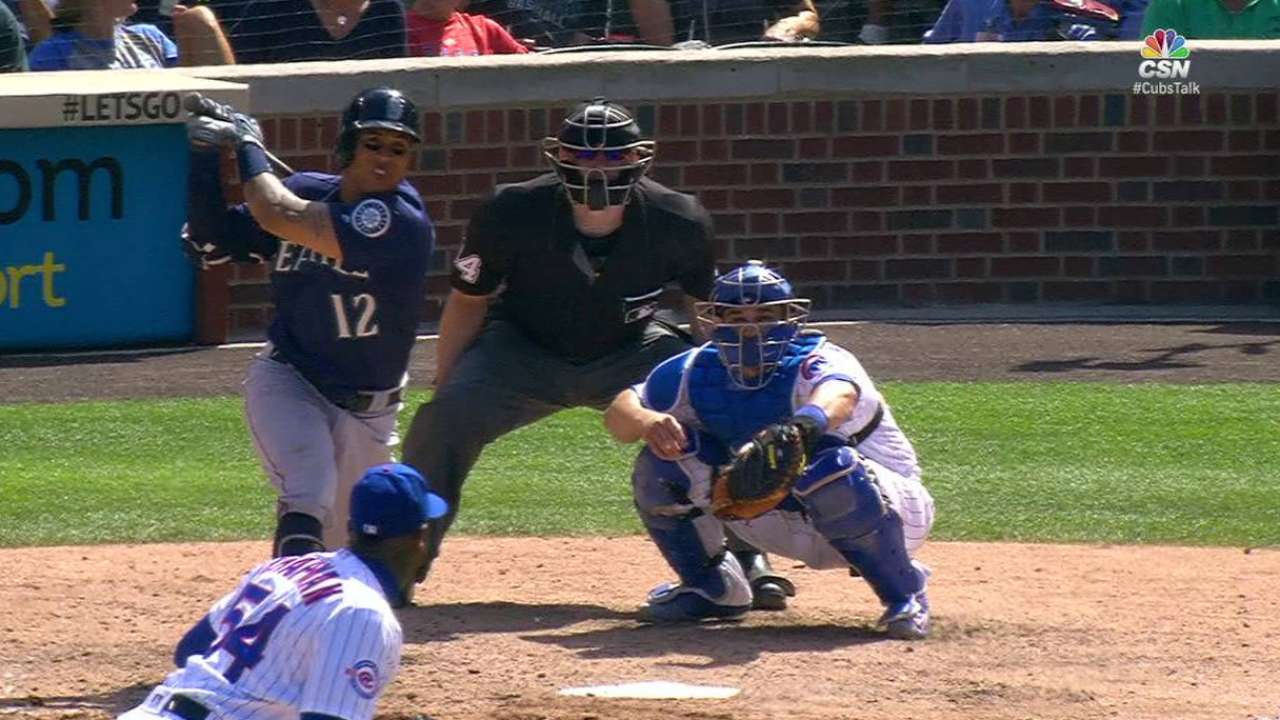 CHICAGO -- Leonys Martin didn't need a scouting report to know what was coming from Aroldis Chapman when he stepped in against the Cubs' new fireballing closer with runners on second and third and his Mariners trailing, 1-0, in the eighth inning Saturday at Wrigley Field.
Martin swung and missed at a 100-mph fastball, took a 101-mph heater for a ball and then laced another 100-mph offering for a two-run double into the gap in left-center for the big go-ahead hit en route to a 4-1 Mariners win.
Martin and Chapman played together on the Cuban National Team before both defected and eventually wound up in Majors. So when a reporter asked Martin how much he knew about the man known as the "Cuban Missile," he just smiled.
"I know a lot," Martin said. "I know he throws 105. Nobody throws that in this game today. I knew it was going to be a tough at-bat for me, tying run on third base, so I was ready for a fastball. After the first swing, I stepped out and thought a little bit. 'Don't try to do too much.' I just tried to swing at strikes."
Manager Scott Servais kept the left-handed-hitting Martin in against the southpaw because he knows Martin is an excellent fastball hitter, but also because of his background with Chapman, who defected a year before Martin in 2009.
"We had the right guy up there," said Servais. "We had the Cuban against the Cuban."
Martin said getting the best of his countrymate didn't add anything extra to the win. He was just glad to come out on top in a battle against one of baseball's premier relievers.
"It's a game," Martin said. "Everybody has a job. I'm playing for the Seattle Mariners and we're just two friends. We played together in Cuba for a long time. He's good, man. He's good. That ball is getting to home plate real quick."
Greg Johns has covered the Mariners since 1997, and for MLB.com since 2011. Follow him on Twitter @GregJohnsMLB and listen to his podcast. This story was not subject to the approval of Major League Baseball or its clubs.