Gonzalez's hand injury leaves Astros short-handed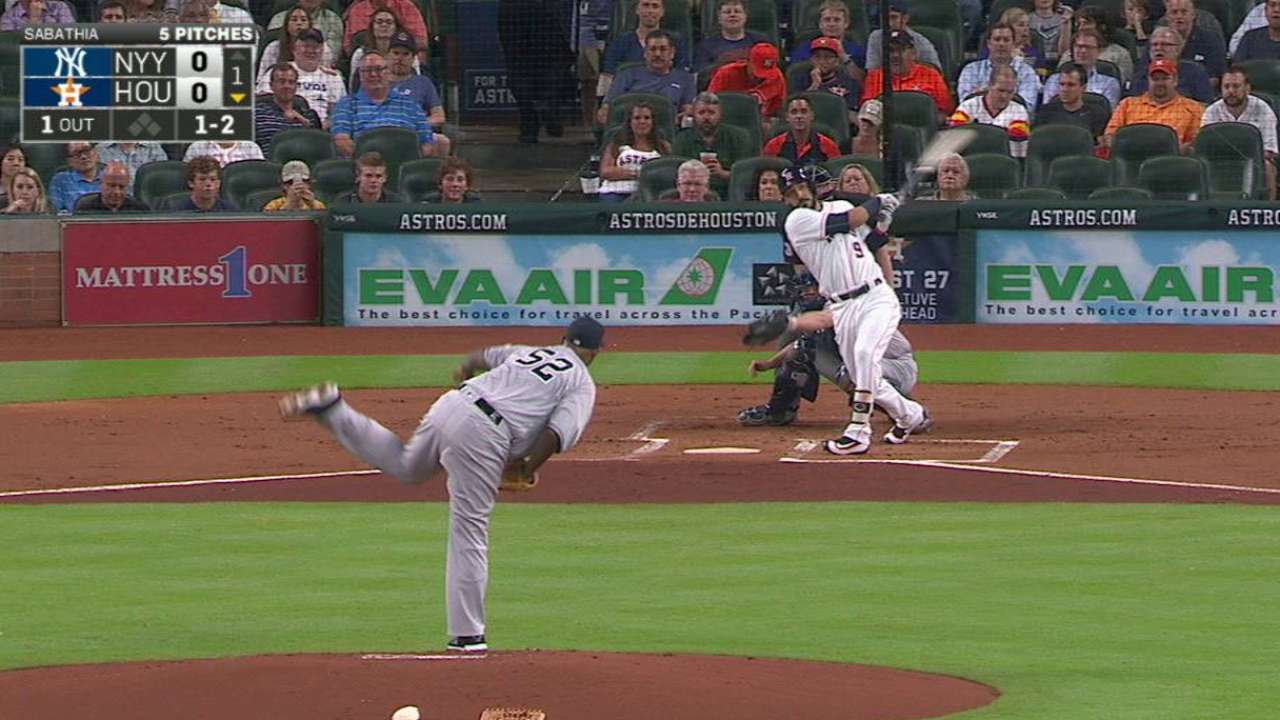 DETROIT -- Even after calling up first baseman Tyler White on Friday when infielder Luis Valbuena went on the disabled list, the Astros are still dealing with a short bench. Outfielder Carlos Gomez (right hamstring strain) and infielder Marwin Gonzalez (sore right hand) were both unlikely to play Saturday, leaving Evan Gattis as the only bench player for the game against the Tigers.
Astros manager A.J. Hinch said Gomez could be used in an emergency, and he said he would try stay away from Gonzalez.
"We're a little banged up," Hinch said. "We're thin. It's late July. I think a lot of teams are beat up a little bit. Not as comfortable as we could be, for sure."
Gomez, who suffered his mild strain on Wednesday while sliding into second base in a game in Houston, ran on the field Saturday at Comerica Park while Hinch watched.
"It was the first step in the running progression," Hinch said.
Gonzalez left Friday's game in the seventh inning with a sore right hand. He said he underwent X-rays, which were negative.
"He's another guy we'd like to give some rest to," Hinch said. "His wrist is pretty sore, back of his hand is pretty sore. He's gotten tested and everything is working out fine. It's a matter of his pain threshold. He's another guy that in a perfect world, you'd give a day off, but in the event that he has to play, I'll certainly go to him."
Gonzalez said he's been dealing with a sore hand for about a week, but wasn't sure how he injured the hand.
"Last night was pretty sore," he said. "If it feels the same as last night, I might not be able to play today."
Meanwhile, No. 7 Astros prospect Joe Musgrove, a right-handed pitcher, could make his Major League debut on Monday in place of Doug Fister, whose wife is expecting the couple's first child and could be placed on paternity leave soon. Musgrove, who is on the 40-man roster, was scheduled to start Saturday for Triple-A Fresno, but was scratched.
Musgrove is 5-3 with a 3.81 ERA in 11 starts at Fresno after posted a 0.34 ERA in 26 1/3 innings at Double-A Corpus Christi, in which he struck out 30 batters and walked only three.
"Everybody can speculate to what it could be," Hinch said. "We're not going to talk about it until we have a little more information from Fister's family on when the baby may or may not come. Mother Nature is in charge of this one more than we are."
Brian McTaggart has covered the Astros since 2004, and for MLB.com since 2009. Follow @brianmctaggart on Twitter and listen to his podcast. This story was not subject to the approval of Major League Baseball or its clubs.