Verlander: Tigers' 9th-inning rally 'beautiful thing'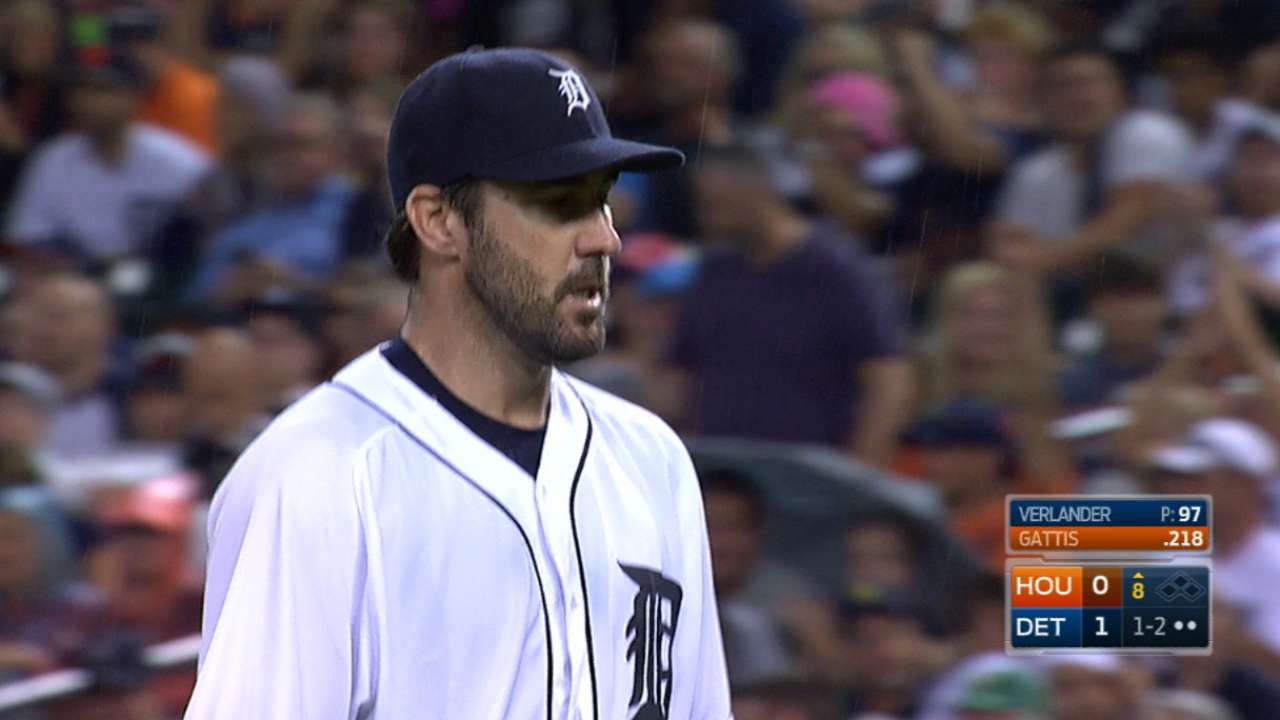 DETROIT -- It was Justin Verlander's game. Then, it was the Tigers' rally.
"Not the way I would've liked it to go down," Verlander said of the wild ninth inning in Saturday's 3-2 win over the Astros, "but made it exciting."
For eight innings, Verlander held down the hottest team in baseball since June. With eight scoreless innings and 96 pitches, he was three outs away from the eighth shutout of his career, and just the second 1-0 shutout.
He couldn't shut down the Astros one more time in the ninth, much as he tried. Thanks to his teammates in the bottom of the ninth, he got the complete-game win anyway.
"He battled and kept it at two," said Justin Upton, who scored the tying run. "And for us, one run, we don't feel like that's too much to ask. As a team, we try to get it back for him."
It was a loud ending to a game that Verlander kept quiet for most of the evening. After striking out George Springer and Preston Tucker to begin the game, Verlander faced a first-inning jam thanks to Jose Altuve's single and Carlos Correa's double.
Needing an out on Colby Rasmus, Verlander went to his curveball, a pitch that had been inconsistent for him for the last several starts. The breaking ball froze Rasmus as it hit the inside corner and drew the corner from home-plate umpire Adam Hamari.
From that point, Verlander was on. And the curveball was a bigger part of it.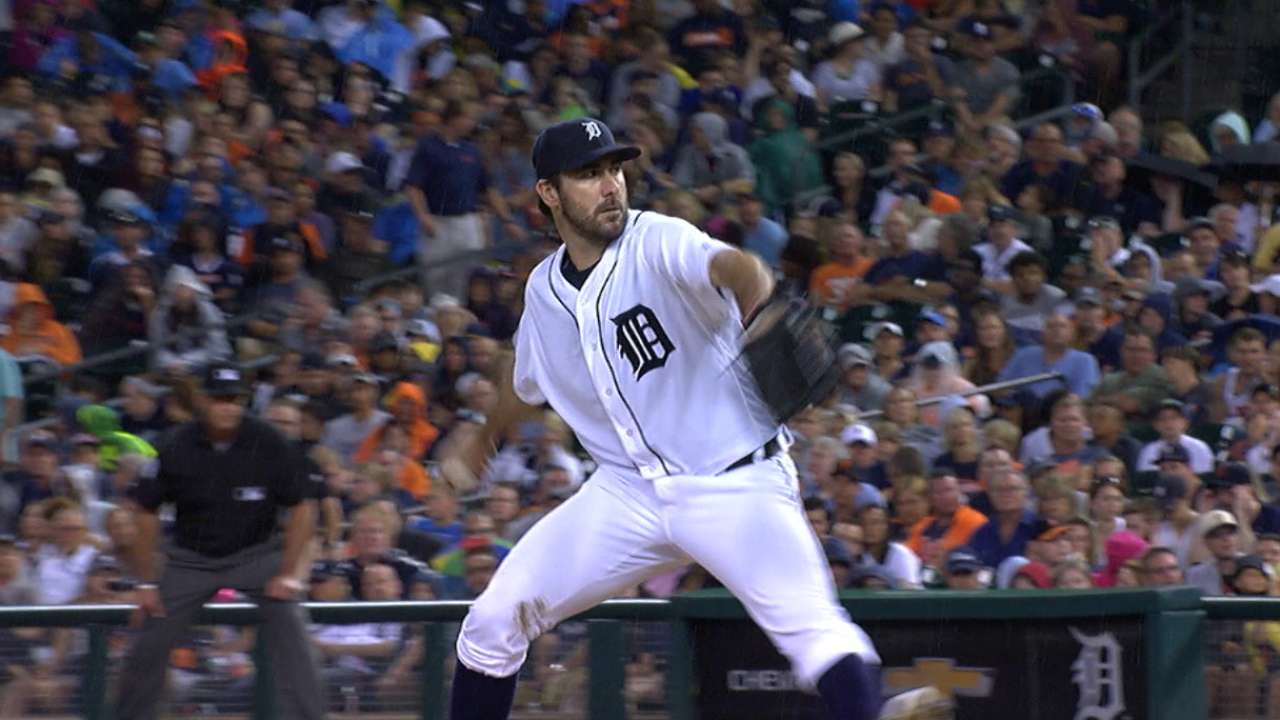 "He was as good as we've seen him in a few years," Astros manager A.J. Hinch said. "We had a hard time timing him up."
Verlander retired 16 consecutive batters from Rasmus' strikeout until Altuve walked leading off the seventh inning. Verlander retired the side in order from there, including a strikeout of Correa, then retired the side in the eighth.
That's seven innings without a hit from an Astros lineup with plenty of dangerous hitters. And at 96 pitches, that's plenty of reason to stick with Verlander for the ninth.
"There really wasn't even any discussion," Ausmus said. "Him at 96 pitches isn't a concern. It was kind of his inning."
Said Verlander: "I think [it was unspoken]. I knew it was mine."
His 98th pitch of the night was a Springer line-drive single to left. It was the only hard-hit ball of the rally. Altuve's single two batters later was a ground ball to deep short, leaving Jose Iglesias unable to get the out at second.
"That was probably one of the better sliders I threw all night," Verlander said, "and he put it in just the right spot and was able to get a knock out of it."
With Correa in a 1-2 count, Verlander went back to the curveball and got the youngster to chase it off the plate. But Correa got it off the end of his bat, blooping it into center.
"You have to tip your cap," Verlander said. "I went and looked at it, it was in the other batter's box, and [catcher James McCann] was going to block it."
Springer scored to tie it. Bigger yet, Altuve made an aggressive turn for third, from where he scored on Rasmus' ensuing grounder.
Ausmus planned on taking out Verlander if they lost the lead. With hits like that, he couldn't. Verlander struck out rookie Alex Bregman to finish the inning. It kept him in line for the win if the Tigers could rally.
"It didn't look like we were going to win the game, and obviously I was shouldering the blame for that," Verlander said. "But man, our boys battled with two outs. Beautiful thing."
Jason Beck has covered the Tigers for MLB.com since 2002. Read Beck's Blog, follow him on Twitter @beckjason and listen to his podcast. This story was not subject to the approval of Major League Baseball or its clubs.