Tigers rally for walk-off win that 'stands out'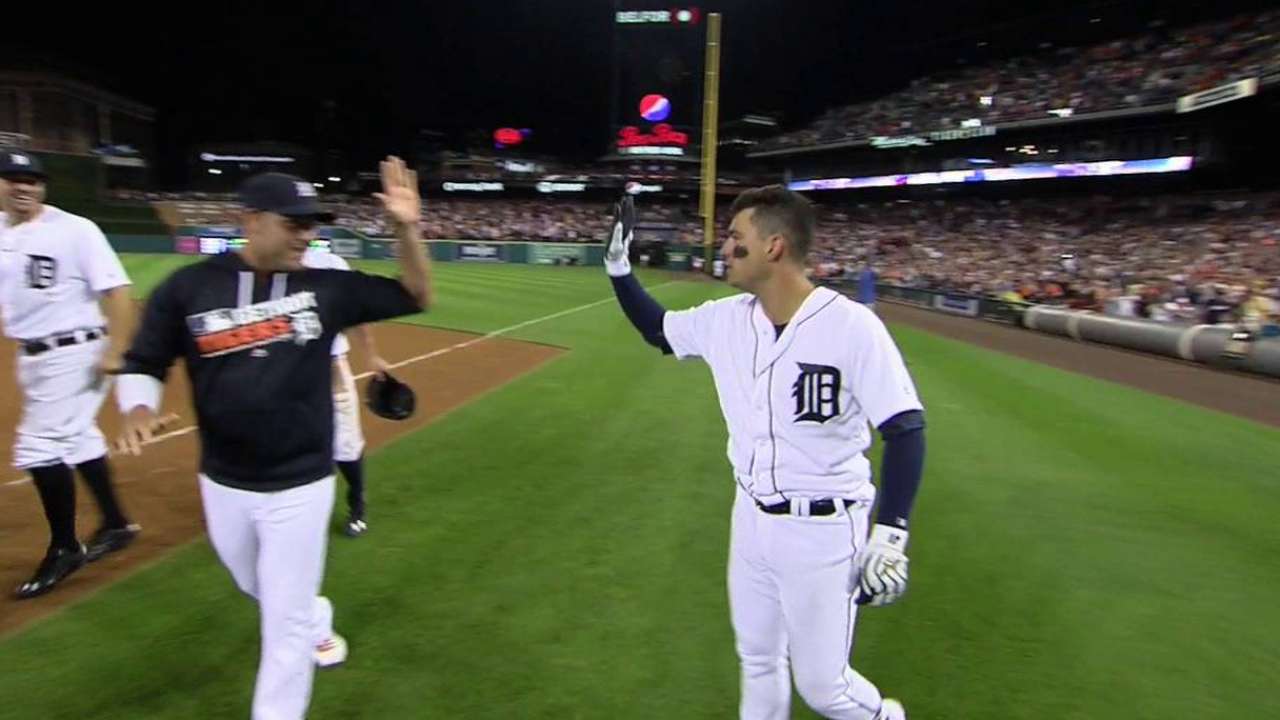 DETROIT -- It went from real low to real high. That's how Tigers manager Brad Ausmus described Saturday's ninth-inning rally that helped the Tigers beat the Astros, 3-2, at Comerica Park.
Justin Verlander had just surrendered his first two runs of the ballgame in the top of the inning and things looked pretty grim for the Tigers, trailing by a run. Things got even worse after two quick outs to begin the home half of the inning.
But in a matter of minutes, Verlander was rushing out of the dugout to celebrate a walk-off win with his teammates.
"It's hard to put into words," Verlander said. "That was one of the more exciting baseball games you could have. I was really upset at the ninth, kind of feeling like I put us behind the eight ball there."
Jose Iglesias stepped into the batter's box with two outs and Tyler Collins at third base. With just one career walk-off hit under his belt, Iglesias chopped a ball in the hole at first base, and closer Will Harris was a step late covering the bag as Collins crossed home plate.
"Hurry, hurry, hurry," Verlander said he was thinking to himself. "I've seen him do it before. He flies down the line when he can smell a hit."
Verlander cruised through the first eight innings, allowing just three baserunners and retiring 16 in a row at one point. He had a bit of a meltdown in the ninth, but was happy to pick up his second complete game of the season.
After Harris got two quick outs to begin the bottom of the ninth, things picked up pretty quickly following a Justin Upton walk and a Collins single. The table was set for James McCann, and he delivered a two-out, two-strike single to left field that sent Upton barreling around third base and in to home for the tying run.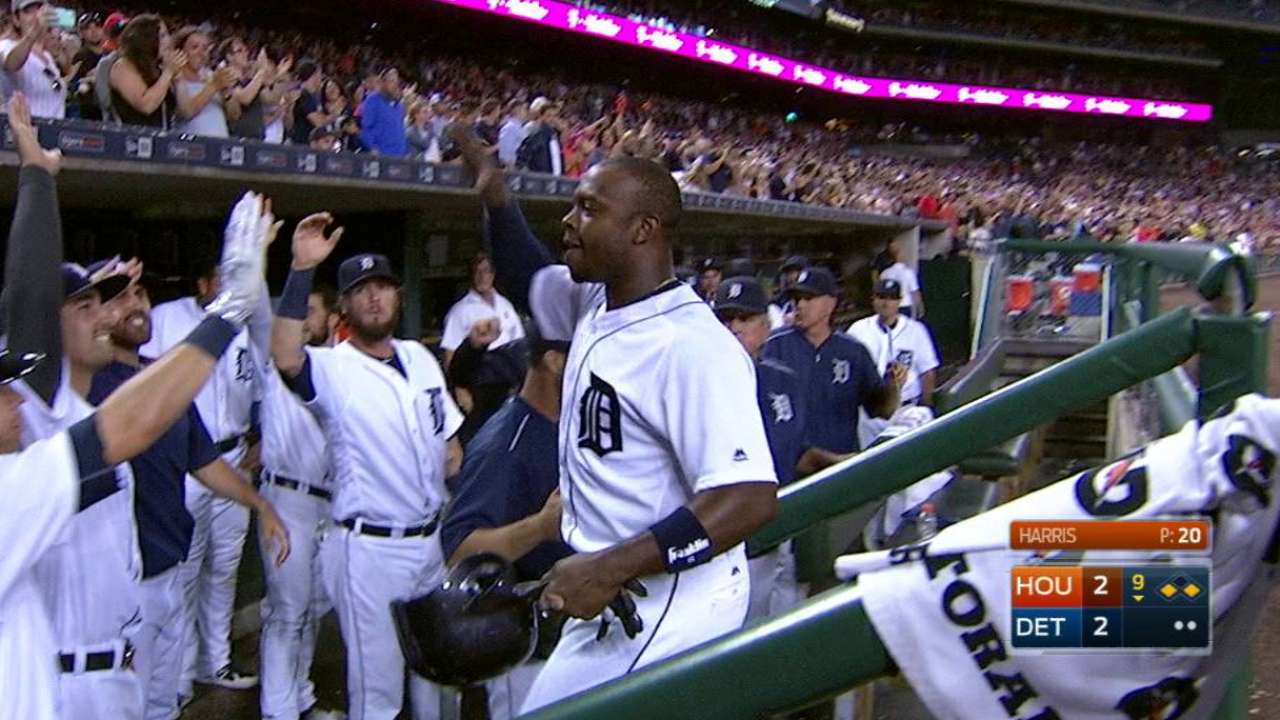 As the fans erupted, a throwing error by rookie Alex Bregman moved Collins within 90 feet of completing the comeback.
Ausmus gave third-base coach Dave Clark a sign that said as long as there was a chance Upton could score, he had to wave him around third. If he got caught, Ausmus was prepared to take the blame.
But luckily for the Tigers, Bregman's throw in from left was off the mark. Upton said there was no way he was stopping at third base.
"There was zero intention of stopping," Upton said.
McCann had to gather and re-focus himself before delivering the tying run after he half-swung at a pitch up in the zone to put himself in a two-strike hole. He fouled a pitch off before jumping on a curveball from Harris.
"Do, don't try," McCann said. "Don't try and do something big here, just allow it to happen, and I was able, thankfully, to find a hole."
Ausmus said he thought McCann showed a lot of poise being able to hang in against a tough closer in Harris, who was 12-for-13 in save opportunities entering the night.
"He should feel good about it, as well he should feel good about the game he called with Justin on the mound," Ausmus said.
The win helped the Tigers leapfrog the Astros for third place in the American League Wild Card race. It was an emotional win that Ausmus said will be one the team remembers for a long time.
"There are definitely more memorable games, there's no question, and this is probably one of them," Ausmus said. "As far as even walk-offs go, this is one of the ones that stands out."
Kyle Beery is a reporter for MLB.com based in Detroit. This story was not subject to the approval of Major League Baseball or its clubs.