Collins to stay when Martinez returns?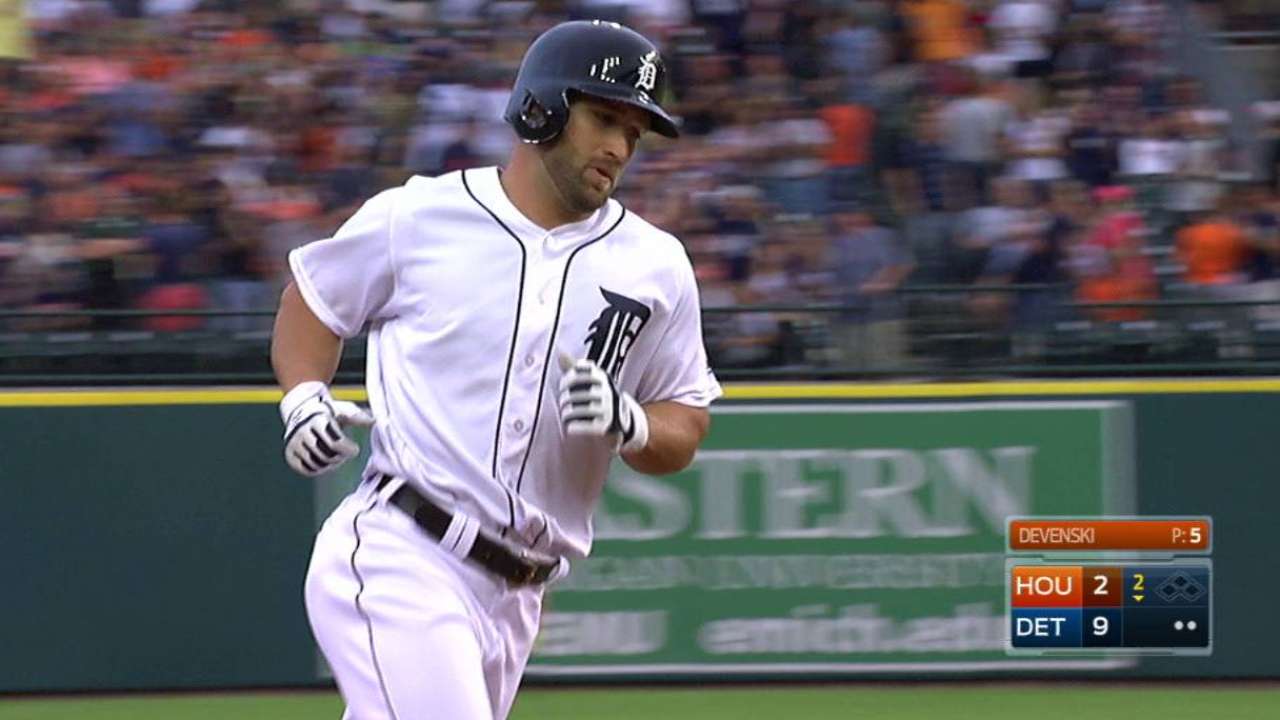 DETROIT -- Tyler Collins has begun to straighten things out at the plate since being recalled from Triple-A Toledo earlier in July. Collins hit a three-run home run and a triple on Friday at Comerica Park for his first multi-hit game of the season.
He collected hits in seven of his first 10 games since his return, which is a small sample size, but his performance has at least raised the question of whether there is any chance he can hold onto his roster spot when right fielder J.D. Martinez returns from his rehab assignment at Toledo, which Ausmus said Saturday could be by the end of the current nine-game homestand.
"The better [Collins] plays, the more we have to think about keeping him," Tigers manager Brad Ausmus said after Friday's win over the Astros
In all likelihood, though, there will not be room for Collins and Martinez on the roster. Martinez is trying to make a comeback from a non-displaced elbow fracture suffered in late June.
Ausmus said Saturday that it will be difficult to go down to a 12-man pitching staff, as opposed to the standard 13, a move that could open the door for Collins to stay in Detroit. He does not want to put the cart in front of the horse, however, saying the team will have to cross that bridge when Martinez makes his return.
General manager Al Avila, who has said fans should not expect a "sexy" Aug. 1 non-waiver Trade Deadline by the Tigers, said the team will be receiving an upgrade with the return of Martinez, along with starting pitchers Jordan Zimmermann (neck) and Daniel Norris (right oblique).
In the meantime, Collins is just glad to be back in a groove and is not worried about the likelihood of going back to Toledo.
"How good is our team when that guy gets back?" Collins asked before laughing as to show approval of Martinez's value to the team. "I want whatever team I'm playing on to be the best team they can be. That's it."
Ausmus has certainly taken note of Collins' improvements recently and thinks he has learned to slow the game down.
"You've got to gain experience at the Major League level," Ausmus said. "There's more people in the seats, bigger stadiums, TV coverage. Sometimes things can speed up, and he's learning, I think, to slow it down."
Collins agreed, but said that is just part of the game, especially for a player that has been between the big leagues and the Minors several times throughout his career. He said getting to play on a more regular basis has also factored into his recent upswing.
"Obviously, you stay fresh," Collins said. "With that being said, there's ways to stay fresh when you're not playing every day. And early in the year, I was having trouble with that, but it's nothing that I haven't encountered before."
Kyle Beery is a reporter for MLB.com based in Detroit. This story was not subject to the approval of Major League Baseball or its clubs.