Pearce one of several Rays trade candidates
33-year-old could provide boost for teams seeking a right-handed hitter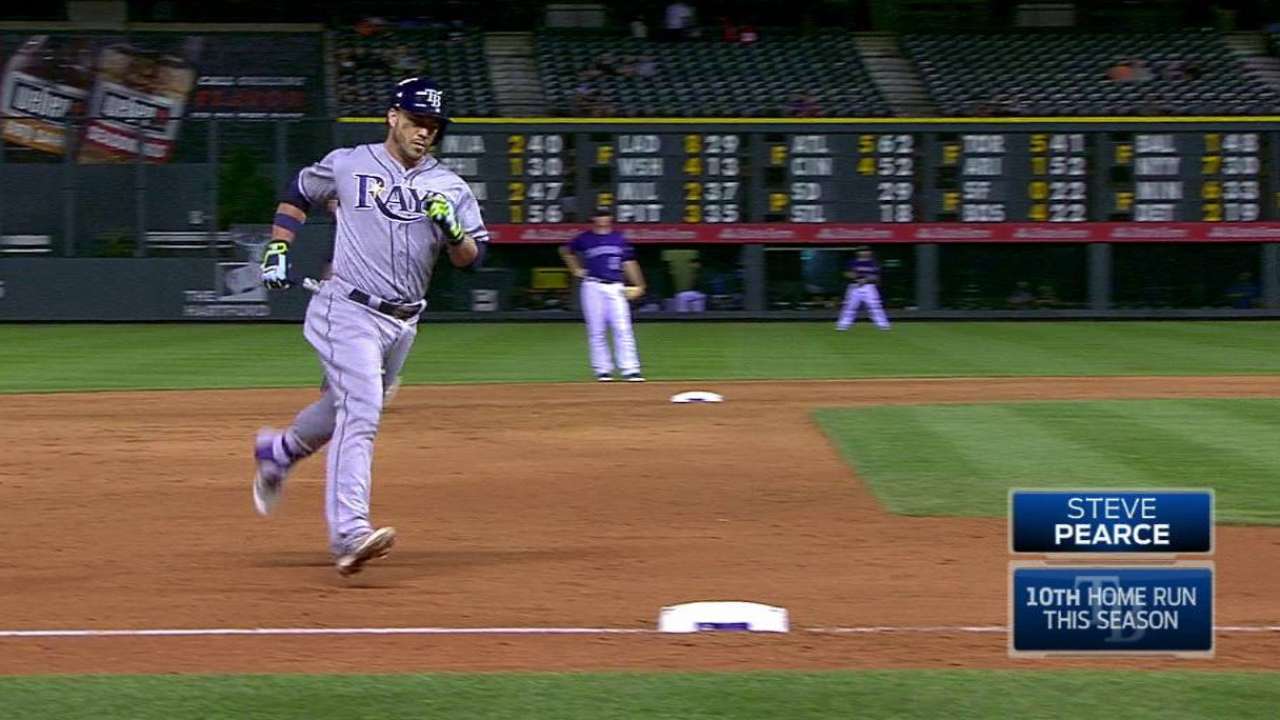 ST. PETERSBURG -- Steve Pearce looks like the Rays player most likely to get dealt before the non-waiver Trade Deadline passes at 4 p.m. ET Monday.
While the infielder might get moved, he is hardly the only one rumored to be getting traded. Also continuing to be mentioned in trade rumors are pitchers Erasmo Ramirez, Jake Odorizzi, Chris Archer and Matt Moore.
Scouts from the Orioles, Indians, Angels, Dodgers, Giants and White Sox could be seen at Tropicana Field on Saturday afternoon in advance of the game against the Yankees. It's a seller's market, so the Rays are willing to listen to any deal. But they don't feel as though they must make a move. So, according to one scout, "They're asking a lot."
Pearce signed with the Rays as a free agent prior to the season. He could help a lot of teams, offering a veteran right-handed bat. Pearce laughed when asked about all the interest he's been drawing and where all these interested teams were when he was deciding whom to sign with for 2016.
"Yeah, that's kind of funny," Pearce said. "I try not to pay attention to it. I get more feedback from family and friends. I don't pay attention to anything. Every time I play GM I'm wrong. I can't even guess moves that are made on the team. When somebody comes up, I guess wrong."
Pearce was excited about the prospect of playing with the Rays when he signed because he's from nearby Lakeland, Fla. He noted Saturday that the experience has been what he thought it would be "and more."
Even if the Rays do trade Pearce, he said he would likely re-sign with Tampa Bay after the season if given the opportunity.
"Sure, definitely," Pearce said. "Playing here, I'm in front of family and friends all the time. Especially this stage of my career. I'm 33 years old. My family and friends never got to see me play consistently, my whole career. So this has been everything I thought it would be."
Pearce understands the business and won't allow trade rumors to become a distraction.
"All the talk, it is what it is," Pearce said. "It's just talk. Don't really pay attention to it."
Like many of his teammates, Pearce would like nothing better than to see the 2016 squad reassembled for a do-over in 2017.
"I love this team," Pearce said. "I love showing up to the park every day. I love the group of guys we have. We have so much talent on this team. If we hadn't been decimated with key injuries, that's been the story of our season. The baseball bug has bitten us.
"Right now, it's almost to the point where it's comical. This guy gets back and we've got to put this guy on the DL, wait 15 more days. But it's been like that all year."
Rays manager Kevin Cash noted that all the players mentioned in rumors have "handled it really well."
"You know what, we've put ourselves in this position by probably not playing too well for the first three months," Cash said. "We have to kind of own it here, and here's some of the speculation and rumors. But as far as how the guys have treated this and handled it in the clubhouse, it's been outstanding."
Once the dust settles after the Deadline passes, Cash said that he's interested in seeing the changed landscape.
"You're intrigued to hear what teams are going to approach or not approach," Cash said. "I know our pitching's being talked about quite a bit. We like our pitching and we're happy with the way they're throwing the ball right now. We know we can win with the pitching. We just didn't get off to the start we needed to this year."
Bill Chastain has covered the Rays for MLB.com since 2005. This story was not subject to the approval of Major League Baseball or its clubs.