Limiting Naquin's exposure to lefties paying off
Francona balancing rookie outfielder's development, Indians' postseason pursuit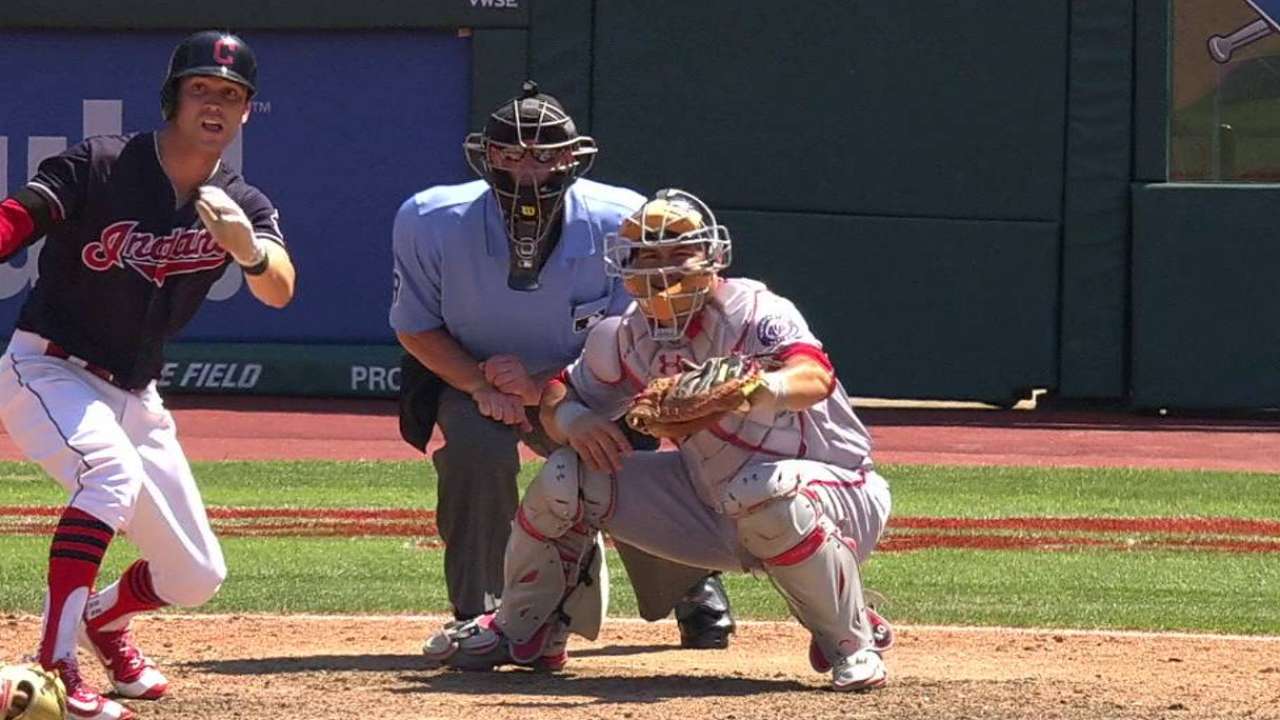 CLEVELAND -- Tyler Naquin has been one of the Indians' best hitters, especially since returning from Triple-A Columbus at the start of June. As has become standard, though, the rookie outfielder's name was absent from the lineup card with a lefty on the mound for the A's on Saturday.
Indians manager Terry Francona has limited Naquin's exposure to left-handed pitching and the center fielder has thrived offensively in the process. Francona said he has tried to balance Naquin's development with the fact that the first-place Indians are in the middle of a postseason chase.
"There are a lot of variables," Francona said before the 6-3 win over the A's. "One, who else is on your roster? Where you are in the standings? Things like that. If you're 20 games out, let him go. But, you're trying to balance winning and right now, normally it's Rajai [Davis] to play center [against lefties]. That's a nice guy to have playing against a left-hander. Normally, when we have a lead, [we] let [Naquin] hit.
"I guess what I'm saying is, I recognize what you're asking, and we're trying to accomplish all of it and maybe give him some rope, because I don't think a guy that's hitting as well as Naquin is just going to hit against right-handers. But, I do think he'll grow into [being an everyday player]."
Entering Saturday's game against Oakland, Naquin was batting .330 with 12 homers, 29 extra-base hits, 32 RBIs, 34 runs and a 1.021 OPS through 69 games. Naquin had faced right-handed pitching in 88 percent (190 plate appearances) of his 216 PAs. In his 26 PAs against lefties, the left-handed-swinging Naquin had a .273 average and .833 OPS.
"He deserves a lot of credit. He's a tough kid," Francona said. "When he's not starting, you don't have to say much. He pays attention and he's ready to get in the game right now, which you don't always see that with younger players."
Other items of note from Saturday
• Veteran Juan Uribe headed into Saturday's game hitting .209 with a .598 OPS through 72 games. The 37-year-old third baseman was batting .131 (.381 OPS) in his past 20 games. Francona said it helps that the Indians can play utility man Jose Ramirez at third base to spell Uribe, who started Saturday.
"He's had a tough time," Francona said of Uribe. "The good part of that is we're able to play Ramirez. You don't feel the full force of somebody maybe in a slump, because we've been able to spot it a little bit. [Uribe] hitting in that seven-hole is kind of a big spot for us."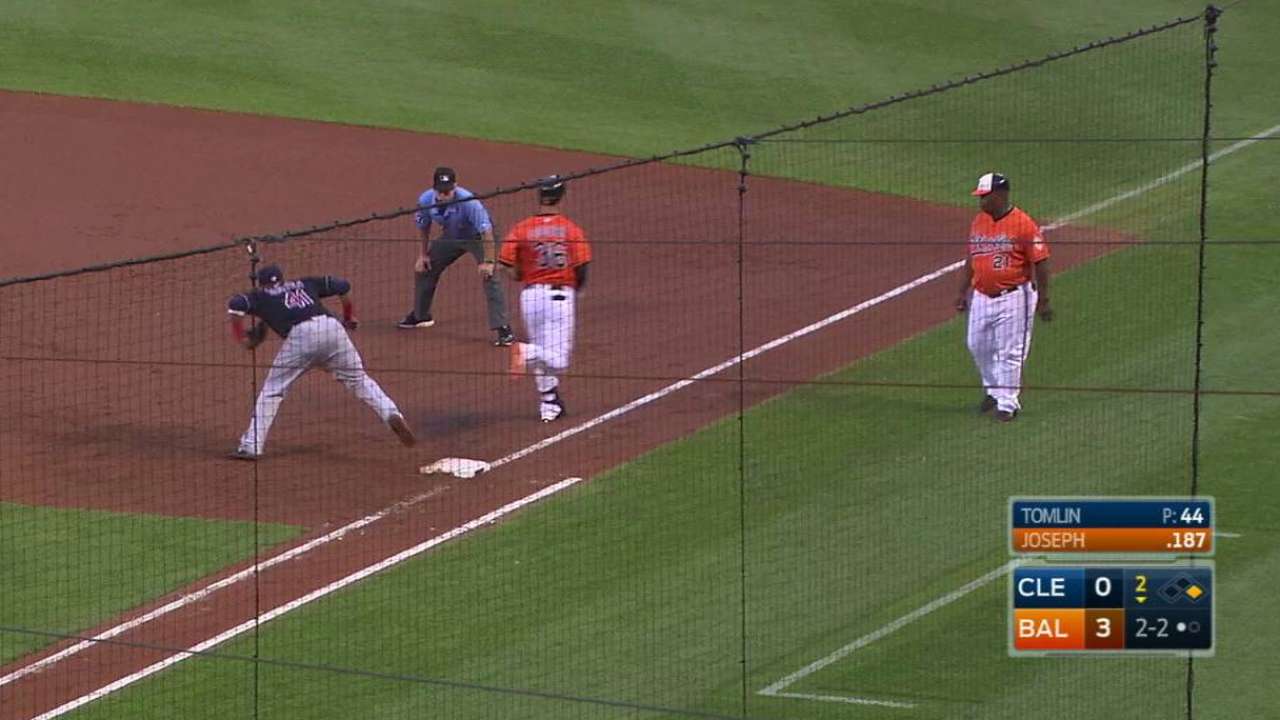 • Francona said he could see a scenario in which pitching prospect Mike Clevinger could come up from Triple-A Columbus to help the bullpen down the stretch. Right now, though, Cleveland wants to keep him starting regularly as insurance for its Major League rotation.
"I can definitely see that happening," Francona said. "We've talked about that since April. You just don't want to pull that trigger too quick, because if you need a starter, he's next."
• According to Susan Slusser of the San Francisco Chronicle, the Indians have expressed some interest in A's lefty Marc Rzepczynski, who pitched for Cleveland in parts of the 2013-16 seasons. Rzepczynski, 30, had a 3.48 ERA through 47 appearances this year and is a free agent this coming offseason.
• Indians outfielder Michael Brantley (right shoulder) continues to take batting practice off a pitching machine to better simulate game speed. Francona said there is still no firm timetable for when Brantley will resume his Minor League rehab assignment.
Jordan Bastian has covered the Indians for MLB.com since 2011, and previously covered the Blue Jays from 2006-10. Read his blog, Major League Bastian, follow him on Twitter @MLBastian and listen to his podcast. This story was not subject to the approval of Major League Baseball or its clubs.