Humble Thome enters Indians' Hall of Fame
F. Robinson, Belle and Jamieson also inducted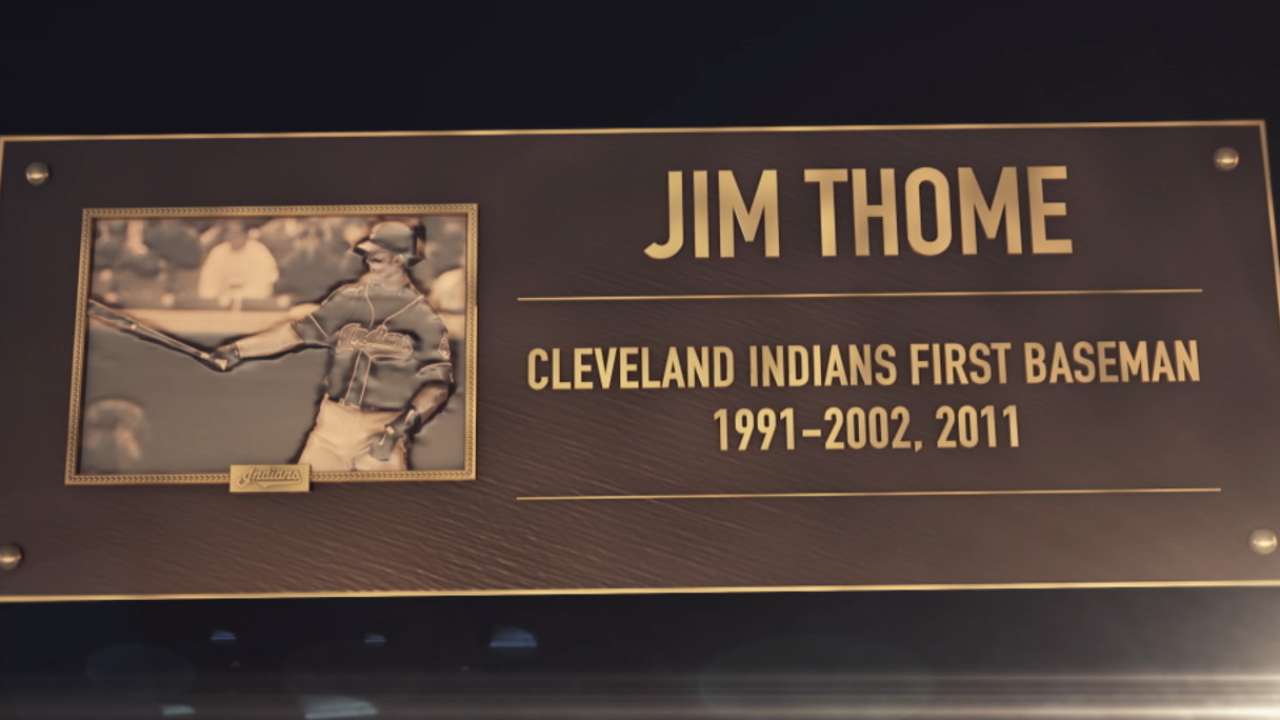 CLEVELAND -- Terry Francona sat in the home dugout and watched as former slugger Jim Thome gave his Indians Hall of Fame induction speech Saturday at Progressive Field. Though Francona wasn't with the club when Thome was, Cleveland's manager was able to recognize how significant of a player Thome was for the franchise.
In fact, if Francona hadn't had the luxury of a front-row seat for much of Thome's career, he admitted Saturday afternoon that he would have gladly gave in and purchased a ticket to see Thome in his heyday.
"He was one of the handful of guys that if I wasn't managing, I would pay to watch hit," Francona said before the Tribe's 6-3 win over the A's. "It was so fun to watch him hit. He took those big swings and hit those majestic home runs. He had one thing on his mind when he was hitting. And he worked at it."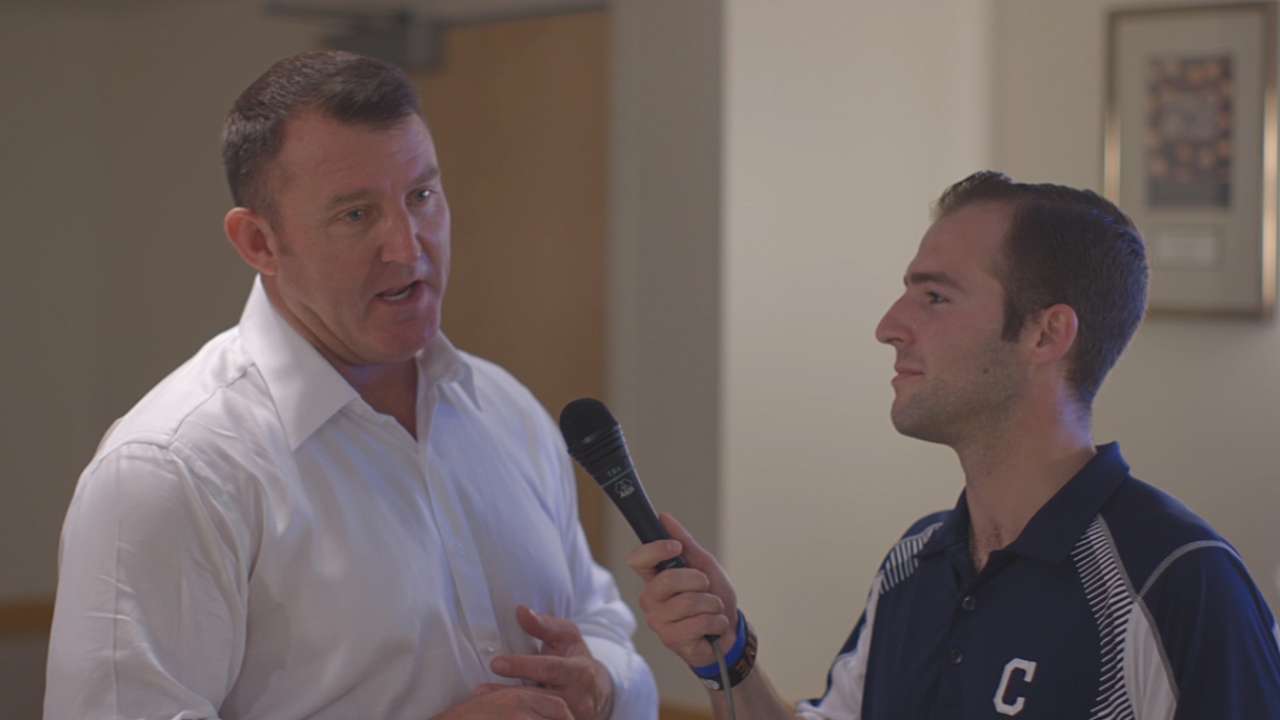 Instead, Francona got the view for the Thome show from the opposing dugout and was often on the wrong end of a fair share of home runs. Thome was drafted by Cleveland in 1989 and spent more than a decade slugging homers. He played for the Indians from 1991-2002, then returned via trade in '11 and played 22 games. Thome ended as the franchise leader in homers with 337.
Thome was one of four inducted into the franchise's Hall of Fame on Saturday. He joined former teammate Albert Belle (1989-96) Frank Robinson (1974-76) and Charlie Jamieson (1919-32). However, Thome was the only one in attendance. With the four players inducted, the Indians' Hall of Fame stands at 44 members.
"To get an honor and to go in like this is I think it's everybody's dream that plays the game," Thome said. "You get drafted by an organization and then they kind of bring you up. You get to play with all these great players and then after your career is done, two-three years retired, you get to go in and get an award like this. It's just every special."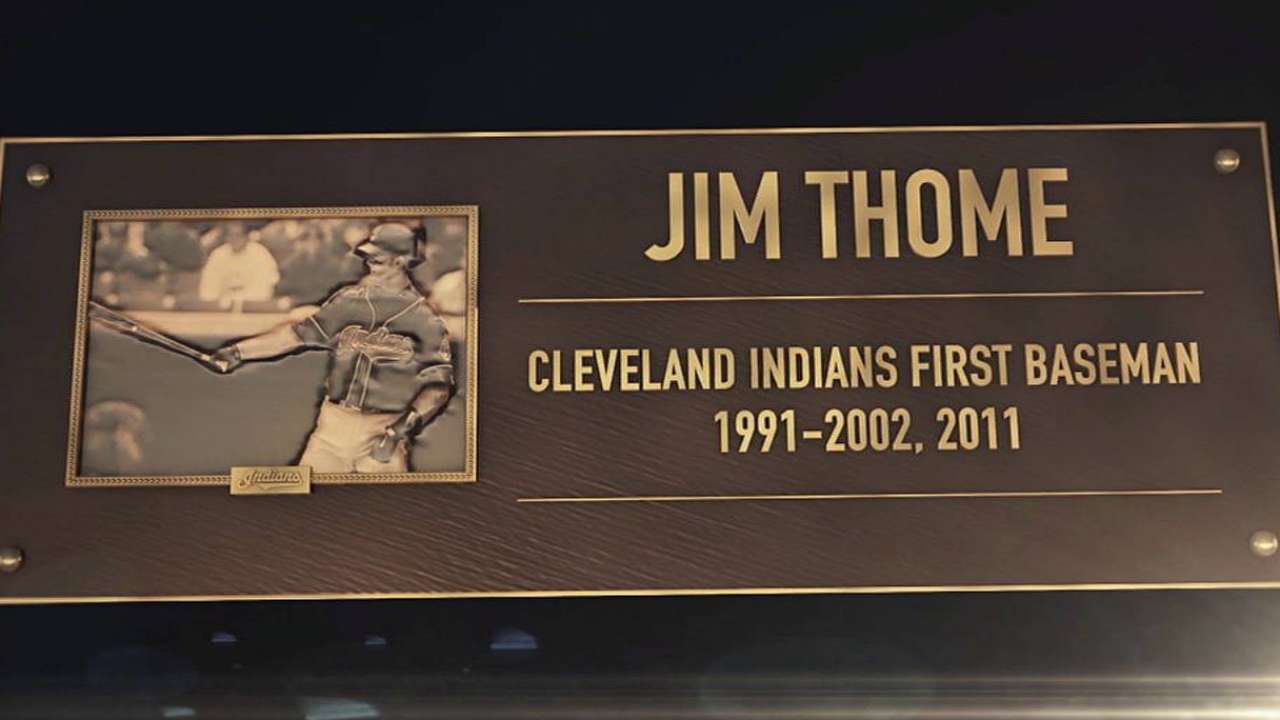 During his speech, Thome thanked everyone involved in the organization, his family, the fans and everyone in between. Thome spoke highly of his teammates, and mentioned how good the Indians were in the 1990s with an offense spearheaded by him and Belle. Thome hit 20 or more homers for 11 consecutive seasons from 1994-2004. During that span, he posted nine seasons with 30-plus homers.
"He's so much of what's good about our game," Francona said. "Just the same guy. Just can probably buy better stuff now. But he's the same guy."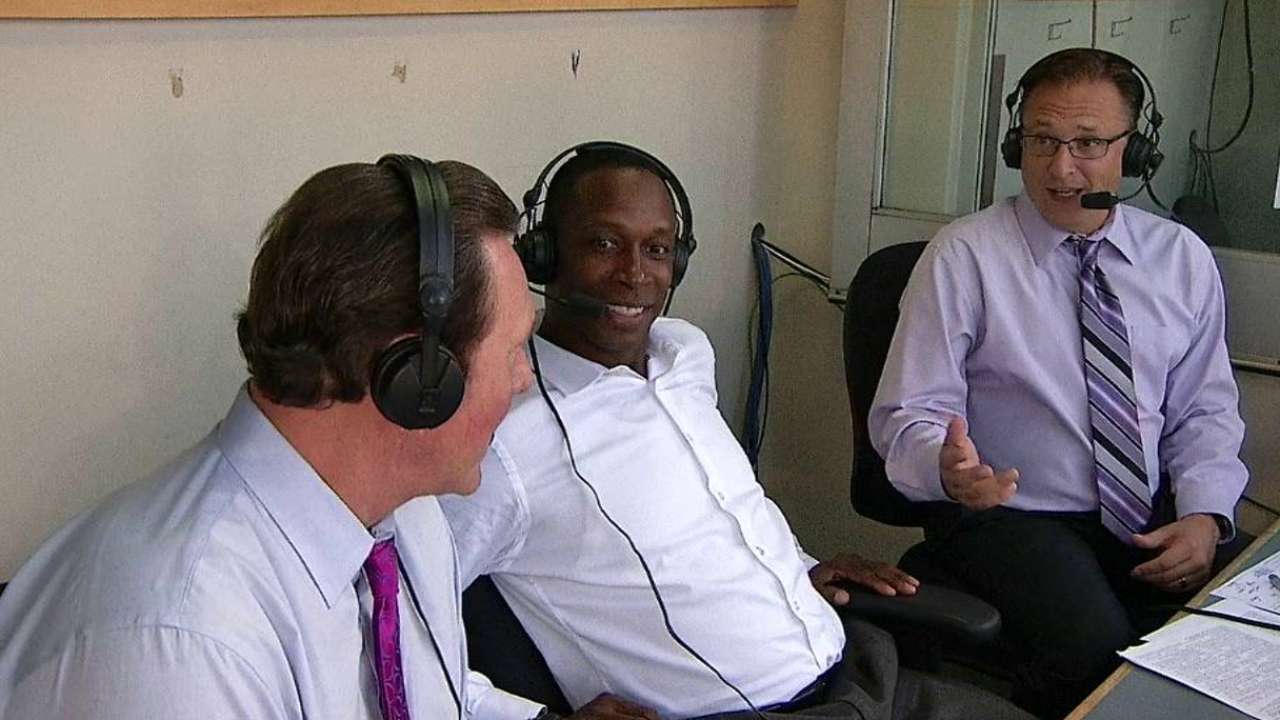 Shane Jackson is a reporter for MLB.com based in Cleveland. This story was not subject to the approval of Major League Baseball or its clubs.