A-Rod K's 4 times in first start since July 22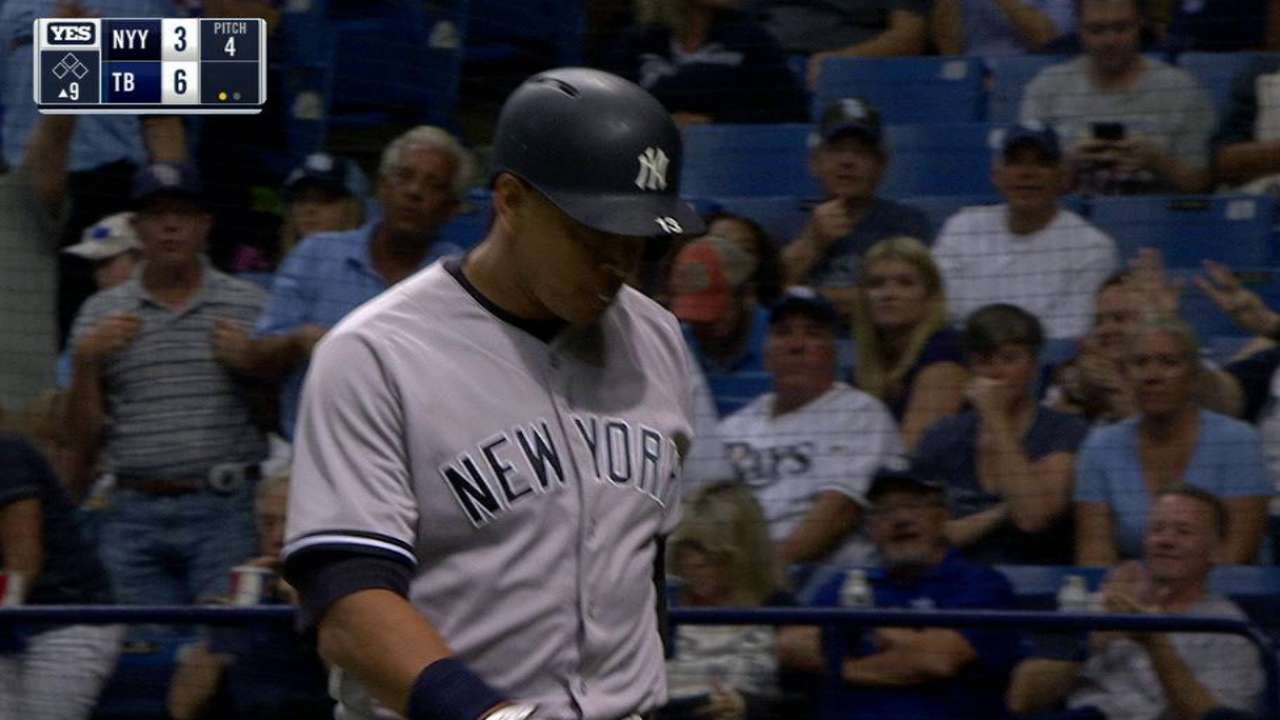 ST. PETERSBURG -- Given the starting nod for the first time since July 22, Alex Rodriguez didn't make it count during the Yankees' 6-3 loss to the Rays on Saturday.
He struck out for times in four plate appearances. Three times swinging, once looking. He was put in the lineup because of better splits against left-handed pitching
"I didn't do myself any favors, that's for sure," Rodriguez said. "... It was nice last night. You get in, get a base hit [as a pinch-hitter] and then you hope to build on that. And then tonight you go 0-for-4."
Rodriguez's average dipped to .206 on the season, extending a brutal stretch where he's just two for his last 26. It was just his seventh four-strikeout game in his 22-year MLB career.
Manager Joe Girardi was asked if it would be hard to justify continuing to put Rodriguez in the lineup.
"You can't always look at one night," Girardi said. "But it's something you definitely think about."
Rodriguez said there were no excuses for the way he played on Saturday, but he did mention that Smyly had always been difficult on him. He has now struck out nine times in 11 career at-bats against Smyly. He swung at balls, he said, and watched strikes go past him.
Last year Rodriguez hit 33 home runs. There's been little sign of that player during a difficult 2016 season that's seemingly only getting worse.
"The second half it's been a struggle," Girardi said. "It was a struggle tonight for him. I don't know if it's rust or what it is. He hasn't hit like he did last year. I've tried to get him going. I've tried to get him, and we'll just see what happens."
Sam Blum is a reporter for MLB.com based in St. Petersburg. This story was not subject to the approval of Major League Baseball or its clubs.