Royals acquire speedster Burns from A's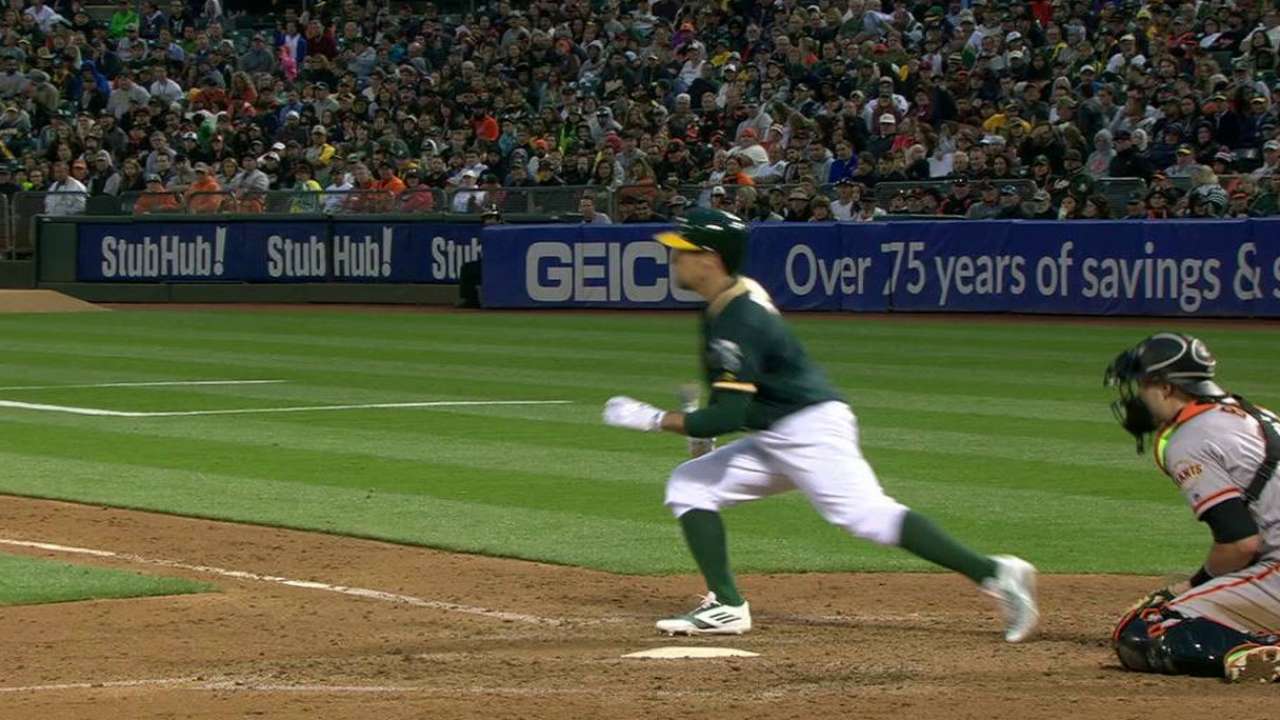 ARLINGTON -- At one point last year, Royals general manager Dayton Moore asked then Royals second baseman Ben Zobrist about A's center fielder Billy Burns.
"Zobie said, 'If you ever get a chance to get that guy, get that guy,'" Royals manager Ned Yost said.
And that's exactly what Moore did on Saturday, trading outfielder Brett Eibner to get Burns.
It may not have been the splashiest Trade Deadline deal, but Yost said it made sense for the Royals.
"He's got speed, athleticism," Yost said. "Dayton liked his speed. He was always a pest to us. I think Dayton has always liked him. He fits our profile for speed."
For now, the Royals assigned Burns, 26, to Triple-A Omaha. Burns, who was with Triple-A Nashville at the time of the trade, hit .234 with 14 stolen bases and four triples -- tied for eighth and ninth in the American League, respectively -- in 73 games for the A's this season, his third in the big leagues. Burns stole 26 bases last season.
Moving Eibner also seemed logical. Eibner, 27, was a corner outfielder and the Royals have 22-year-old Jorge Bonificio, the team's No. 3 prospect, according to MLB Pipeline, at Triple-A.
Bonifacio has an .828 OPS this season with 15 homers and 63 RBIs.
The Royals also have third baseman Hunter Dozier at Omaha, but the Royals have had Dozier play some outfield and they likely will have him play more outfield because he is behind Mike Moustakas and Cheslor Cuthbert at third base on the organizational depth chart.
Dozier, the team's No. 2 overall prospect, is having a breakthrough season -- he has a combined .930 OPS this season between Double-A and Triple-A with 21 homers, 30 doubles and 59 RBIs.
Eibner hit .231 with three home runs and 10 RBIs in 26 games over two stints with the Royals, his first career Major League action.
"[Eibner], for me, was a really good defender," Yost said. "But his offense was a work in progress. Two years ago he started making really good strides. He was always a .200 hitter his first three or four years [in the Minors]. But he's still got a lot of ceiling. He's still got a lot of room to grow.
"It's all part of his development. Offensively he's getting better and better. He'll take a walk. Like all of our hitters he gets hot and he gets cold. When he gets hot he can hit homers, doubles -- he's a strong hitter."
Jeffrey Flanagan has covered the Royals since 1991, and for MLB.com since 2015. Follow him on Twitter @FlannyMLB. This story was not subject to the approval of Major League Baseball or its clubs.