Mariners recall Martin, place Karns on 15-day DL
CHICAGO -- Right-handed pitcher Cody Martin was recalled from Triple-A Tacoma on Saturday to add a fresh arm to the Mariners' bullpen, while fellow right-hander Nathan Karns was placed on the 15-day disabled list with a lower back strain.
The 26-year-old Martin pitched briefly in relief earlier this season for Seattle, allowing one run and recording two strikeouts and a walk in four innings over a pair of outings in early June. The former Gonzaga University hurler was claimed off waivers from the A's last October, and was 9-6 with a 3.95 ERA in 22 games (including 17 starts) with Triple-A Tacoma.
"He can provide some length," manager Scott Servais said prior to Saturday's game against the Cubs. "Today was actually his day to start in Tacoma, so he's fresh and can help us out there if we get in a jam.
"He did a nice job when he was here last time. We threw him out there and if I remember right, he was in the crazy San Diego comeback game. He's not overpowering, but he knows how to pitch and has a good curveball. He's been on a really good run in Triple-A, so good for us."
Martin was the winning pitcher in the game against the Padres on June 2, when Seattle overcame a 12-2 deficit in a 16-13 victory. He said his previous positive experience makes the return easier.
"Yeah, definitely," Martin said. "It was good to come up and do well. It could have been the opposite, and that could ruin your psyche a little. But I threw the ball well, threw strikes and I can build off that. I got a warm welcome back in the clubhouse from all the guys. It's good stuff. I'm ready to go."
Servais said Martin could be a candidate to start Tuesday against the Red Sox when Seattle needs to return to a fifth man in the rotation, though that will likely depend on whether Wade LeBlanc is needed out of the bullpen before then, and if the Mariners make any moves that affect the rotation by Monday's non-waiver Trade Deadline.
"We kind of have to wait and see how we are coming out of this series," Servais said. "Nothing definite has been decided yet, beyond [James] Paxton pitching on Monday. We'll need a guy for Tuesday."
The one thing that is clear is that Karns won't be making that start. The right-hander opened the season in the Mariners' rotation, but he was moved to the bullpen a month ago. He's 6-2 with a 5.15 ERA in 94 1/3 innings in 22 outings overall, but he has an 8.78 ERA with 17 strikeouts and seven walks in 13 1/3 innings over seven relief outings.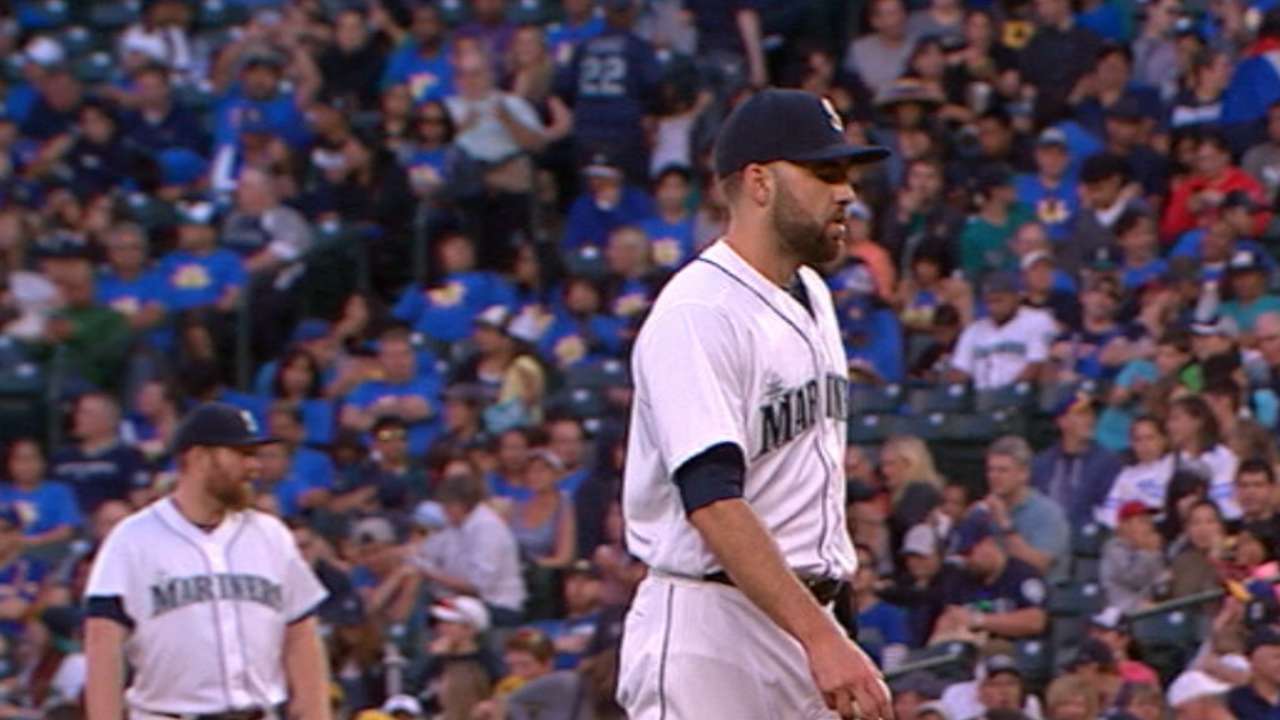 Karns gave up five runs on three hits and three walks in two-plus innings in Friday's 12-1 loss to the Cubs, and Servais said a fifth-inning at-bat, in which Karns grounded out to third, didn't help his back.
"It was something that came up a few weeks ago that he had mentioned, but really hadn't said anything about it at all recently," Servais said. "Then he said he tweaked it a little yesterday on the swing and wasn't quite right after that.
"I don't think it's anything serious, it's more of like a spasm thing. But with a pitcher and kind of where we're at bullpen-wise, he's going to be down a few days, and we thought it might be beneficial to get somebody else in here."
Greg Johns has covered the Mariners since 1997, and for MLB.com since 2011. Follow him on Twitter @GregJohnsMLB and listen to his podcast. This story was not subject to the approval of Major League Baseball or its clubs.