Offense, Jansen step up after bullpen falters
Dodgers show resilience, fight with team victory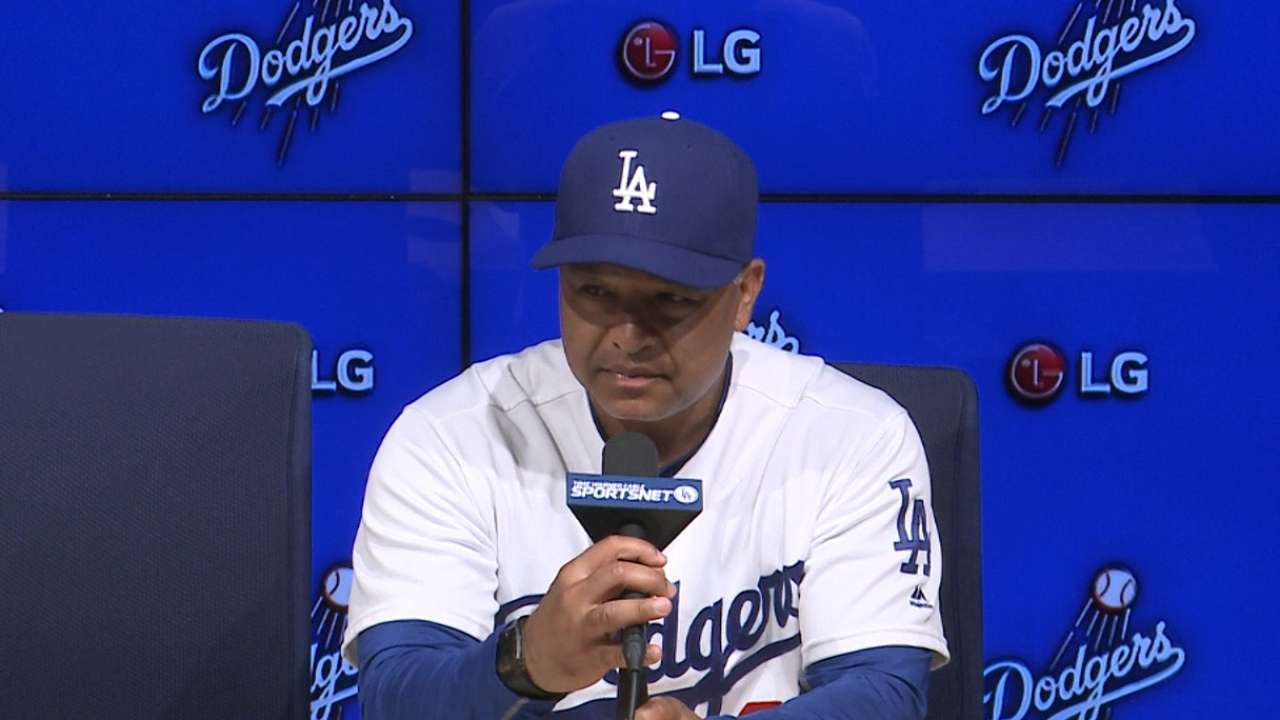 LOS ANGELES -- The Dodgers didn't need Jay Bruce or Wade Davis or Chris Archer to beat the D-backs on Friday night.
With trade rumors swirling, the current roster got it done in a wild 9-7 win, answering Arizona's seven-run top of the seventh inning with five runs in the bottom of the 73-minute inning to slice San Francisco's lead to one game.
After well-placed Arizona bloopers led to a Dodgers bullpen collapse in the seventh, Joc Pederson and Chase Utley slugged two-run homers to tie the game and Yasmani Grandal's two-out RBI single defeated a defensive shift and put the Dodgers ahead, cashing in a Corey Seager double. Seager doubled again in the eighth for an insurance run and finished 3-for-5.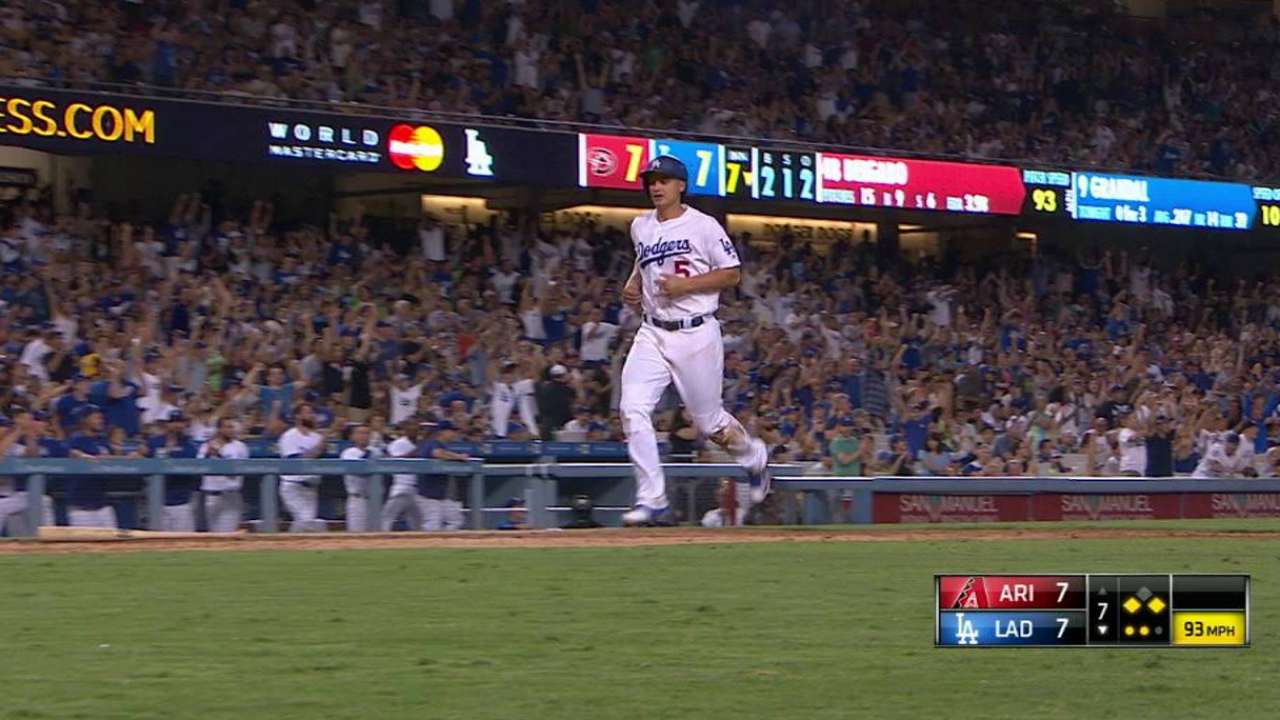 "I didn't want to let my team down," said Grandal. "They were giving me the hit up the middle, I just said, get a ground ball up the middle, that should be fine. I was able to get the base hit."
Manager Dave Roberts, whose club has gone 25-13 since June 17, called it the best win of the year.
"We're resilient," Roberts said. "Early in the year that probably wouldn't have happened, but we've got a lot of fight in us."
He got a solid 6 1/3-inning start from Kenta Maeda, a slugging offensive comeback and a four-out save from Kenley Jansen to pick up a bullpen that had an unlucky night.
"Sometimes you got to pick up your guys," said Jansen, who has 31 saves. "They asked me how far I could go and I said five [batters]. We have the best bullpen in the league and I just wanted to pick them up. You can't beat yourself up over an inning like that. It wasn't like rockets."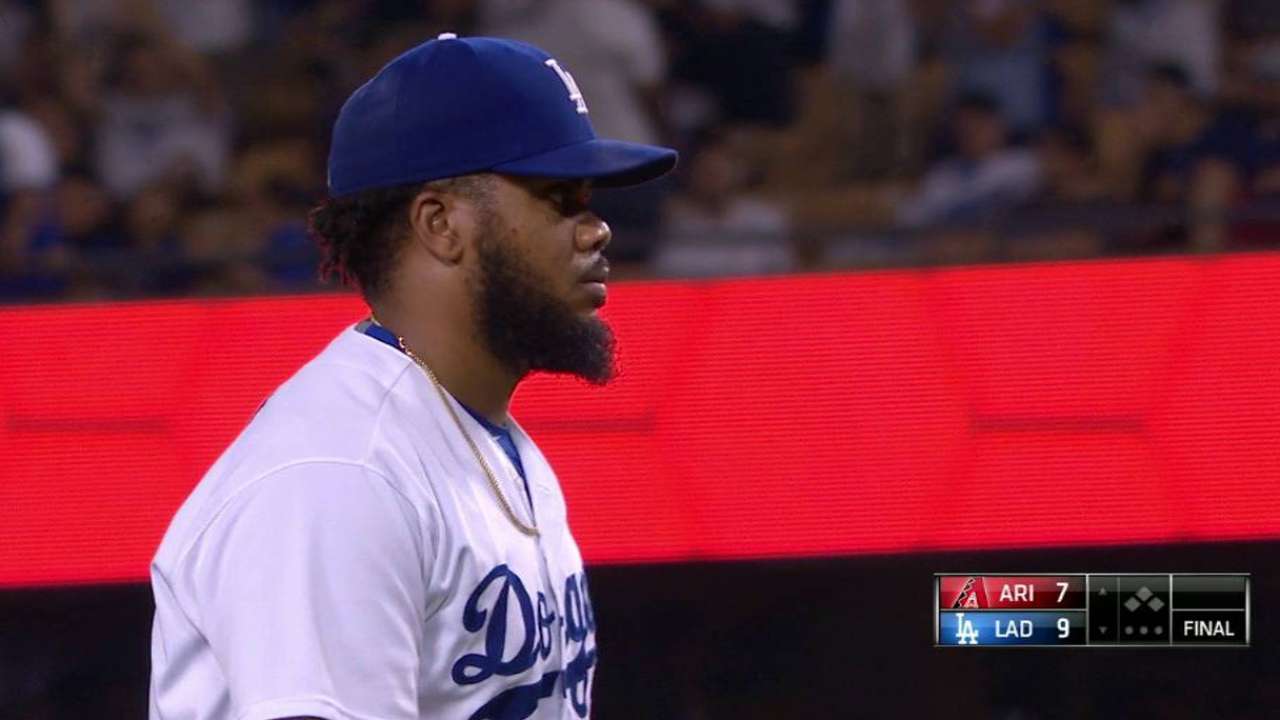 Pederson tied a career high with four RBIs, a two-run double in the second inning before the two-run homer, his first extra-base hits since returning from the disabled list after a mild shoulder separation.
"We gave up seven there and that shows the fight that we have," he said. "I was just looking for a pitch to drive, he left one over the plate and I was able to stay through it. [Andrew] Toles had a great game [single, double, walk, first career RBI], he got on base and I hit him in. Chase took care of some things. That was fun to be a part of, a long inning then to come out on top, it's nice."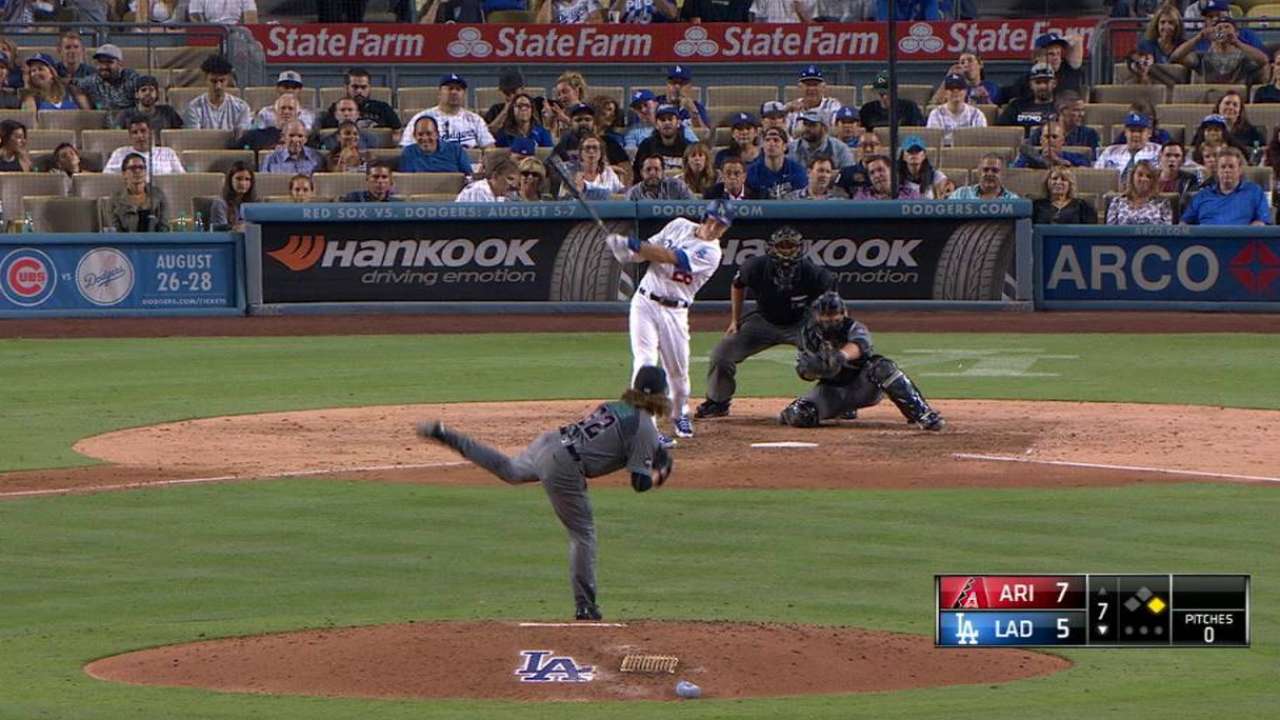 Utley's homer tied the game at 7 and followed a walk by Scott Van Slyke.
"For them to score seven runs that inning and for us to battle back after that is impressive," Utley said. "It shows that guys aren't giving up. We had great at-bats that whole inning and were able to capitalize on some mistakes. We're starting to play better baseball in general. I think we all realize that we have a good team. We want to win, we want to improve, which in my opinion is an important part of a good team."
Ken Gurnick has covered the Dodgers for MLB.com since 2001. This story was not subject to the approval of Major League Baseball or its clubs.