No hit needed for Mauer's first walk-off in 9 years
Twins push across run in 12th without hit, capped by pinch-hit walk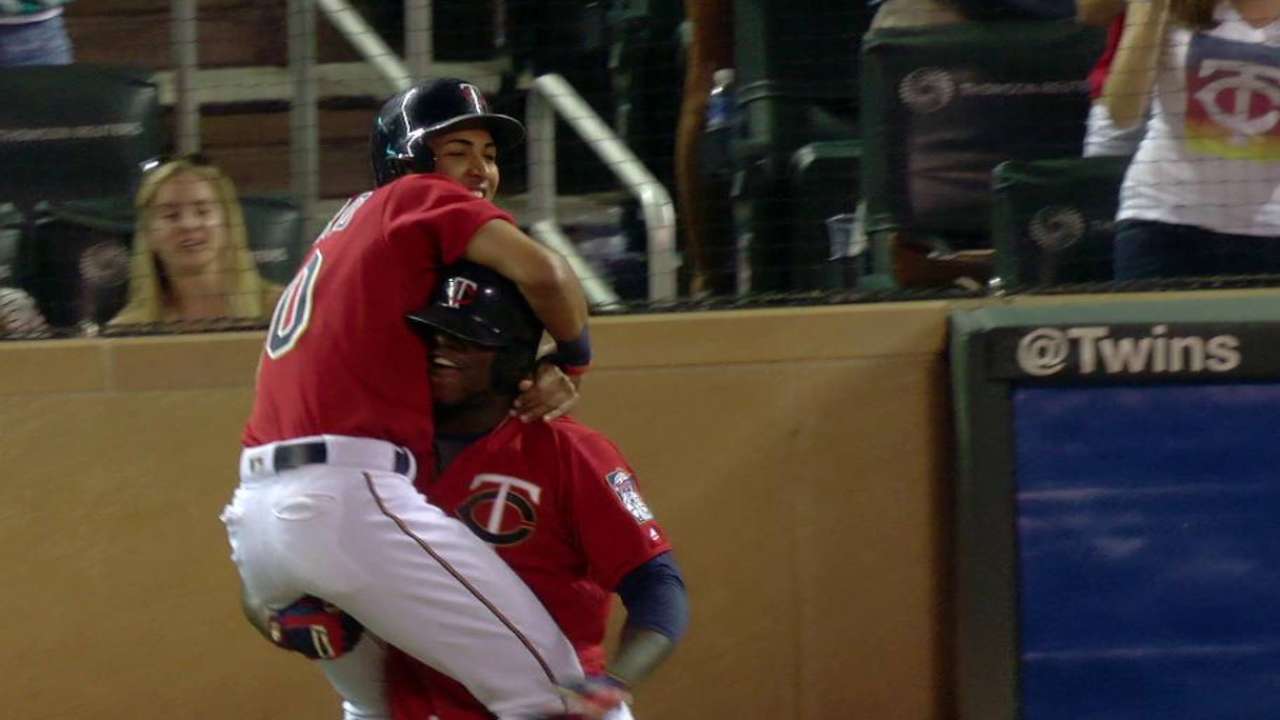 MINNEAPOLIS -- Believe it or not, coming into Friday night, Joe Mauer had as many walk-offs in his 13-year career as MVP awards: one.
That finally changed in the Twins' 2-1, 12-inning victory over the White Sox at Target Field, when Mauer picked up the second walk-off RBI of his career in the most Mauer-like way possible, with a pinch-hit, walk-off, bases-loaded walk that brought home Eddie Rosario to give the Twins their second win over Chicago of the season. The Twins pushed across their run in the 12th without the benefit of a hit.
"I was happy for the opportunity," Mauer said. "I don't get that opportunity a whole lot, or haven't over my career. Those are fun situations to be in, and obviously when you come through like tonight, that's even better."
The only other walk-off of Mauer's career came all the way back on July 15, 2007, when he hit a walk-off single against Oakland in the ninth inning to score Luis Castillo in a 4-3 Twins victory.
After White Sox reliever Dan Jennings hit Rosario to start the 12th and issued a one-out walk to Byron Buxton, Tommy Kahnle was summoned from the Chicago bullpen and promptly issued a walk to Brian Dozier to load the bases for Robbie Grossman.
Instead of going with Grossman, the team's on-base percentage leader, in that situation, Twins manager Paul Molitor called on Mauer off the bench for a rare walk-off opportunity.
"You've got Grossman, who takes as many walks as anyone on our team except for the guy who had the chance to pinch-hit," Molitor said. "I went with the resume. I gave [Mauer] a chance to win the game and he laid off a couple of changeups that I think would have enticed a lot of hitters when a guy's throwing that hard, but he laid off and ended up working the walk."
Mauer had never faced Kahnle in his career and went to the plate looking for something up in the zone that he could hit over a drawn-in infield. Instead, all four of Kahnle's balls missed low, making it easier for Mauer to stay patient.
"He threw me a couple of good changeups down and away, and I think with having that plan, I was able to lay off a little bit," Mauer said.
Do-Hyoung Park is a reporter for MLB.com based in Minneapolis. This story was not subject to the approval of Major League Baseball or its clubs.