CarGo launches 448-foot rocket, drives in 4
Rockies right fielder runs hitting streak to 11 games with 2 hits vs. Mets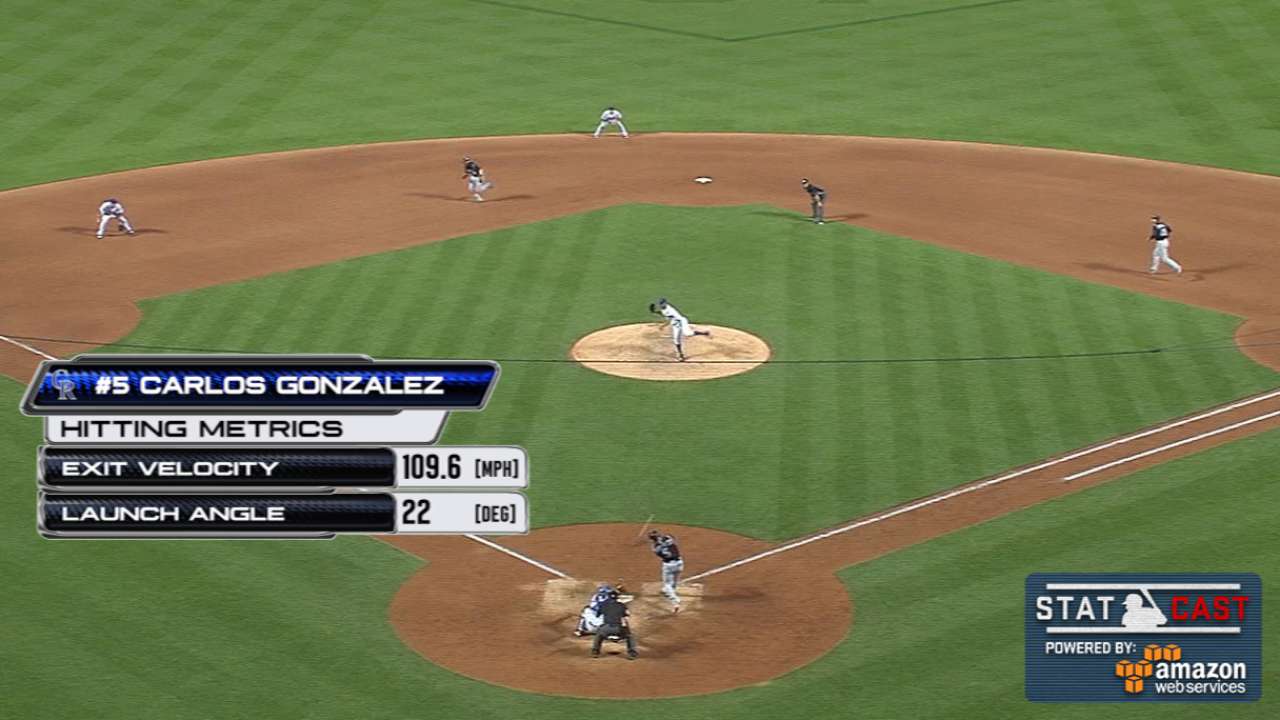 NEW YORK -- Rockies right fielder Carlos Gonzalez appreciated the art and the science that exuded from the stroke of his bat during Friday night's 6-1 victory over the Mets at Citi Field.
Gonzalez gazed lovingly at his three-run ninth-inning homer off Antonio Bastardo that ended the competitive portion of the game. It took a second or two for his eyes to pick the ball up, since it zoomed from his bat at 109.6 mph, according to Statcast™, but he couldn't resist following the flight to the balcony above the bullpen in right-center field, landing a projected 448 feet away from home plate.
"It has been [a week] since I'd hit the last one," said Gonzalez, who has 21 homers. "But I never blame myself. I try to stay positive. Sometimes you're not going to see pitches. I've been walking a lot and getting hits here and there.
"[Bastardo] threw me six straight sliders. The one he missed was the one I hit over the fence. Those are the pitches we've got to hit, and I was ready for it."
But possibly more impressive was the thinking that went into his other run-scoring hit.
Gonzalez was facing Mets lefty Steven Matz for the first time with two outs and DJ LeMahieu at second in the first inning. Gonzalez poked an opposite-field double and gave the Rockies a 1-0 lead.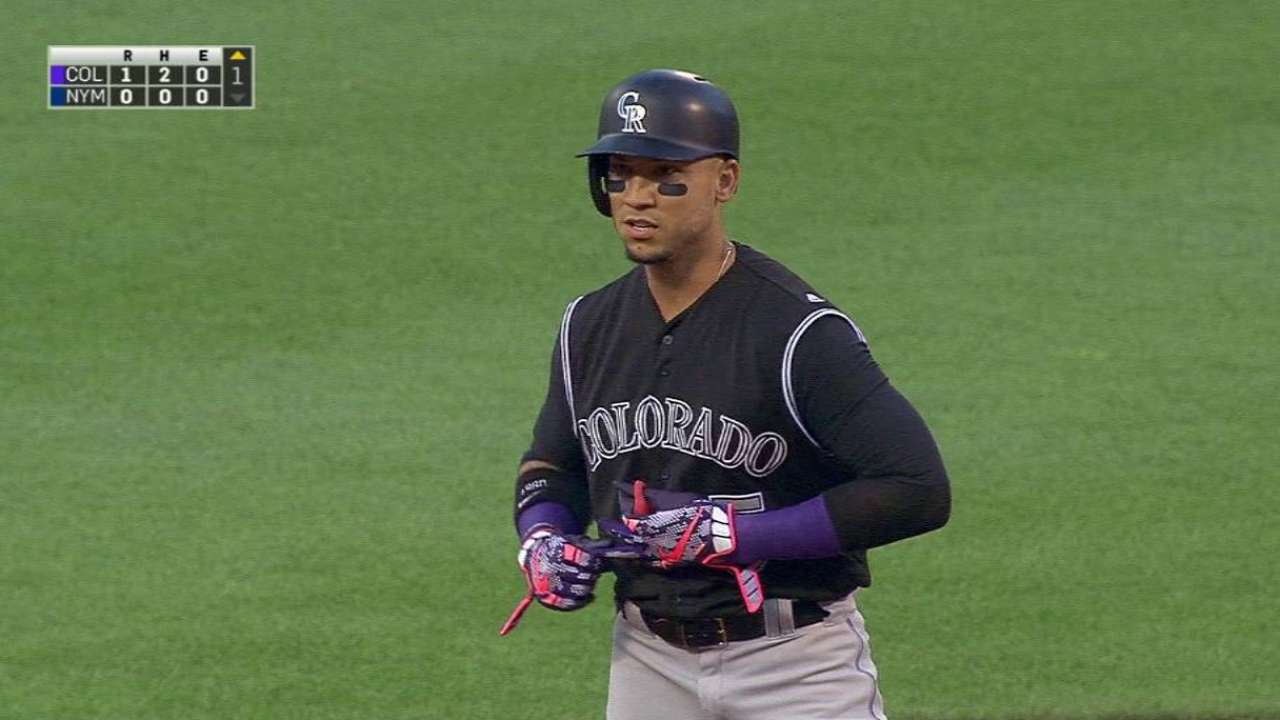 Gonzalez's strategy shows why he has an 11-game hitting streak.
"We all know that he has great stuff," Gonzalez said. "I was able to take the first two pitches for balls. He was trying to go away, and I took my approach to go the other way. He threw a strike on the outside corner, and I was ready for it."
Gonzalez's 2-for-5 night lifted his batting average to .317 and his four RBIs gave him 66 this season. His wasn't the only strong line of the night.
Charlie Blackmon went 4-for-5 with two doubles to lift his average back above .300 (.303) after a slight three-game dip. David Dahl had two hits, and has hit safely in his first five games since being called up from Triple-A Albuquerque. Mark Reynolds homered off Erik Goeddel in the eighth to give the Rockies a 3-1 cushion.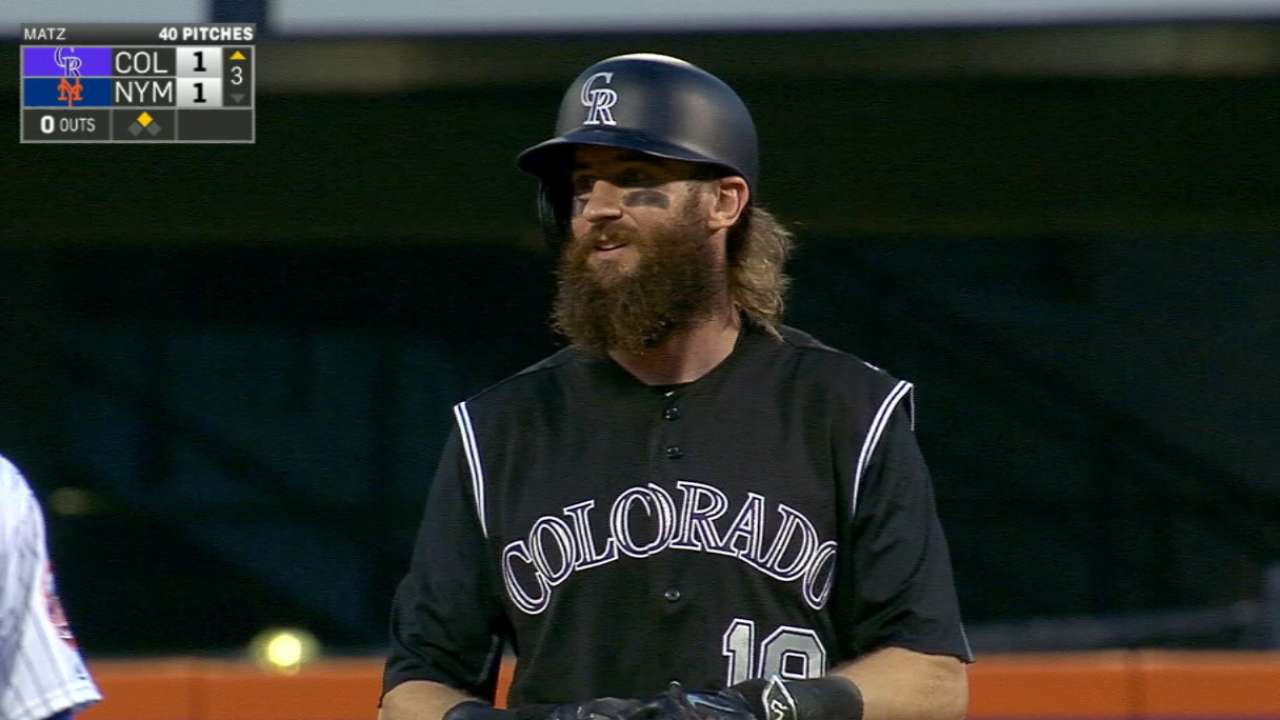 Even though he enjoys his moonshots, Gonzalez is down-to-earth when it comes to the Rockies.
"We all believe in ourselves," Gonzalez said. "We play for each other, so that's important."
Thomas Harding has covered the Rockies since 2000, and for MLB.com since 2002. Follow him on Twitter @harding_at_mlb, listen to podcasts and like his Facebook page. This story was not subject to the approval of Major League Baseball or its clubs.