Guerra draws interest; continues amazing '16
Brewers right-hander throws 8 2/3 innings of one-run ball in win over Pirates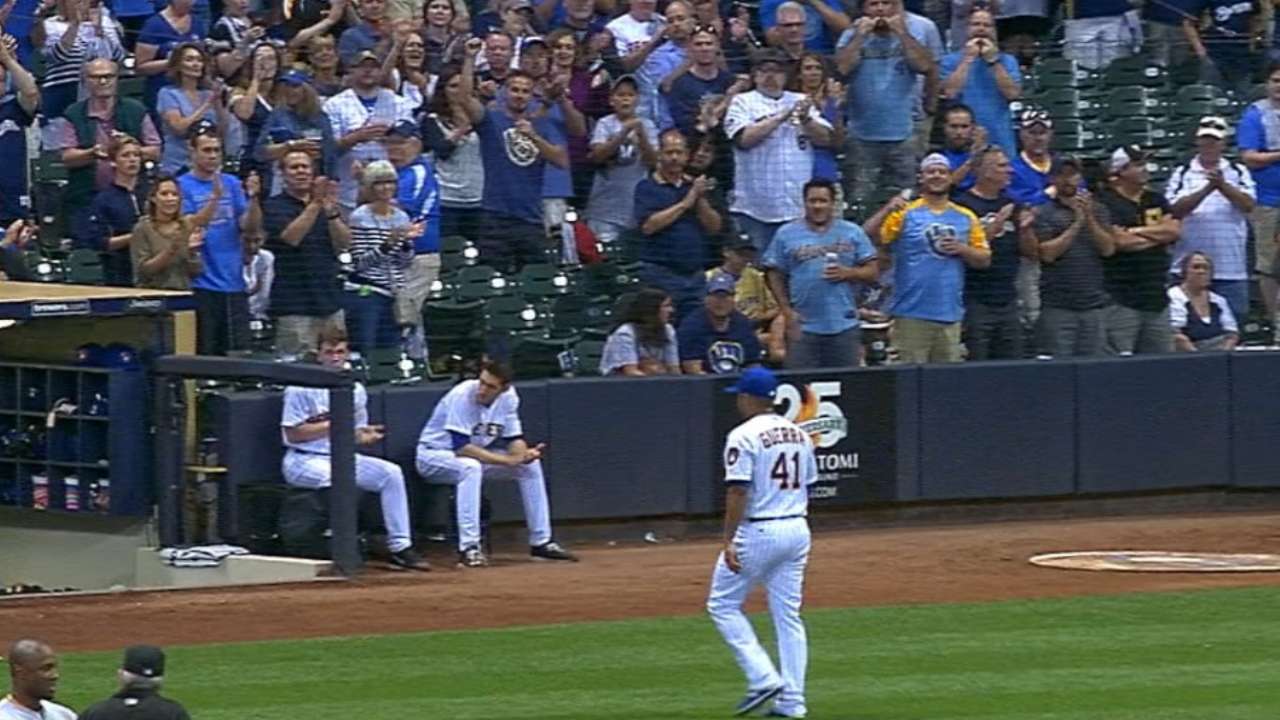 MILWAUKEE -- It's worth mentioning every time Junior Guerra takes the mound that two years ago he was pitching in Italy, of all places. Guerra was still in exile then, fighting back toward organized baseball from a PED suspension years earlier, and learning to hone the pitch that lifted him to the big leagues. On Friday, he was a 31-year-old rookie at Miller Park, where the seats behind home plate were dotted with scouts eyeing one of the league's most fascinating trade chips.
Guerra gave them a show, flirting with a "Maddux" -- a complete game shutout on fewer than 100 pitches -- before settling for 8 2/3 innings and a victory in the Brewers' 3-1 win over the Pirates. There's a chance it was Guerra's final start in a Brewers uniform. The non-waiver Trade Deadline is Monday afternoon, and Guerra is among a crowd of Brewers players drawing interest.
"It truly hasn't gone through my head," Guerra said. "It is baseball, it is a business, and it's part of it. You can't really control this, so you just kind of let God decide whatever happens next."
His faith and his split-fingered fastball have lifted Guerra to heights no one envisioned, not even Brewers general manager David Stearns, who claimed Guerra off waivers from the White Sox in October. It was Stearns' first roster move in his first week formally on the job.
Guerra briefly competed for a bullpen job in Spring Training before heading to Triple-A Colorado Springs to start the year. He was summoned to the big leagues in May to replace an ineffective Taylor Jungmann, and is 7-2 with a 2.70 ERA in his first 16 Major League starts. The Brewers are 11 games under .500 this season, but they're 11-5 when Guerra takes the mound. He has started each of the team's two 1-0 victories, and three of their four shutouts.
"Look, he's performing at a really high level. I don't think anybody accurately forecasted this," Brewers manager Craig Counsell said. "But he was claimed for a reason. He was claimed because we thought there were possibilities there and there was talent there."
Said Pirates manager Clint Hurdle: "Just goes to show you there's stories out there. There's guys to find. You've got to hunt them. You've got to give the Brewers credit for having their eyes on this guy, bringing him in, giving him the opportunity to pitch. This man's taken advantage of it."
The Blue Jays, Dodgers, Indians, Orioles and Yankees all had scouts at Miller Park on Friday for a look at Brewers' and Pirates' players as the Deadline looms. All of those teams but the Indians could use starting pitchers, and Guerra cruised through his first eight innings on 87 pitches, allowing two hits and no runs.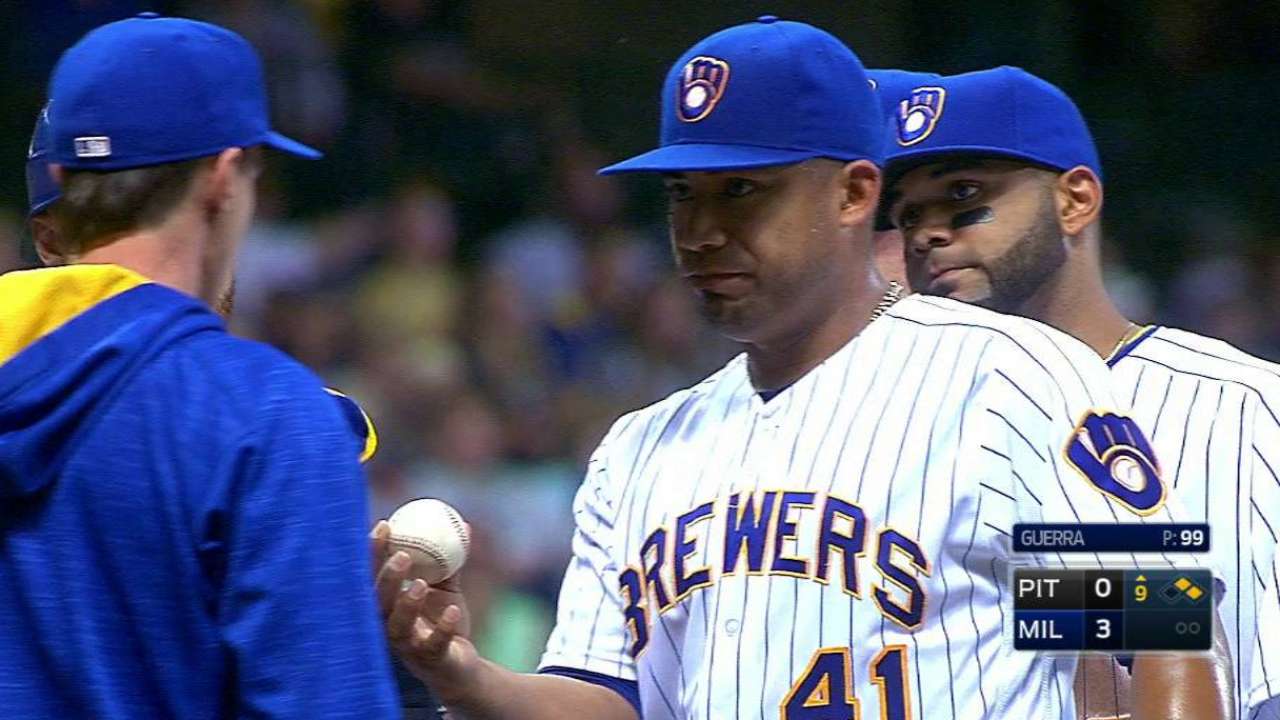 The Pirates provided resistance in the ninth, when pinch-hitter Matt Joyce singled and John Jaso walked. Counsell strode to the mound and Guerra thought his outing was over. He held up the baseball, ready to drop it into Counsell's hand.
Instead, Counsell looked Guerra in the eye and said, "This is your game."
Gregory Polanco bounced into a fielder's choice and Andrew McCutchen made it 3-1 with a run-scoring groundout. With two outs, Counsell stuck with Guerra to face Starling Marte, who hit a 105-mph line drive that screamed past Guerra and glanced off second-base umpire Mike Winters, preventing Brewers second baseman Scooter Gennett from making a play.
With the potential go-ahead run at the plate, Counsell removed Guerra to a standing ovation. Jeremy Jeffress came in to record a one-pitch save.
"I really wanted it," Guerra said. "I'm thankful Craig had confidence in me to get it. Unfortunately I didn't get it. But that's baseball for you. Sometimes it doesn't go your way."
Unless he is traded before then, Guerra's next scheduled start is Wednesday in San Diego.
Adam McCalvy has covered the Brewers for MLB.com since 2001. Follow him on Twitter @AdamMcCalvy, like him on Facebook and listen to his podcast. This story was not subject to the approval of Major League Baseball or its clubs.