Collins calls for slumping Mets to 'lighten it up'
Club goes 0-for-8 with RISP, now hitting a Majors-low .202 in those spots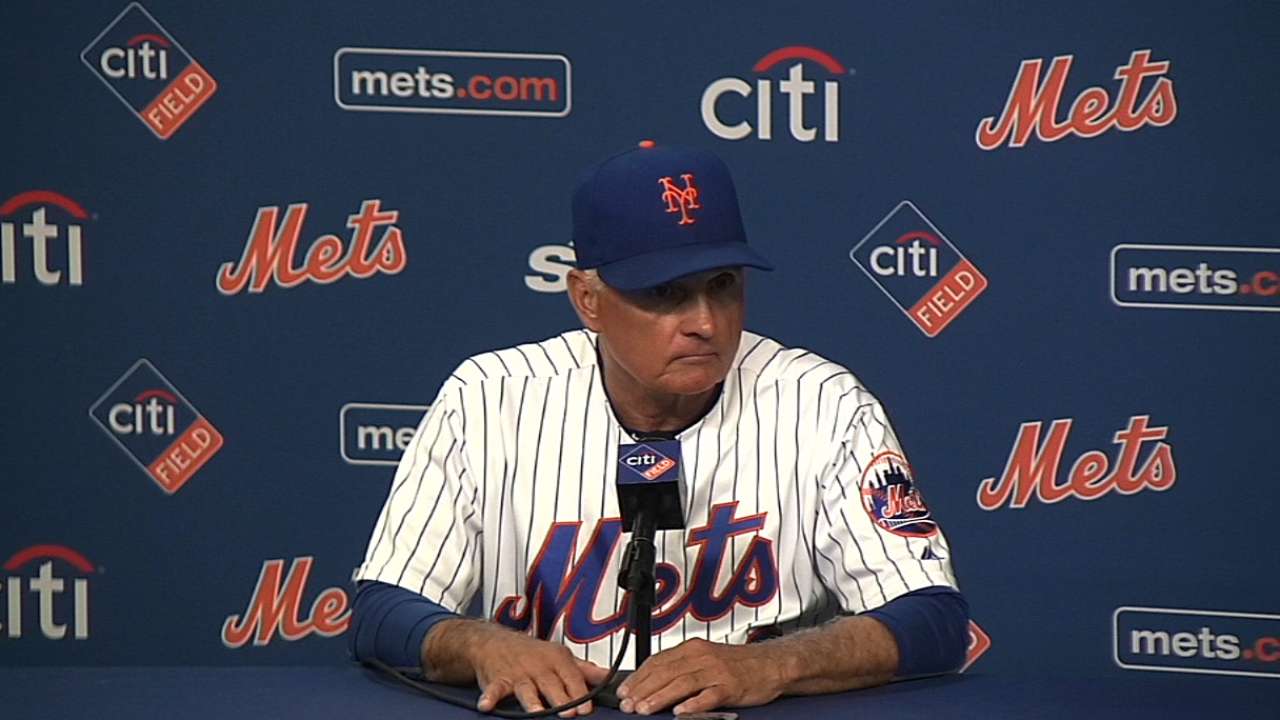 NEW YORK -- With the specter of another loss caused by too many missed opportunities looming over the Mets' clubhouse, manager Terry Collins delivered a simple message: "We have to lighten it up around here."
The call to "have some fun" came after a 6-1 loss to the Rockies at Citi Field in which the Mets' familiar nemesis of not hitting with runners in scoring position showed up once again. New York finished Friday's outing 0-for-8 in those situations and left seven men on base.
"We have a good team," Collins said. "We are going through a rough time right now. We haven't hit with runners in scoring position and everybody knows it. We have to lighten it up a little bit. We still have a lot of games to play. We're not dead. We're still in the hunt and we need to loosen up a little bit."
Trailing, 3-1, in the eighth inning with Alejandro De Aza and Curtis Granderson on base after back-to-back singles to start off the frame, the Mets' struggles to hit with runners on were highlighted when Scott Oberg entered from the Rockies' bullpen to relieve Jake McGee and retired Travis d'Arnaud, Yoenis Cespedes and James Loney -- New York's Nos. 2-4 hitters -- on three pitches.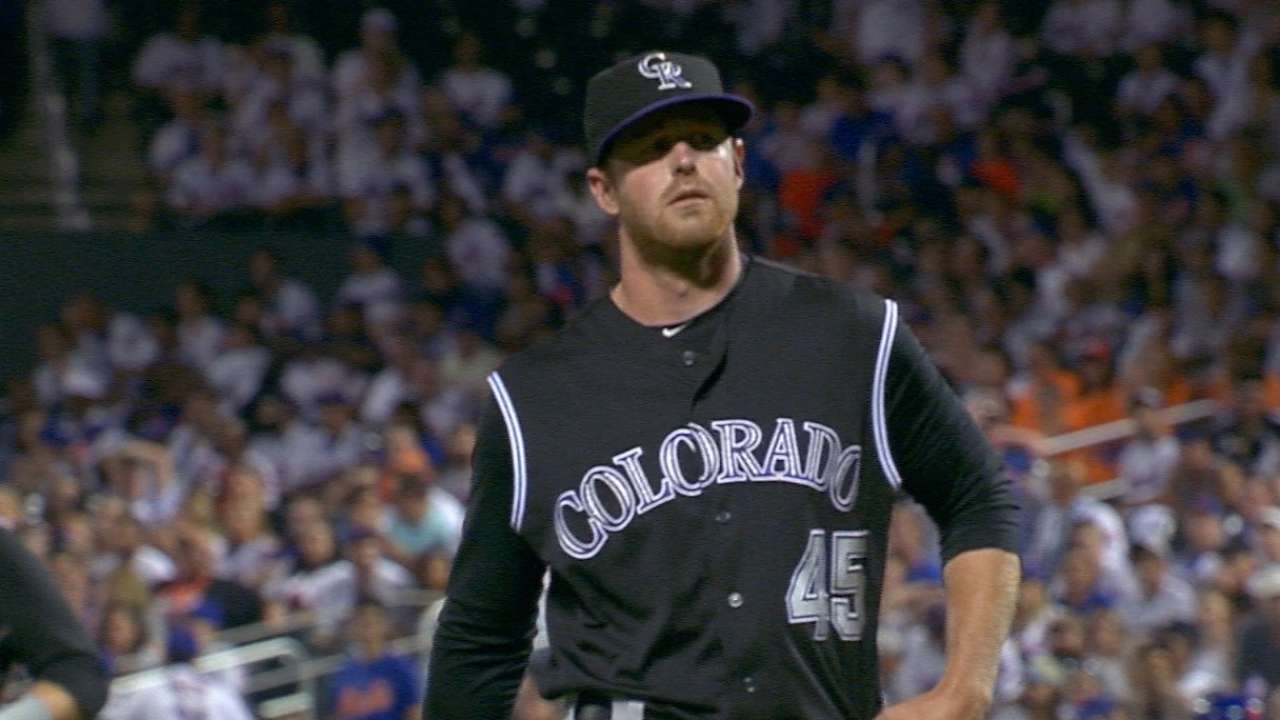 "[The concern about not hitting with runners in scoring position] starts to build, and all of a sudden now they go up there and their head is not where it needs to be because they are worried about making an out or not getting a hit," Collins said. "And it should be the opposite.
"It should be, 'Look, I'm going to get a pitch to hit here and put a good swing on it.' The rest is out of your hands."
The Mets are now hitting .202 this season with runners in scoring position, which ranks last in the Major Leagues. The only team in Major League history to have a worse average for a full season is the 1969 Padres. In their other big opportunity Friday, the Mets loaded the bases with two outs in the second inning, but Granderson popped out.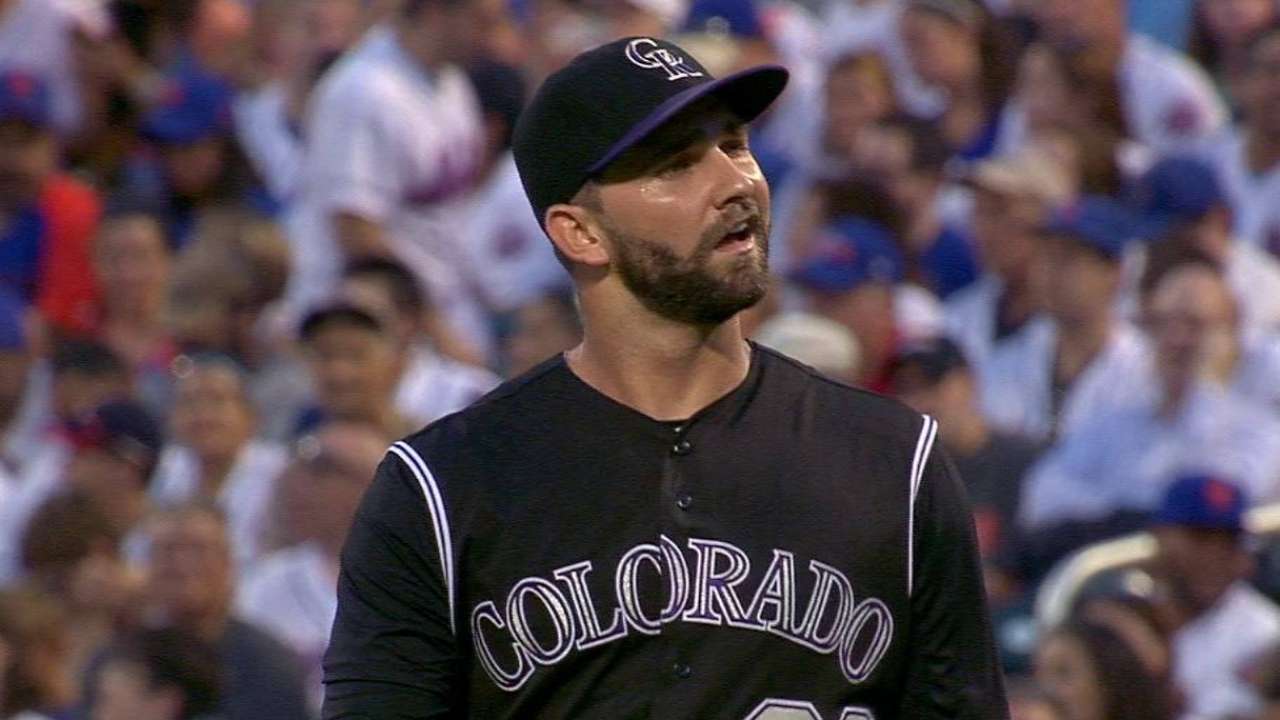 "It seems like we are pressing a bit, especially in situations when we have guys on base and we have opportunities to bring runs home," outfielder Michael Conforto said. "I think that's natural when we're not having success there, but I think we do have to get back to enjoying playing here and enjoying the opportunity we have to go out and do this for a living."
The Mets are now 6-8 since the All-Star break and losers of four of their last five, but despite their recent slide, they are still only 2 1/2 games behind the Cardinals for the second National League Wild Card spot.
"This is not the time to panic," second baseman Neil Walker said. "The outside expectation is that we have to win every series, but this is tough baseball. I've played in a Wild Card race for the past three years, and we've gone through the exact same things in July and August. The thing you can't do is panic.
"You just have to take advantage of every opportunity that you can. We're giving ourselves opportunities. It's just not happening right now, but I think we are going to break through here soon."
Troy Provost-Heron is a reporter for MLB.com based in New York. This story was not subject to the approval of Major League Baseball or its clubs.