Nova frustrated with ump, himself during loss
Yankees right-hander lasts just 4 1/3 innings to open crucial series vs. Rays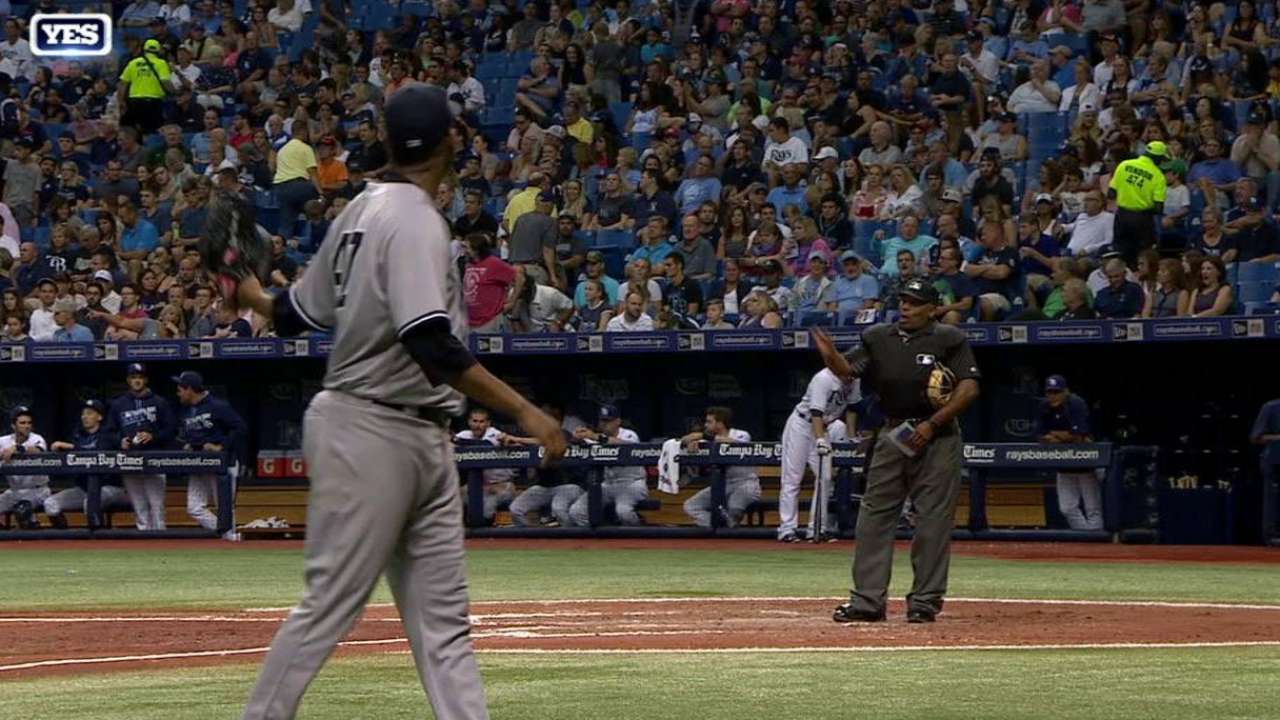 ST. PETERSBURG -- As Yankees starter Ivan Nova walked off the mound following a laborious 4 1/3-inning start Friday, he exchanged words with home-plate umpire Laz Diaz before hurling his glove against the dugout wall.
Three of the first four batters had reached to start the fifth inning for Tampa Bay. Nova had walked three overall and seen his strike count nearly level with his ball count all night. In the first game of an important three-game series for New York, Nova couldn't get the job done in a 5-1 loss.
"I think he thought some of those pitches were strikes," Yankees manager Joe Girardi said. "… I just think it was more of a command issue. He just wasn't commanding his fastball or his curveball. That, to me, was the difference."
Nova agreed that he felt like he made some pitches where he should have gotten the call but didn't. He claimed he couldn't hear what Diaz said back to him when he was going to the dugout. With 51 pitches thrown, Nova had more balls (26) than strikes (25). Of his 76 total pitches, only 43 were strikes.
It was the fourth time he's allowed five earned runs this season. It was also the third time this year he's been unable to last five innings. Five of the six hits Nova allowed went for extra bases. And it was the Yankees' second straight loss after an 8-2 stretch vaulted them back into the postseason conversation.
"It was bad. It was bad," Nova said. "I got hit in the middle of the plate and threw behind to almost every hitter. It was no good."
Nova fell behind hitters, and Girardi said his lack of curveball and fastball command was really at the root of his issues.
With Monday's non-waiver Trade Deadline approaching, Nova's name has been tossed around in potential deals. The hope of keeping the team together as is might rest with New York's success this weekend against the Rays. Nova said it wasn't on his mind at all.
But he missed his chance to do his part to prevent the Yankees from being sellers. And as he walked off the mound, Nova showed some strong emotion.
"You've got to keep fighting," Nova said. "Give the team a chance to win the game. I didn't do it today. It's frustrating."
Sam Blum is a reporter for MLB.com based in St. Petersburg. This story was not subject to the approval of Major League Baseball or its clubs.