Fill-ins contributing in a big way while they can
Expected to lose playing time when starters come off DL, Hazelbaker, Pham, Wong driving Cards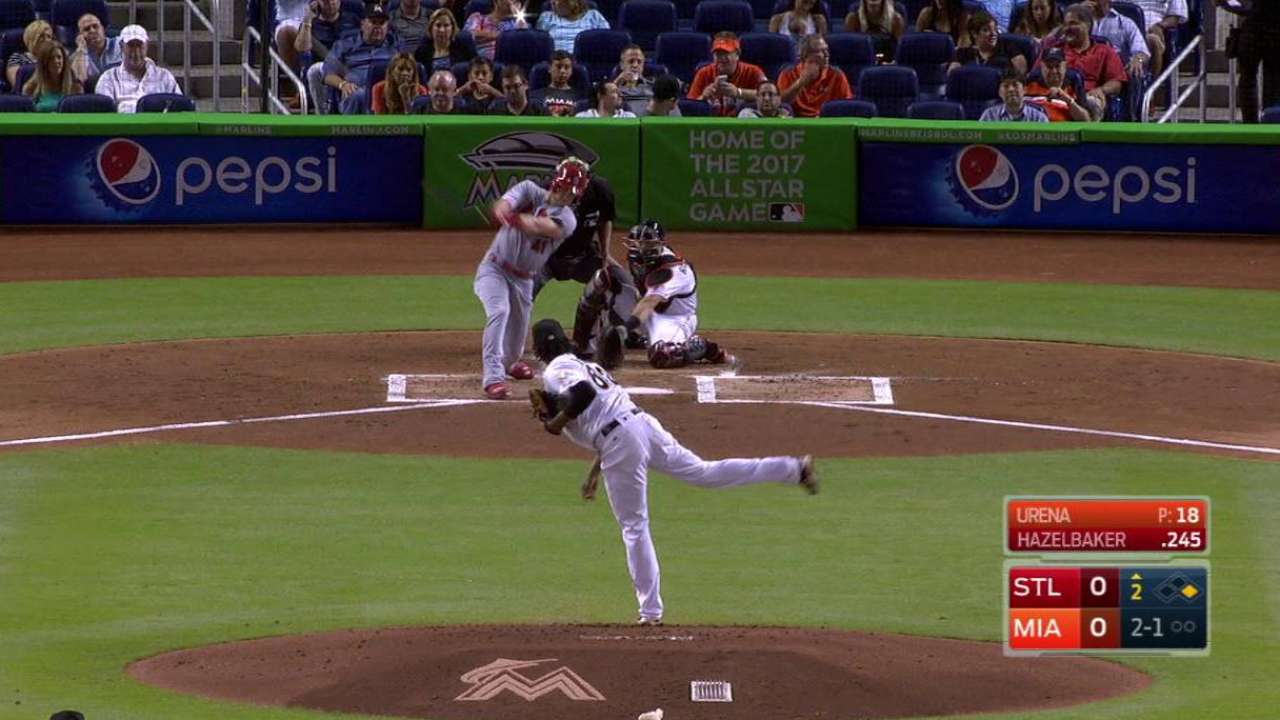 MIAMI -- A week from now, if the Cardinals do indeed clear the disabled list of Matt Carpenter, Brandon Moss and Jhonny Peralta, there will be other roles fading and some altogether erased.
Among those expected to be affected are Jeremy Hazelbaker, Tommy Pham and Kolten Wong, a trio that looked entirely undeterred by the prospect of shrinking playing time as they keyed the Cardinals' 11-6 victory over the Marlins on Friday. All three reached base three times apiece, finishing a collective 6-for-11 with seven RBIs and seven runs scored.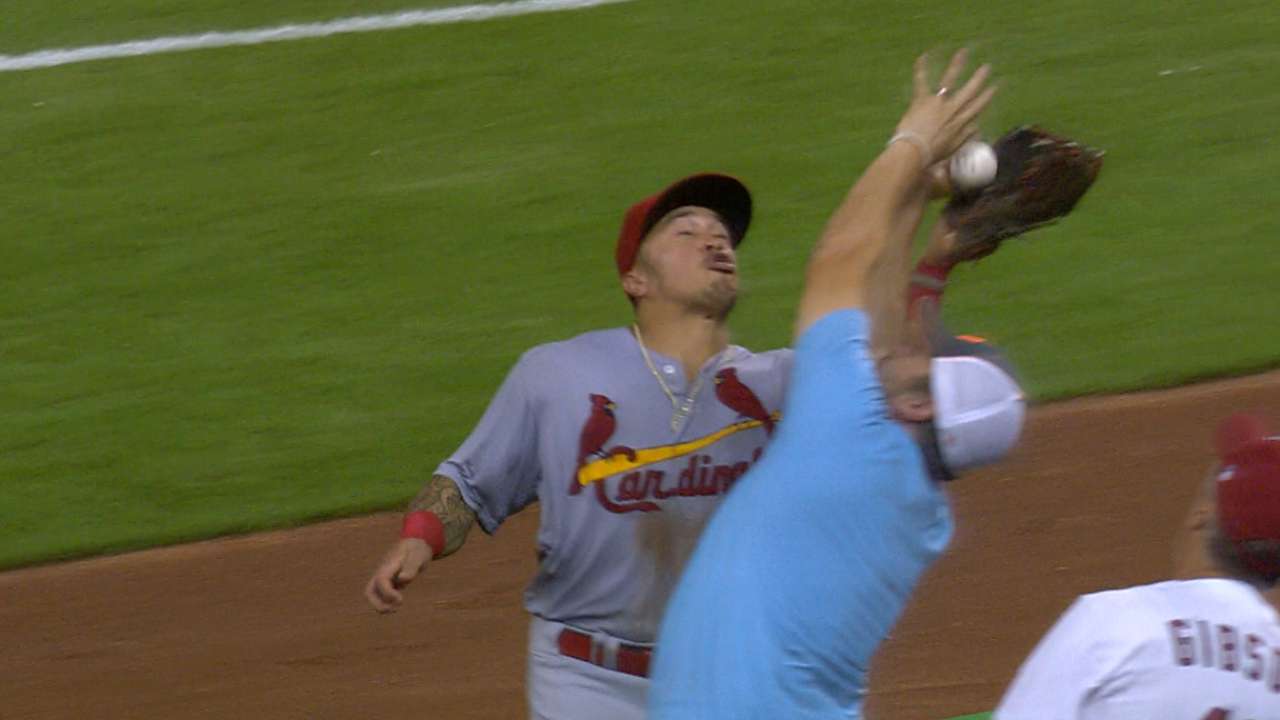 "That's the name of the game," said Hazelbaker, who ignited the offense with a second-inning homer off Jose Urena. "For a guy who is just trying to come up and make a name for himself in the big leagues, that's what I have to do, is take advantage of every opportunity that's given to me."
A night earlier, Hazelbaker played a critical role in helping the Cardinals to a one-run win by reaching base three times in a cameo as a leadoff hitter. His return to the big league club on July 18 coincided with Peralta's move to the DL.
"If somebody does go down -- and we never want that to happen -- but someone else does have to step up," manager Mike Matheny said. "Don't buy into what it means. It's nice to see some of these other players, guys who otherwise might not be getting those opportunities, come up big for us."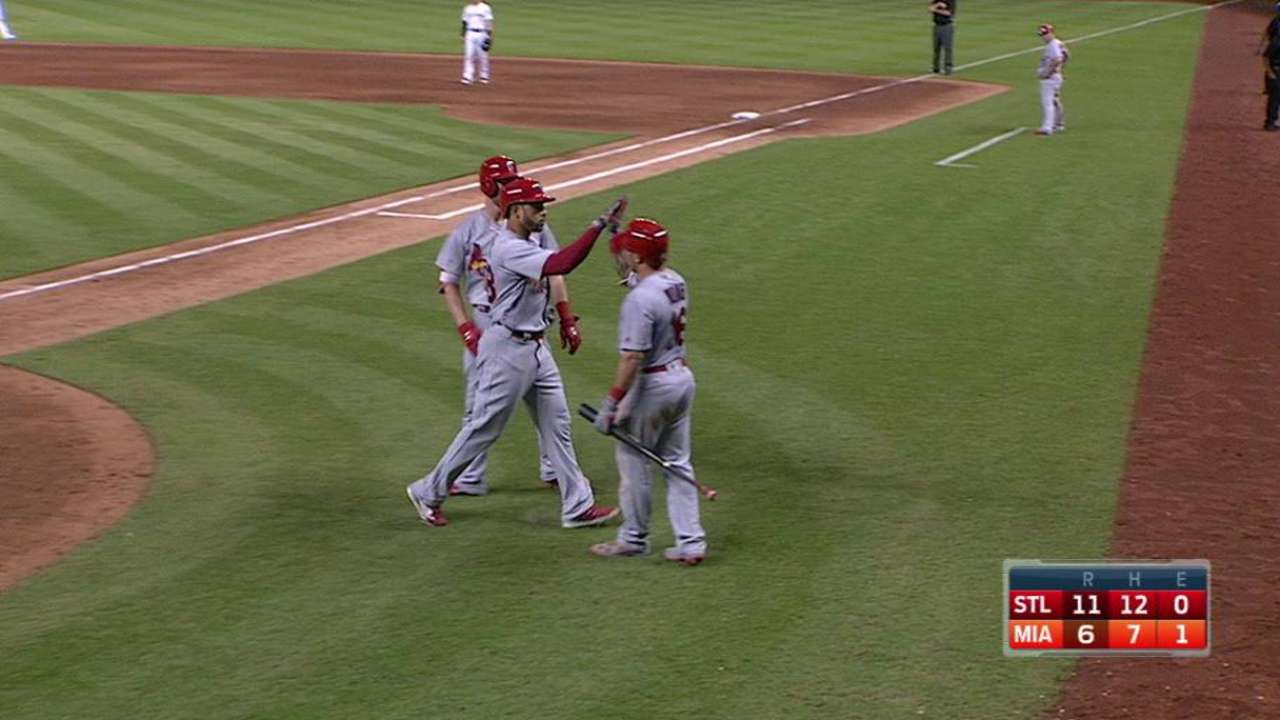 Pham has found more playing time during Moss' absence, and with a two-run blast on Friday, he's now connected for five homers in 15 starts since Moss went down. Pham's latest home run may have been the most improbable, too, as he was unsure he'd be able to keep playing after taking a pitch off his right wrist in the second inning.
Despite the discomfort, Pham contributed an RBI single and drilled a homer 420 feet to center.
Pham and Hazelbaker are likely jostling for what will reduce to one roster spot once the Cardinals finish adding Moss, Peralta and Carpenter back onto their 25-man roster.
"I just have to every day try to be better," Pham said. "This game is so challenging. One day I could be a great player and then the next day I can be awful. I'm trying to find a way to be very consistent at this game, because if I can be consistent, I can be a really good contributor."
How Wong fits into the Cardinals' plans once Carpenter and Peralta return remains nebulous, but wherever it may be, Wong believes he's in position to succeed. After coming a homer short of the cycle on Friday, Wong described the recent revelation that has allowed him to better adjust in-game when he feels the mechanics of his swing eroding.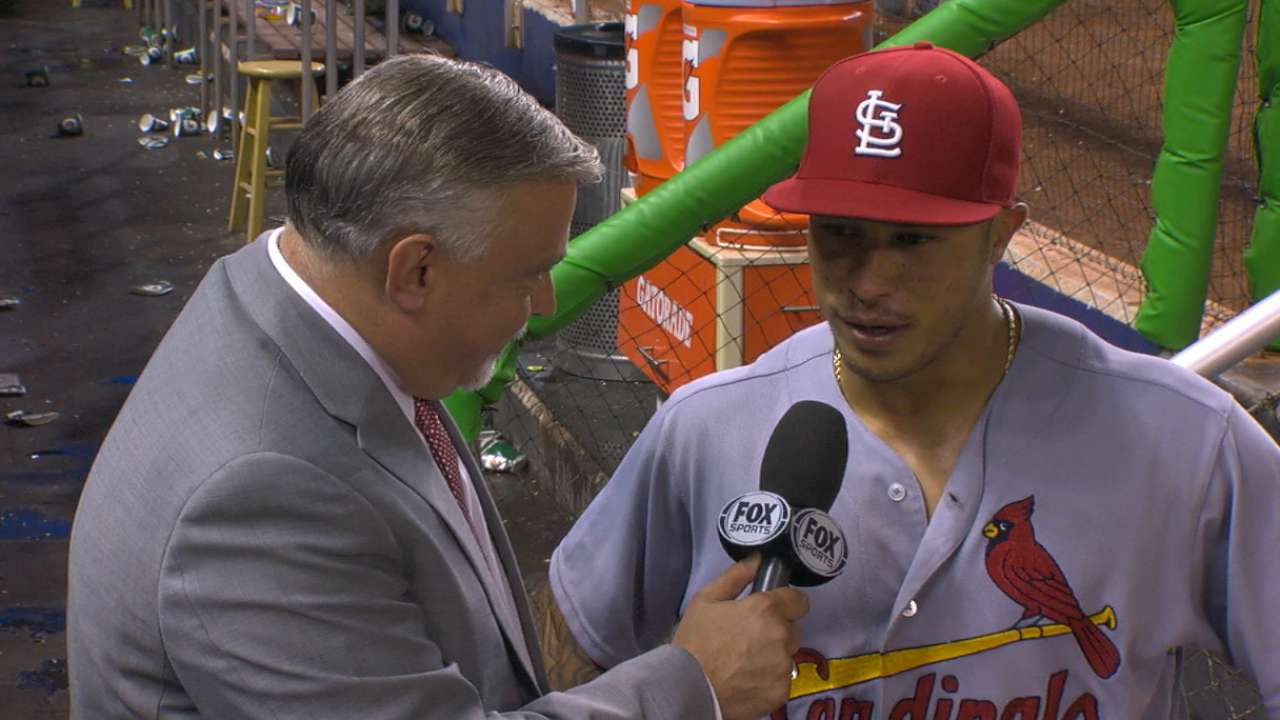 "I understand my swing now; before I never did," Wong said. "I knew I could hit; never knew why. I knew I had a leg kick; never knew how to use it. I'm really starting to understand everything."
When Wong's sixth-inning at-bat ended in a flyout, he went into the dugout and told hitting coach John Mabry that he had come off his back foot too early. It was the sort of self-assessment absent from Wong's game earlier this year.
"Now instead of it being luck," Wong said, "it's me knowing that I was in the right spot every single time."
Jenifer Langosch has covered the Cardinals for MLB.com since 2012, and previously covered the Pirates from 2007-11. Read her blog, follow her on Twitter, like her Facebook page and listen to her podcast. This story was not subject to the approval of Major League Baseball or its clubs.