Rays' play of late what they expected all year
Starting pitching has led the way since break, with offense and defense chipping in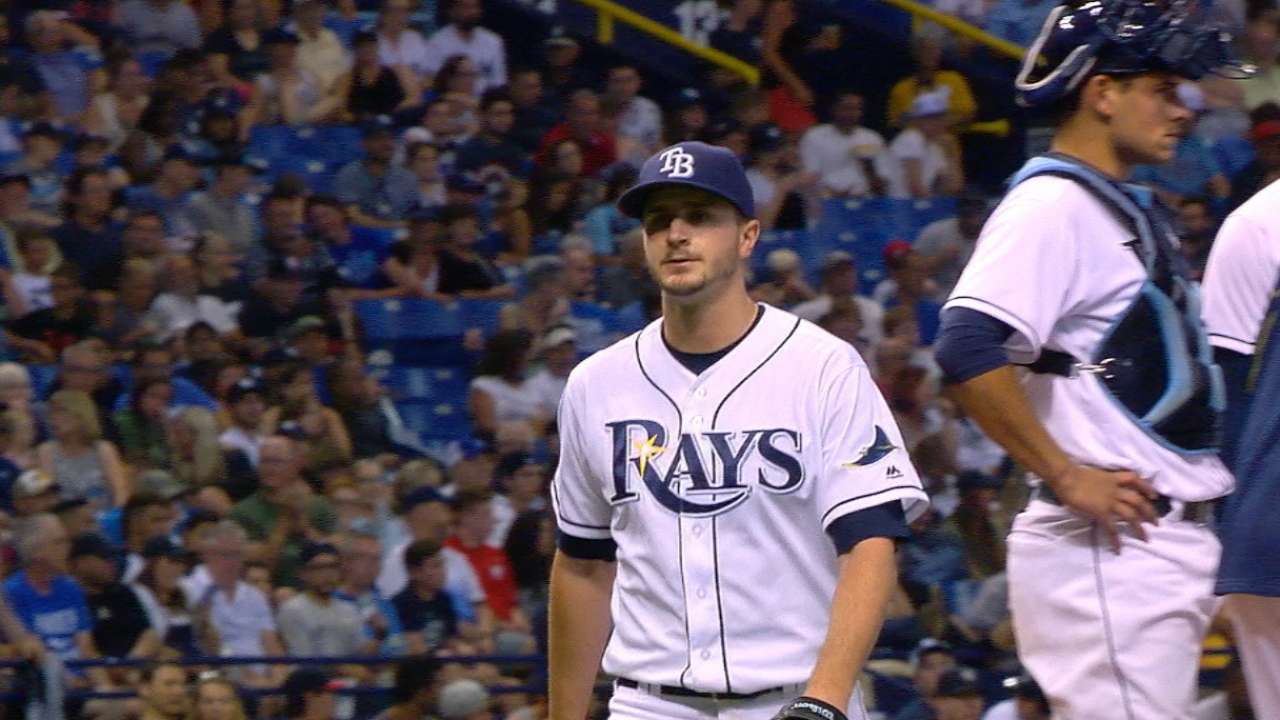 ST. PETERSBURG -- Friday night the Rays painted a portrait of how the team planned to win games in 2016: Great pitching, solid defense and just enough hitting.
"When we tried to anticipate what this year was going to look like, our starters were going to be our horses. Our defense was going to carry us and we had some power threats," said Steven Souza Jr., who chipped in with a sacrifice fly in the 5-1 win over the Yankees at Tropicana Field.
Second baseman Logan Forsythe said Friday night's win "was a lot closer to a complete game than we've had in a while."
"And it was just all around," Forsythe said. "Pitching was there. Defense was there. Timely hitting. Big hits. Bullpen came in and did a great job. It was a complete game all around. And I think that's what we've been hoping to see, and we've seen bits and pieces of it, but to have it come together tonight was nice, try to get on a little roll."
Forsythe helped get the Rays off to a good start when he homered to lead off the first. The blast gave him 10 on the season and put the Rays up 1-0. Corey Dickerson added to that lead with his own solo homer in the opening frame.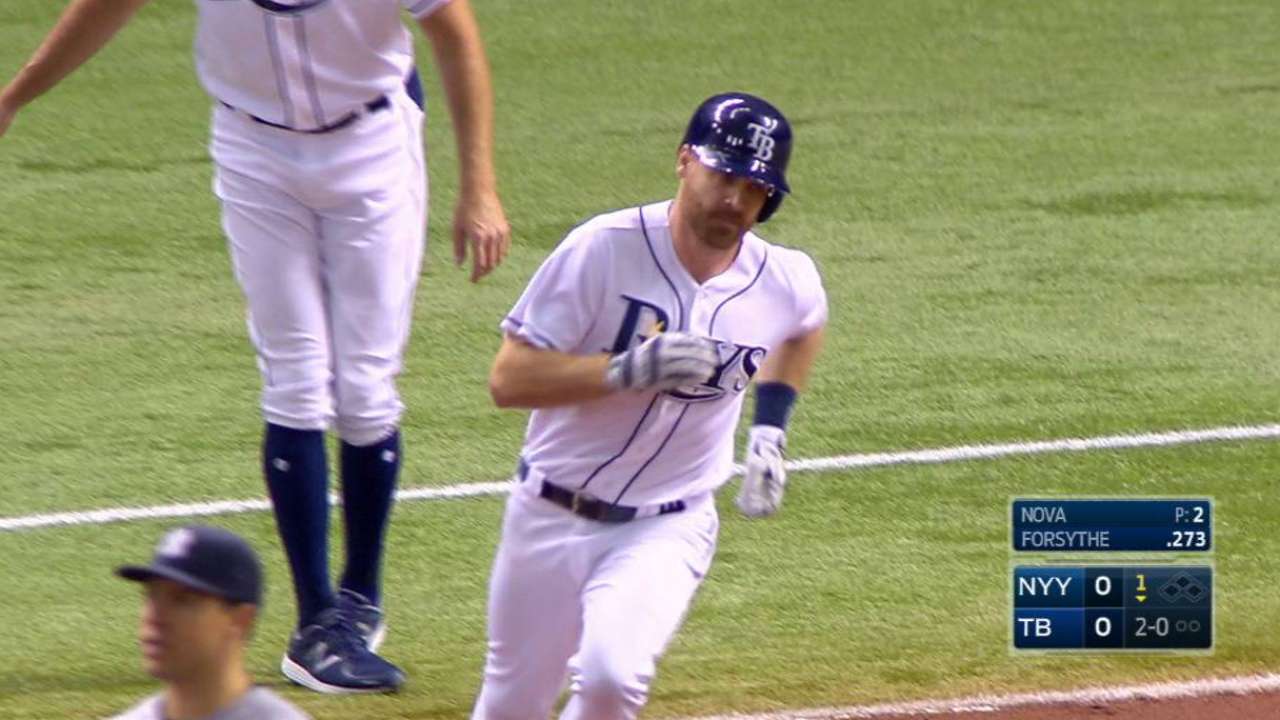 The offense did what it needed, but most of the credit for Friday night's win belonged to starter Jake Odorizzi, who held the Yankees scoreless for 6 2/3 innings to pick up his fifth win of the season. While doing so, he extended his scoreless streak to 14 2/3 innings. Odorizzi's performance brought to mind what was supposed to be the foundation for this year's team: starting pitching.
Throughout most of the season, Rays starters have harped on the idea that they would eventually get on a run. Well, they are in the midst of a really good one now. Odorizzi's quality start extended the streak by the starters to nine consecutive outings in which the starter has delivered a quality start. Since the All-Star break, the rotation has posted 11 quality starts.
"We talked about [getting on a roll] for a while in the first half, but it never came," Odorizzi said. "Since the second half has started, we've changed our tune, I guess.
"Everything is going well for the starters. Consistent outings, back to back to back, really takes stress off the bullpen. Another thing, I think our defense is playing phenomenal. They're really backing us up. It's a lot easier to pitch when you have great plays behind you."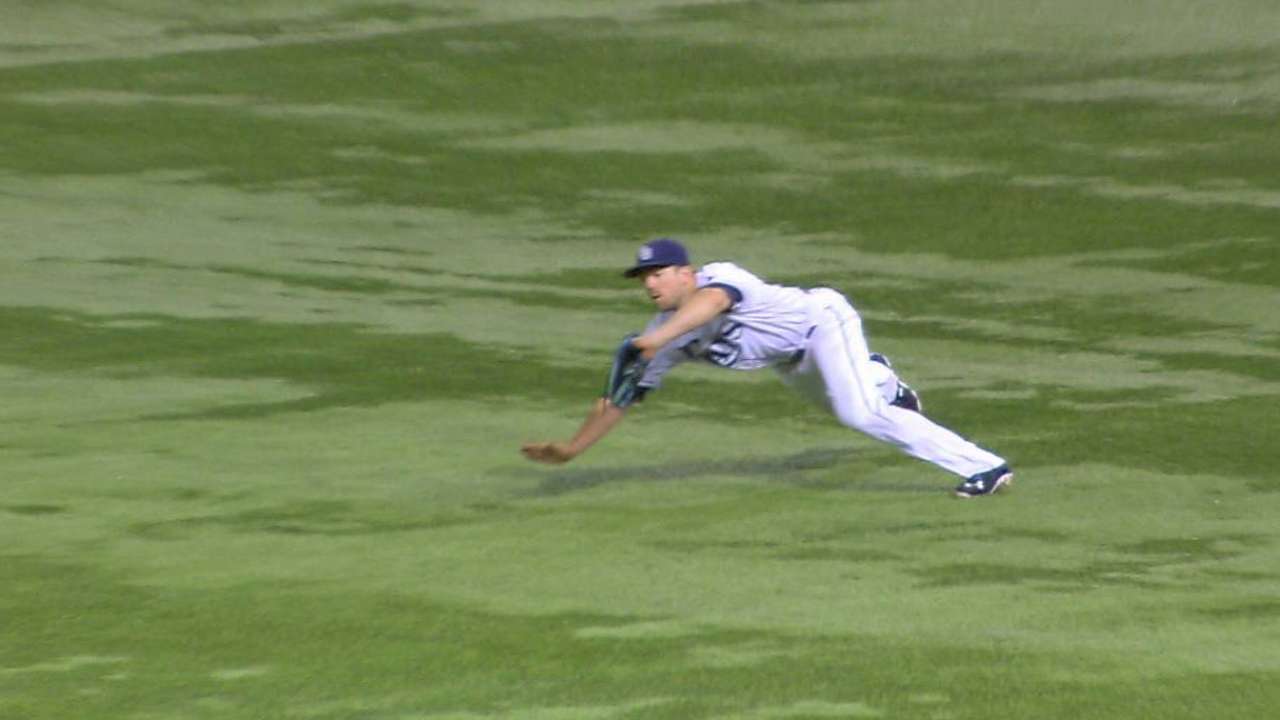 Added Rays manager Kevin Cash: "I think a lot of the credit has to go to the way the starting pitchers have kind of turned the corner. I don't know what took place over the All-Star break, but it seemed like they came back and they've been providing us some good outings and they've given us some good chances to win games."
While Monday's non-waiver Trade Deadline is looming and the last-place Rays might be in a situation of too little, too late, there is hope inside the clubhouse that management might keep the team together for a do-over in 2017.
"I think when you have chemistry like we do with this club you definitely want to hold onto guys and build as a club," Forsythe said. "And learn from mistakes like this year and try to work to be a more competitive club.
"... It's something to take into Spring Training. We try not to let the Deadline like bother us too much. But you know it's out there. When the day comes and it passes I think some guys will be more at ease."
Souza echoed Forsythe when he noted: "I think if we keep most of this core together and we come through the season healthy, we can do a lot of special things. Whether or not that's going to happen is not up to us."
Bill Chastain has covered the Rays for MLB.com since 2005. This story was not subject to the approval of Major League Baseball or its clubs.