Prado breaking out home run swing since break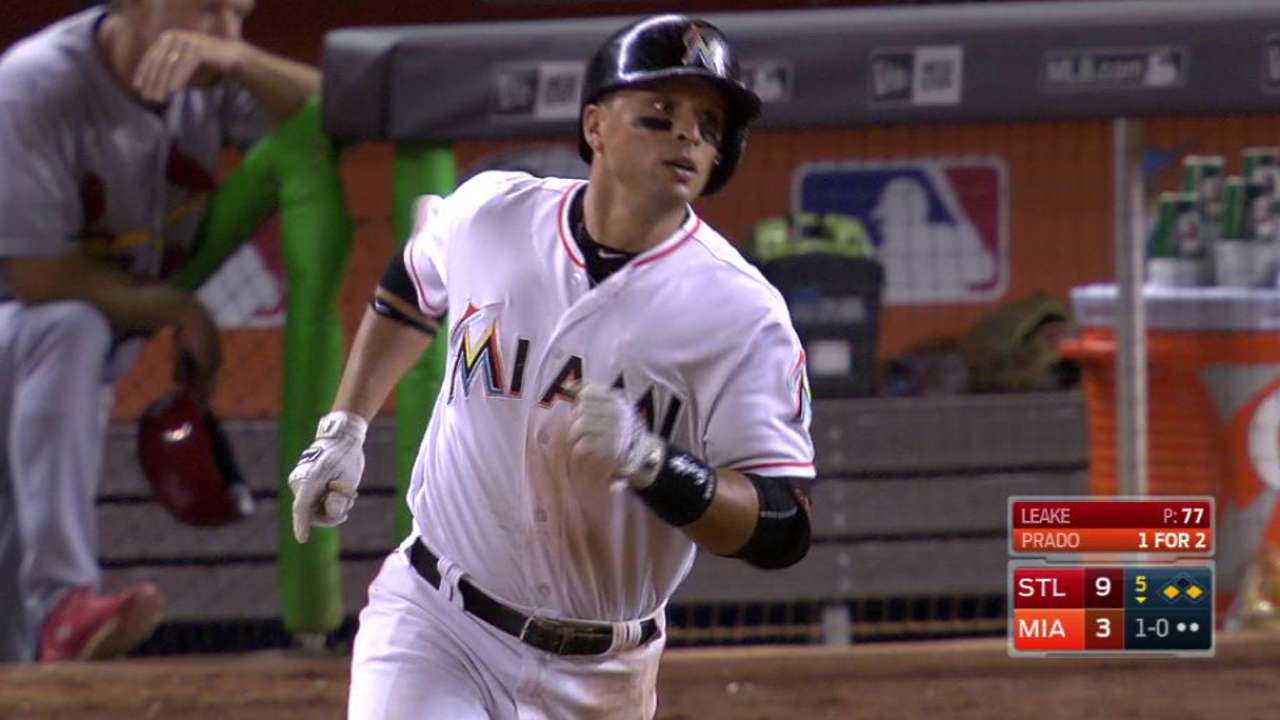 MIAMI -- Marlins third baseman Martin Prado ranks among the National League leaders in batting average, but since the All-Star break, the 32-year-old also is flashing some unexpected power.
Prado's three-run homer in the fifth inning on Friday gave the Marlins some hope on a night their comeback attempt fell short, 11-6, to the Cardinals at Marlins Park.
But after Prado went deep to left off Mike Leake, the Marlins pulled to within 9-6 after they fell behind by eight runs.
Prado has now homered three times since the break, and he has connected in each of the first two games of the series with the Cardinals. On Thursday, he belted a two-run homer in a 5-4 loss.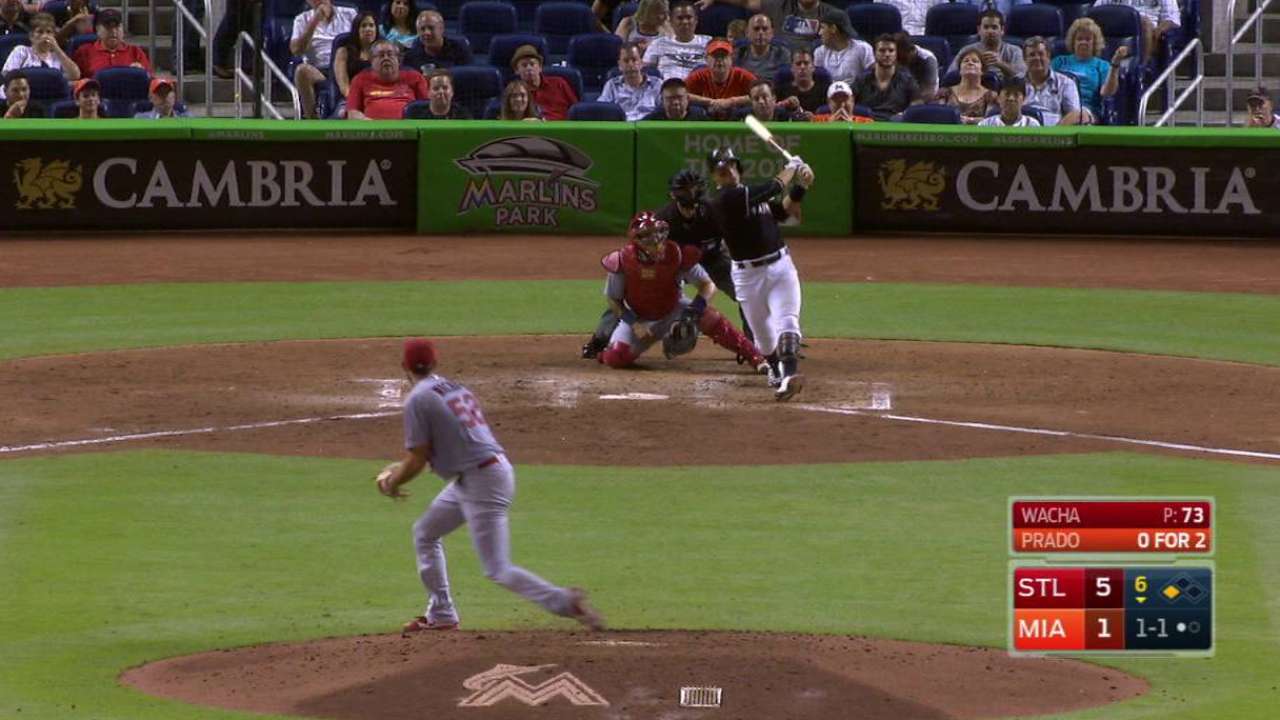 "We're seeing power," manager Don Mattingly said. "That's one thing, Martin has been pretty locked in all year and swinging the bat well. Now all of a sudden, he hits one in Philly. He's hit a couple here. All of a sudden, he's showing some power. Obviously, that changes his dimension in a sense where it changes how you have to pitch him."
Prado's home run at Philadelphia on July 18 came in the 11th inning, and it proved to be the game-winner.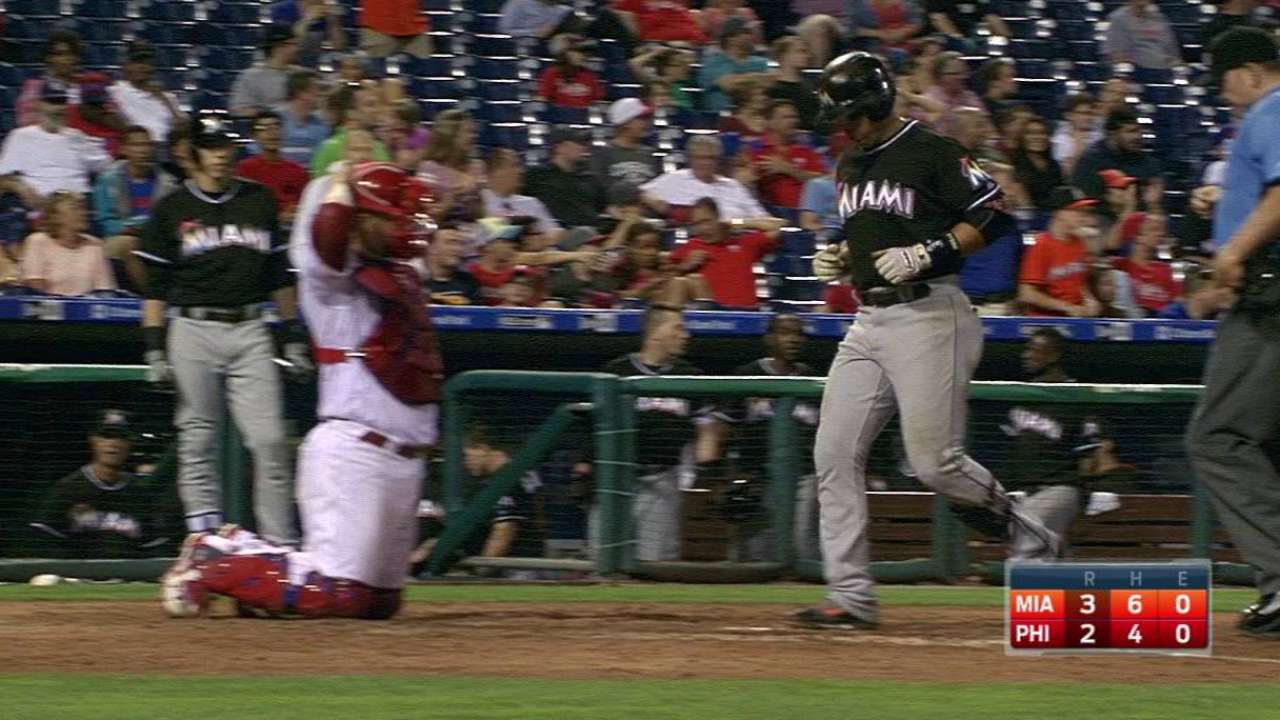 For the season, he has five home runs, and 41 RBIs, batting primarily in the second spot.
"It's been a long journey this year, just trying to figure it out," Prado said. "At the beginning of the year, I was just drifting, the middle half of my body was a little in front, so I was just using my hands. I was not incorporating my hips and everything.
"Hitting is so complicated, because sometimes you think you have to swing harder to be able to drive the ball, but it's all mechanical. I'm a mechanical guy. Sometimes, when my mechanics are a little bit out of whack, my power doesn't show."
Prado raised his average to .327, which is third best in the NL.
The veteran leader on the squad, Prado also is a stabilizing influence in the clubhouse.
"I've been working lately to just drive the ball the other way," Prado said. "Sometimes you're just going to get lucky and get the right pitch to hit."
The home run on Friday brought Marlins Park to life after the Cardinals scored six in the top of the fifth.
"After I hit it, we felt good energy in the stadium," Prado said. "A lot of people got into the game then.
"I know we had a tough loss today, but we're showing signs that we play 27 outs. Losing a couple of important games for us. But there is nothing we can do now. We're just going to come tomorrow and start a new winning streak."
Joe Frisaro has covered the Marlins for MLB.com since 2002. He writes a blog, called The Fish Pond. Follow him on Twitter @JoeFrisaro and listen to his podcast. This story was not subject to the approval of Major League Baseball or its clubs.