Comeback shows Indians' improved tenacity
Held to one run through six innings, Cleveland rallies for four in seventh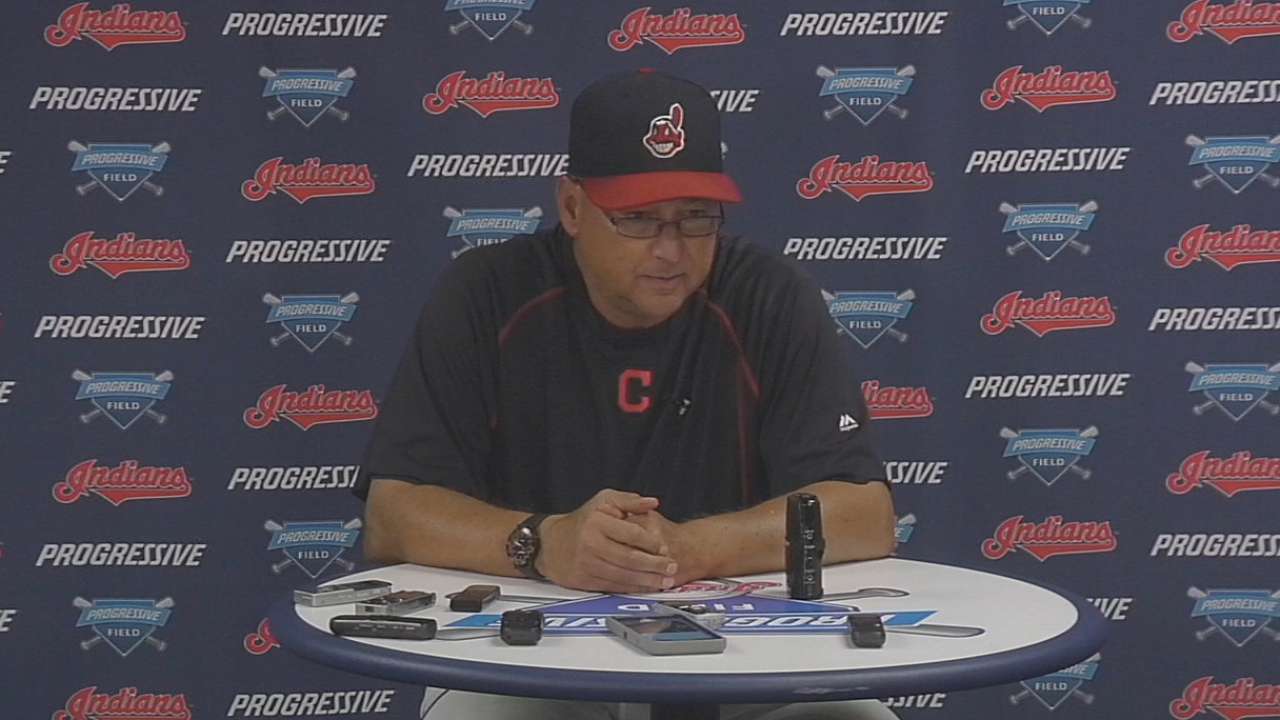 CLEVELAND -- Abraham Almonte felt he could sense the shift in momentum. So, when the Indians' outfielder singled to center field in the seventh inning on Friday night, he responded as emphatically as the roaring Progressive Field crowd.
Almonte clapped his hands hard. He pumped his fist multiple times. He gave first-base coach Sandy Alomar Jr. a bruising fist bump. The A's had been in control all night, but Almonte's pinch-hit single cut into Oakland's lead and sparked a four-run push that led to a 5-3 comeback win for Cleveland.
"With the team we have right now, I think we can come back from anything," Almonte said. "You can see the worst situation and then ..."
Almonte snapped his fingers.
"We can come back and do it," Almonte continued. "We have been doing it."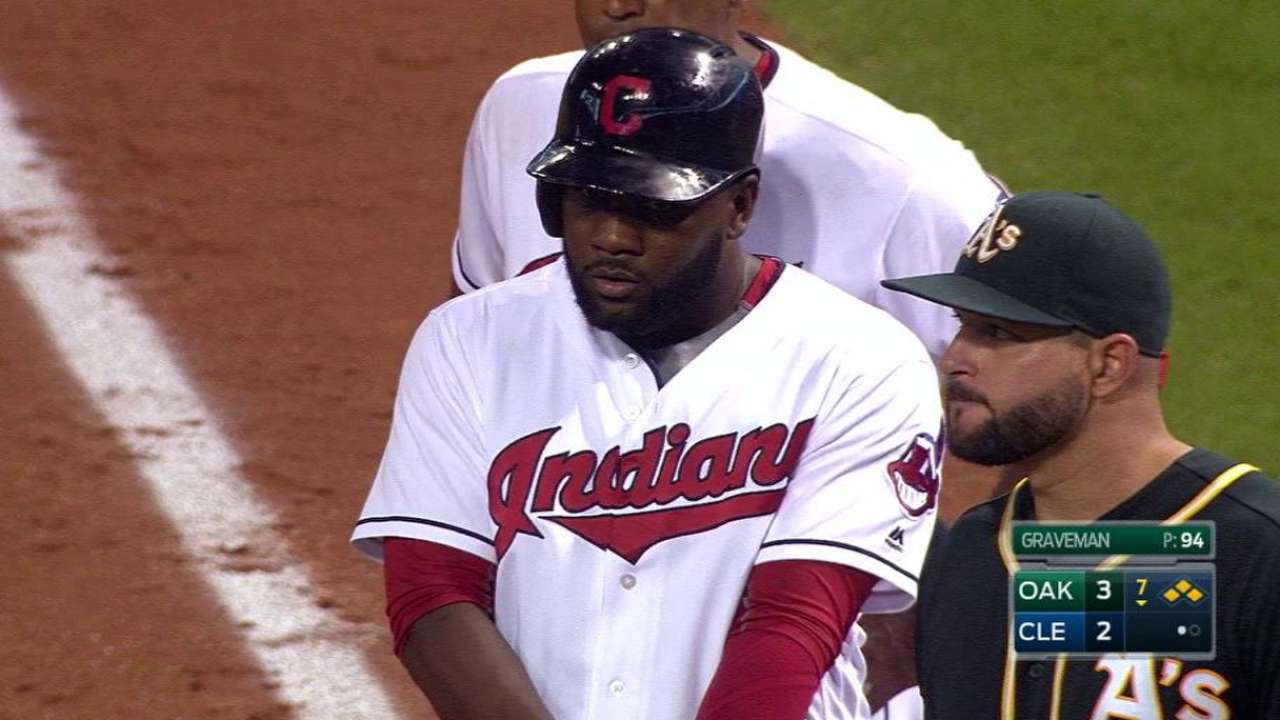 It has been one of the signatures of this Indians team, which holds a 4 1/2-game lead atop the American League Central and boasts the best winning percentage (.580) in the AL. Over the past couple seasons, a deficit within a game in which the Tribe's lineup lacked early life often led to a loss. One of the club's traits this year has been improved in-game fight, leading to some comeback wins, especially at home.
A familiar script was playing out on Friday night.
A's starter Kendall Graveman had handcuffed the Indians' lineup for the first six innings, in which his lone hiccup was a solo home run by Carlos Santana in the sixth. Cleveland's offense was wearing out the infield grass with groundouts and Oakland's three-run lead through six frames felt much larger in scale. When Lonnie Chisenhall popped out to shortstop to open the seventh, it seemed like more of the same.
"He's so good," Cleveland manager Terry Francona said of Graveman. "He was throwing strikes -- sinking it -- and just kind of pounding the zone with it. We hit some balls hard, but when you're sinking it and throwing strikes and keeping it down, those things are going to happen."
The Indians' offense quickly sprang to life, though.
With one out in the seventh, Rajai Davis hit a chopper up the middle, where A's shortstop Marcus Semien glided towards the grounder. Francona said that Davis, who typically starts against lefties, was in the starting lineup Friday against the right-handed Graveman with the hope of influencing the game with his speed. As Davis cruised up the first-base line, Semien bobbled the ball, opening the door for the Tribe.
"His speed is a factor," Indians closer Cody Allen said of Davis. "His speed will make guys rush on plays like that. If he doesn't hit a two-hopper right at you where you can kind of take your time, a little chopper like that, guys have to rush and try to make a good play. Sometimes you can force guys into a tougher play than it actually is."
Rookie Tyler Naquin followed with a base hit to left field, prompting Francona to call Almonte off the bench to pinch-hit for catcher Chris Gimenez.
Naquin's base hit had Almonte's confidence high in that moment.
"As soon as Naquin [got] that hit," Almonte said, "I think, 'We got it here.'"
Almonte's single to center scored Davis from second, cutting Oakland's lead to 3-2. The A's then turned to lefty Marc Rzepczynski, who walked Santana and then gave up a broken-bat single to Jason Kipnis that tied the ballgame. Ryan Dull came on in relief and fired a wild pitch that allowed Almonte to score, and Santana then sprinted home on a sacrifice fly to right field by Francisco Lindor, providing the Indians with a critical insurance run.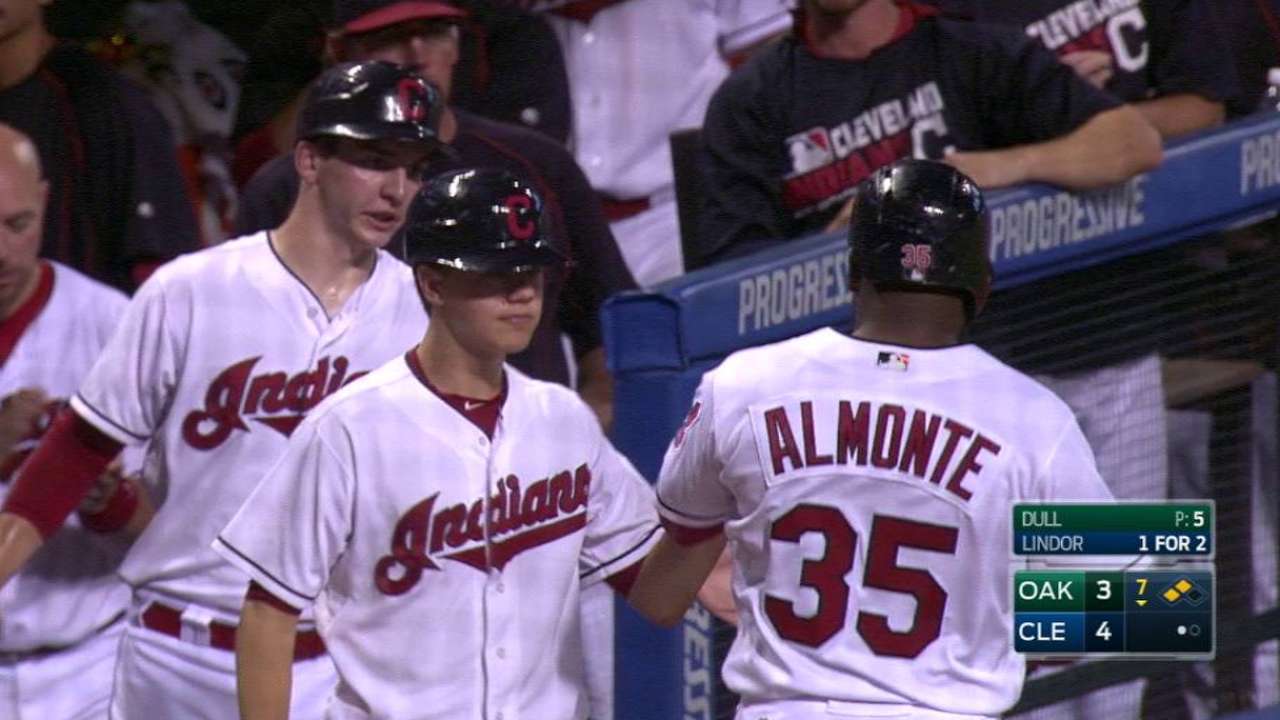 In a manner of minutes, what had the makings of a tough loss turned into a morale-boosting victory.
"That's how you win ballgames," Allen said. "We scored late, which was good to see life like that. Good teams, championship teams, you see a lot they score late and their bullpen holds down leads. It was definitely good to do that and play good baseball tonight, and get back to doing that."
Jordan Bastian has covered the Indians for MLB.com since 2011, and previously covered the Blue Jays from 2006-10. Read his blog, Major League Bastian, follow him on Twitter @MLBastian and listen to his podcast. This story was not subject to the approval of Major League Baseball or its clubs.