Trio of 1st-inning jacks sets tone for Blue Jays
TORONTO -- It was a clash of two heavyweight offenses on Friday night at Rogers Centre, and while it wasn't a knockout punch, the Blue Jays' big bats made a first-inning statement in an eventual 6-5 victory.
Trailing, 2-0, after a Mark Trumbo two-run double in the top of the first, three of the Blue Jays' first five batters hit long home runs in the home half of the frame.
Jose Bautista, Edwin Encarnacion and Troy Tulowitzki recorded the club's third three-homer first inning in franchise history, and the first since Aaron Hill, Vernon Wells and Adam Lind recorded the feat on June 24, 2009, against the Reds.
"I know one thing, that was a typical Toronto vs. Baltimore type game the last couple of years -- two teams really just slugging out," Blue Jays manager John Gibbons said. "Trumbo had the big hit with the clutch two-run, two-strike hit, and then we answered right back. I thought that was important."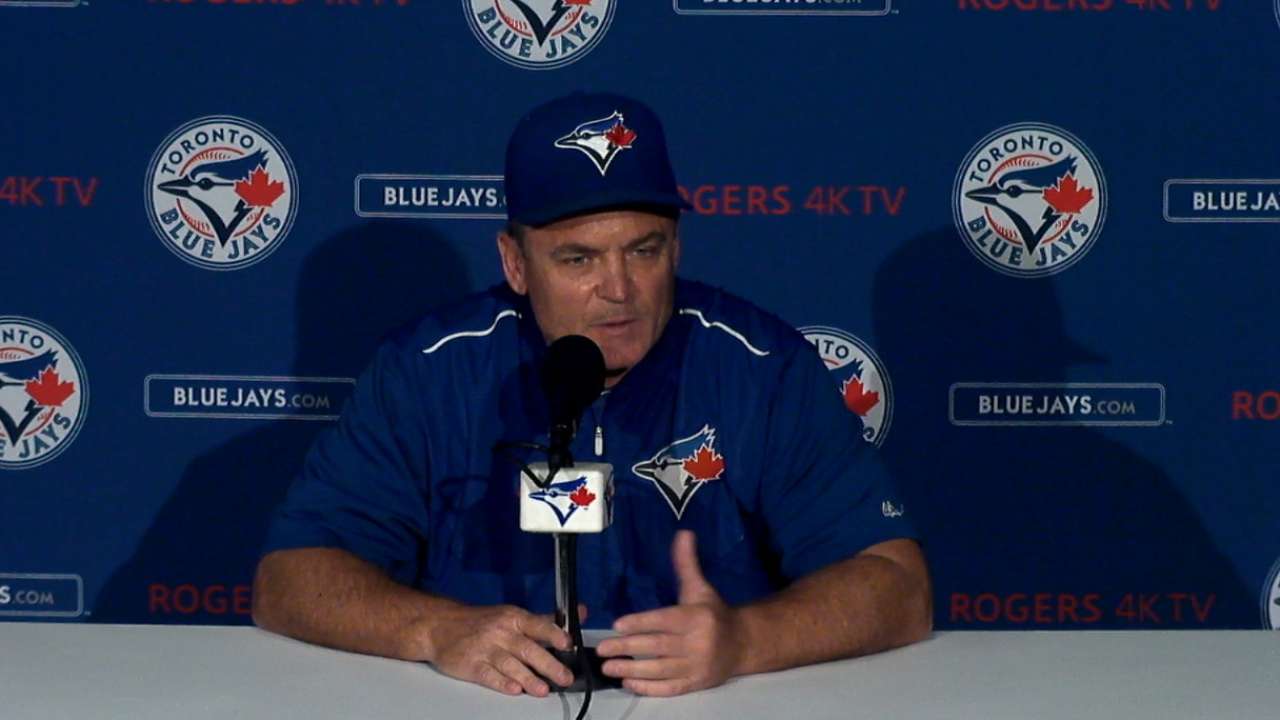 Much like the Orioles' quick-strike attack in the top of the first, the Blue Jays' 15th multi-homer inning of the season -- and second three-homer inning of the year -- proved why these teams are just a half-game apart in the American League East standings.
The Blue Jays' tandem of Bautista and Encarnacion entered the evening a combined 0-for-20 against Gausman for their careers, but both were instrumental in the early rally.
Bautista's blast was his seventh career leadoff home run and Major League-leading 73rd RBI against the Orioles since 2010. Encarnacion's jack was the 34th of his career against Baltimore, his most against any opponent. Toronto's big designated hitter sits behind only Alex Rodriguez (69) and David Ortiz (52) for the most homers among active players against the O's.
"It's really emotional when we play those games, knowing that they're in first place," Encarnacion said. "So it's always competitive to play against them. We're just trying to be aggressive. We always put the work in and it worked for us today."
The Blue Jays' victory on Friday night gave them the slight edge so far in the season series, 6-5, with seven of those affairs being one-run contests. With Marco Estrada unusually shaky in the first inning due to some lingering back pain -- he allowed just his sixth and seventh first-inning runs of the season -- the extra offense gave their starter a chance to regroup.
"It's awesome to see the guys swing it," Estrada said. "Gausman's tough and we put some pretty good runs on the board early on. We got a bunch of runs that I obviously needed. I'm just glad the guys put some swings together today and played incredible defense behind me."
Alykhan Ravjiani is a reporter for MLB.com based in Toronto. This story was not subject to the approval of Major League Baseball or its clubs.