Dickerson departs with a right hip contusion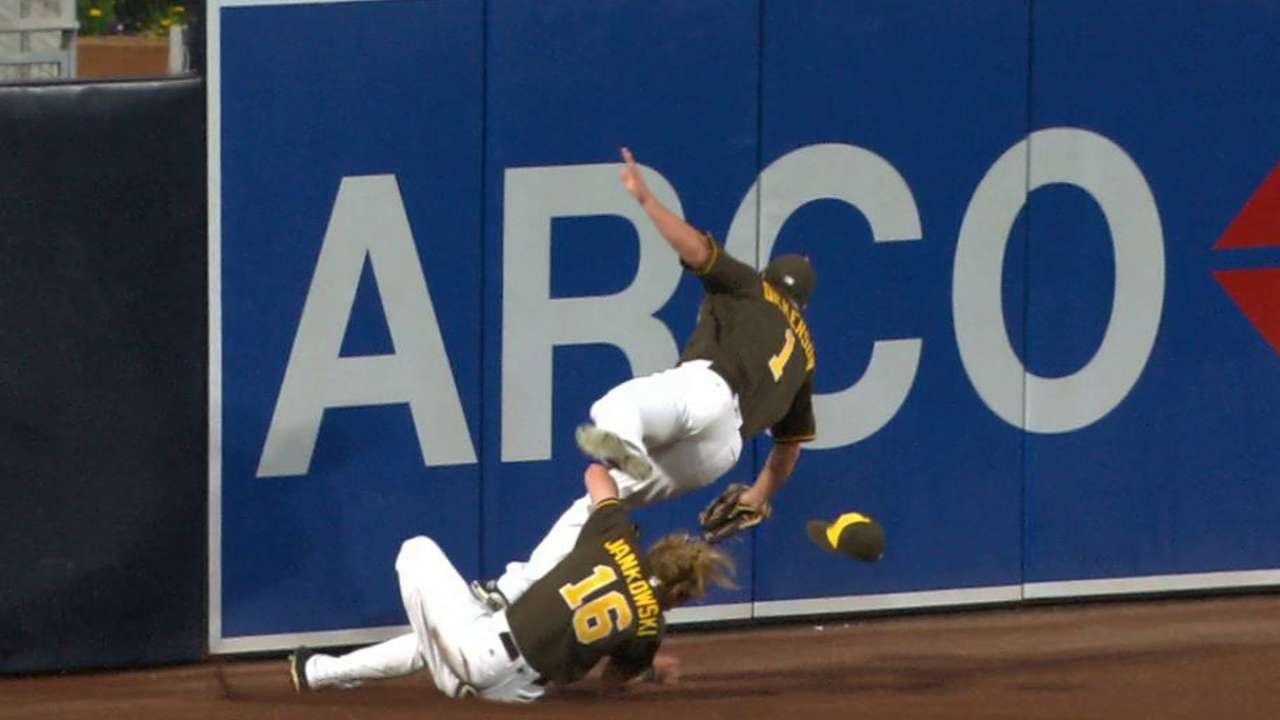 SAN DIEGO -- Padres left fielder Alex Dickerson exited Friday's game against the Reds with a right hip contusion after colliding with center fielder Travis Jankowski on the warning track in the top of the first.
X-rays on Dickerson's hip came back negative, and he's day-to-day.
"He's going to be sore tomorrow," Padres manager Andy Green said following a 6-0 loss to the Reds. "No break, no fracture. He's just kind of banged up on that. He landed pretty hard. If you saw the replay, you know how hard he hit."
Reds shortstop Zack Cozart, the second batter of the game, hit a drive to the left-center-field gap, forcing Dickerson and Jankowski to converge. Jankowski slid, attempting to make the catch, and Dickerson went airborne after the two collided.
"We were both hustling after it, and neither of us were going to get to it, so neither of us called it," Jankowski said. "I just slid so I didn't hit the wall and tried to reach out and get it. Dickerson said he was reaching at the same time. We just collided.
"We're both going after a ball in no-man's land, and that was the result."
Dickerson -- who was handed the keys to the starting left-field job after Melvin Upton Jr. was dealt to Toronto -- came down awkwardly on his right hip, and was removed after being looked at by trainers for about five minutes. Jankowski, meanwhile, was struck in the face by Dickerson's knee but he remained in the game.
Backup catcher Christian Bethancourt replaced Dickerson in left. In his fifth game there this season, Bethancourt committed his first error as an outfielder, bobbling an Eugenio Suarez two-run single in the top of the fifth.
Dickerson's presence could've potentially helped the Padres extend their home run streak to 26 games, which would've set a National League record. He had homered in four straight games entering play Friday, a Padres rookie record.
AJ Cassavell covers the Padres for MLB.com. Follow him on Twitter @ajcassavell. This story was not subject to the approval of Major League Baseball or its clubs.