Cervelli exits vs. Brewers with right foot injury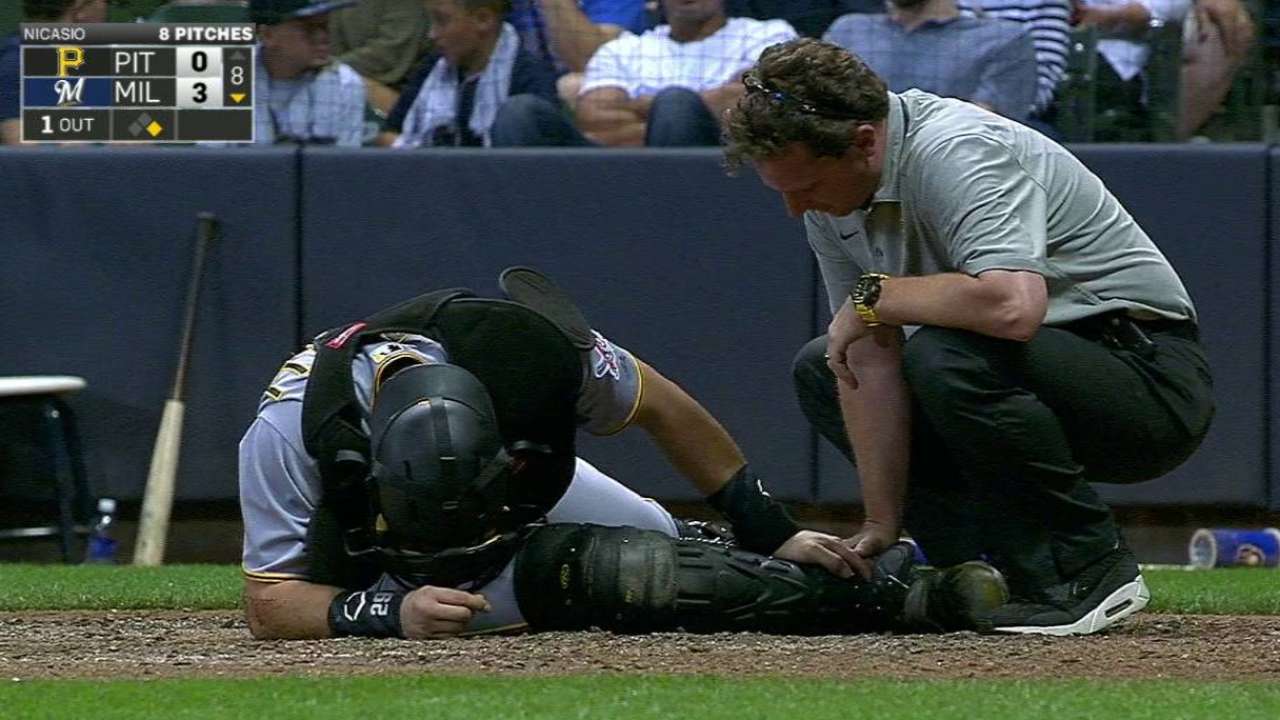 MILWAUKEE -- Pirates catcher Francisco Cervelli was helped off the field after taking a pitch off his right foot during the eighth inning of Pittsburgh's 3-1 loss to the Brewers at Miller Park on Friday night.
Cervelli was behind the plate while reliever Juan Nicasio was pitching to Scooter Gennett. Nicasio's 1-2 slider nicked Gennett's pant leg and appeared to hit the instep of Cervelli's right foot or ankle.
"I think it was a misdirect off the other guy. There's nothing you can do there," manager Clint Hurdle said. "It got two bodies in one pitch and caught him pretty square."
Hurdle described the injury as "right foot discomfort." Cervelli declined to comment through a team spokesman.
Cervelli immediately went down to the dirt in pain, holding his right foot as head athletic trainer Todd Tomczyk rushed onto the field. Supported by two trainers and not putting any weight on his right foot, Cervelli limped off the field and into the clubhouse.
Backup catcher Eric Fryer replaced Cervelli behind the plate. The Pirates are already without catcher Chris Stewart, who began the year as Cervelli's backup, while he recovers from a stiff left knee.
Cervelli is hitting .258/.361/.295 with 23 RBIs this season. He missed more than five weeks in June and July after undergoing surgery to repair a fractured hamate bone in his left hand.
Adam Berry has covered the Pirates for MLB.com since 2015. Follow him on Twitter at @adamdberry. This story was not subject to the approval of Major League Baseball or its clubs.