Jones, Robertson celebrate '06 run in Detroit
Duo reflects fondly on memorable season, despite being haunted by World Series loss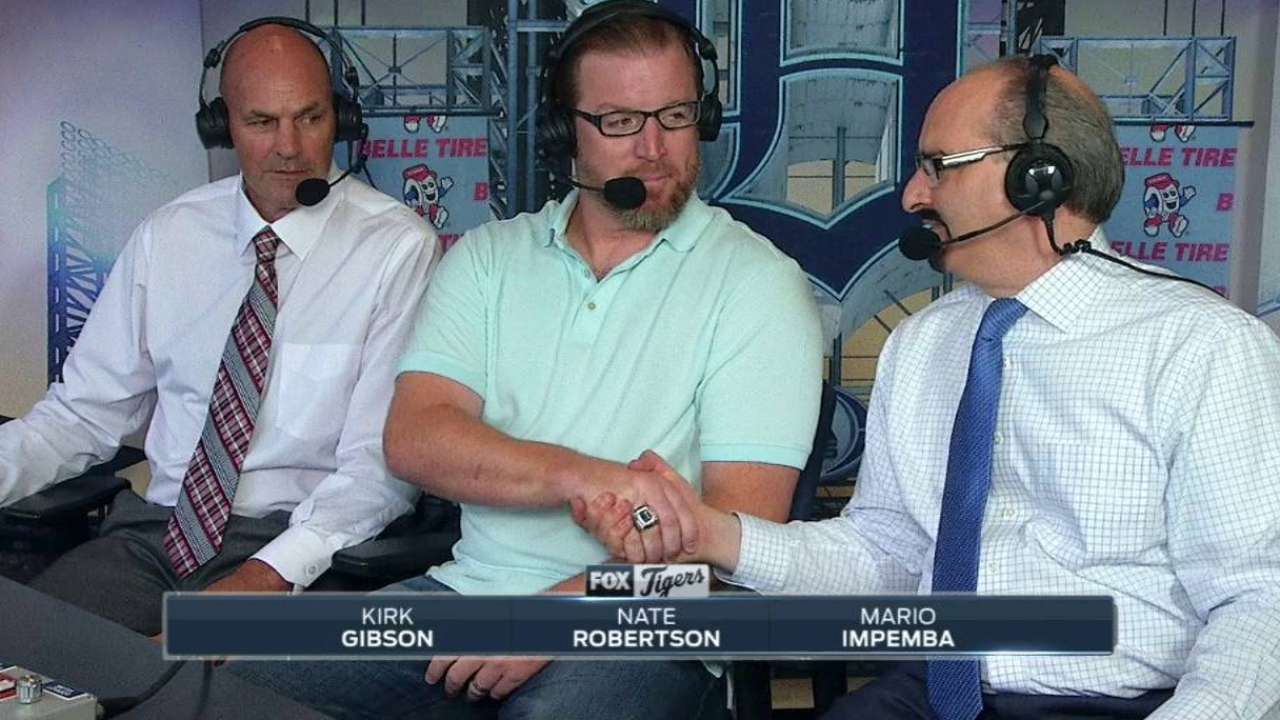 DETROIT -- It has been 10 years since the Tigers' resurgent 2006 season ended with a World Series loss against the Cardinals. And while most Tigers fans remember that season fondly, coming up short still weighs on the mind of former closer Todd Jones.
"I don't know what anybody else has said, but I want to be one of the first ones to apologize for not winning that," Jones said Friday at Comerica Park. "Because I really thought we had a good chance to do that, and we didn't take advantage of it. And I have to live with that the rest of my life."
Jones, who is now a roving bullpen coach for the Tigers at the Double-A and Triple-A levels, spoke to members of the media in the press box Friday, along with former Tigers pitcher Nate Robertson, as a part of the 10-year anniversary tour. Robertson took part in a pregame Q&A session with fans at the ballpark Friday, and Jones will do the same on Saturday.
• 2006 AL champions 10th anniversary celebrations this season
While Jones admitted the Tigers' shortcomings in 2006 still haunt him, he reflected on what the season meant to him and the city. Just three years removed from a 119-loss season, the Tigers' fan base got a jolt of rejuvenation that year. Jones said he first began to believe his team could make a special run in late May or early June, when Comerica Park was packed with fans amid a sense of excitement and electricity.
"I remember one night against the White Sox, we were playing at home, it was a Friday night and we were losing," Jones said. "Craig Monroe hit a home run, and the place went crazy, and that was kind of the first time I felt like we had something to build on."
Jones and Robertson both said the team camaraderie is what they remember most.
"I miss the guys," Jones said. "I don't miss fair territory at all. I was lucky enough to have it be that way. And I say that with all the respect in the world, because a lot of guys don't get to play as long as I did."
#GumTime pic.twitter.com/sLTpT6dP8n

— Detroit Tigers (@tigers) July 29, 2016
Robertson's career dipped due to a string of injuries shortly after the 2006 season. He was traded to the Marlins in 2010, and leaving Detroit was one of the hardest things he has had to do, even if it meant that he and his wife were going back to Florida, where she is originally from.
Robertson said he and his wife fell in love with the city of Detroit after being acquired from the Marlins in 2003, the day after he was married. So much so, that she would not let him go back to Detroit for a weekend trip without her.
"That's special," Robertson said. "And to take her out of a warm state like Florida, and to come up here and live through Michigan winters, although we did have that little Spring Training exile, it was the people, it was the relationships."
Tigers fans remember Robertson for starting the "Gum Time" tradition when he and other players would put large amounts of Big League Chew in their mouths to try and start late-inning rallies.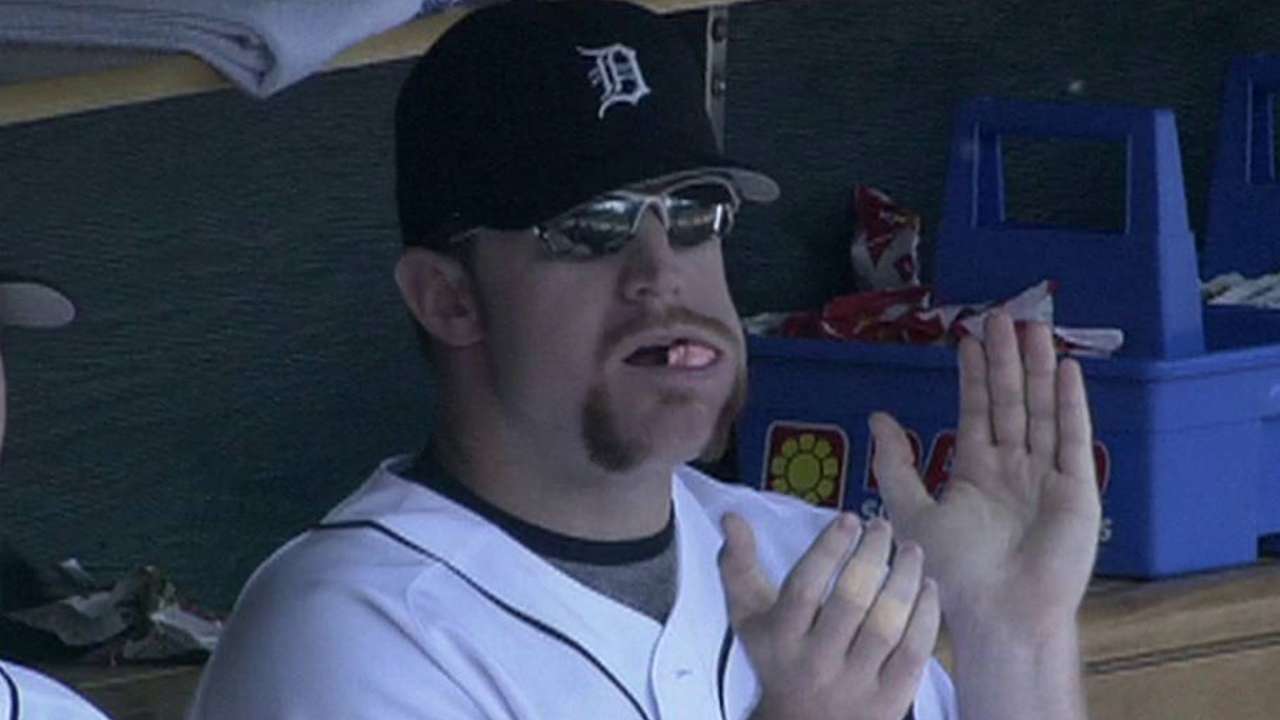 He recalled feeling honored by the way fans embraced the tradition he started while on an in-game TV interview early that season. That was just one way he saw an outpouring of support from Detroit fans, and he let them know about his appreciation during Friday's pregame Q&A session.
"I've been around a lot, I've played around a lot of towns, and I'm not biased," he said. "This, to me, is the greatest sports town in America."
Kyle Beery is a reporter for MLB.com based in Detroit. This story was not subject to the approval of Major League Baseball or its clubs.