Ichi-throw: No hits, but outfielder gets assist
Veteran goes 0-for-4 to remain at 2,998 for MLB career, nails Wong at plate with laser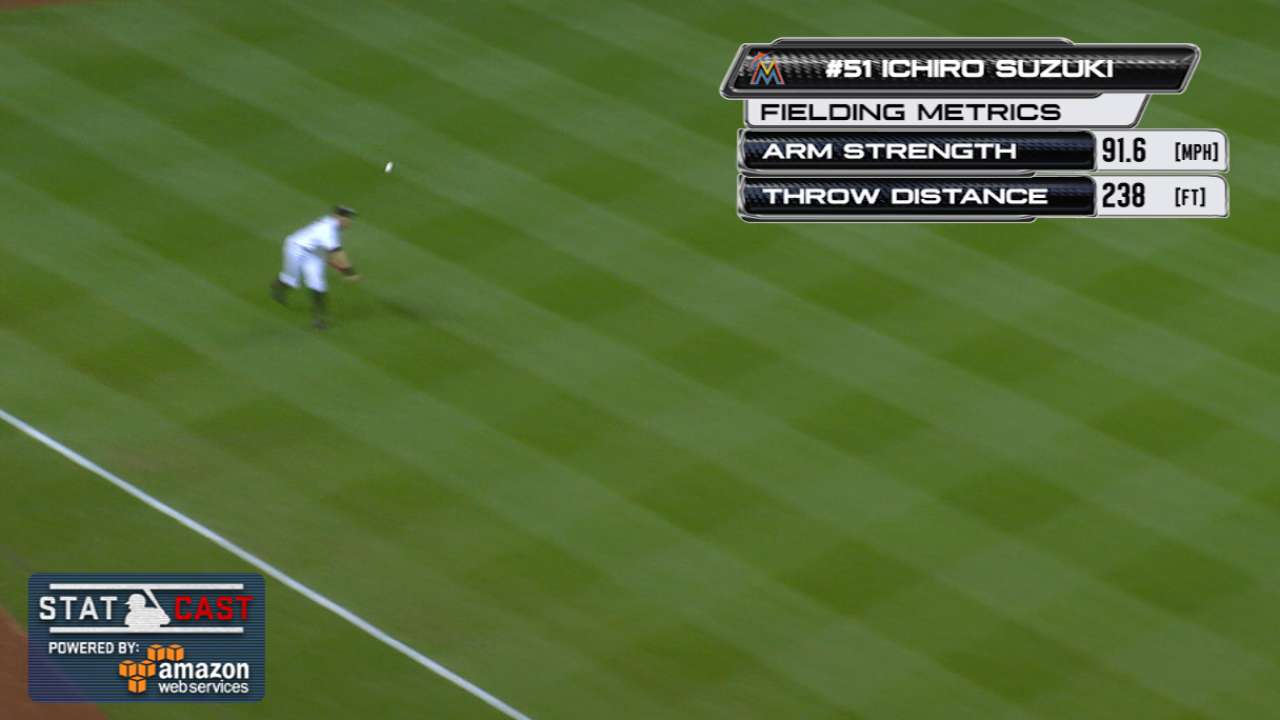 MIAMI -- Fans may have wanted to see Ichiro Suzuki make history with his bat in the Marlins' 11-6 loss to the Cardinals on Friday night at Marlins Park, but he instead showed off his arm.
Ichiro, who went 0-for-4 and still needs two hits to become the 30th player in Major League history to reach 3,000 for his big league career, drifted down the left-field line with one out in the fourth and threw a laser home to nail Kolten Wong at the plate on what would've been a sacrifice fly. The assist held St. Louis to a 3-1 lead at the time.
"Pretty good, huh?" Marlins manager Don Mattingly said. "Ich is a great player, and if you watch him play, it's so much fun. He probably had two or three throws today on balls that were at certain spots of the field, and if they wanted to tag, he threw the nice little bounce, skip-hop right on the base."
Per Statcast™, the 42-year-old's throw to get Wong topped out at 91.6 mph and traveled a distance of 238 feet. It was Ichiro's second-hardest throw from the outfield this season.
"We all know Ichiro is definitely someone who can throw," Wong said. "I knew when he hit it to him, I thought, 'Man, this is going to be tough.' I put my head down and knew I had to run as hard as I could. He still got me."
Despite not playing every day, Ichiro now leads all Marlins outfielders with six assists. It was also the 122nd assist of his career, third most among active players behind Jeff Francoeur (132) and Carlos Beltran (142).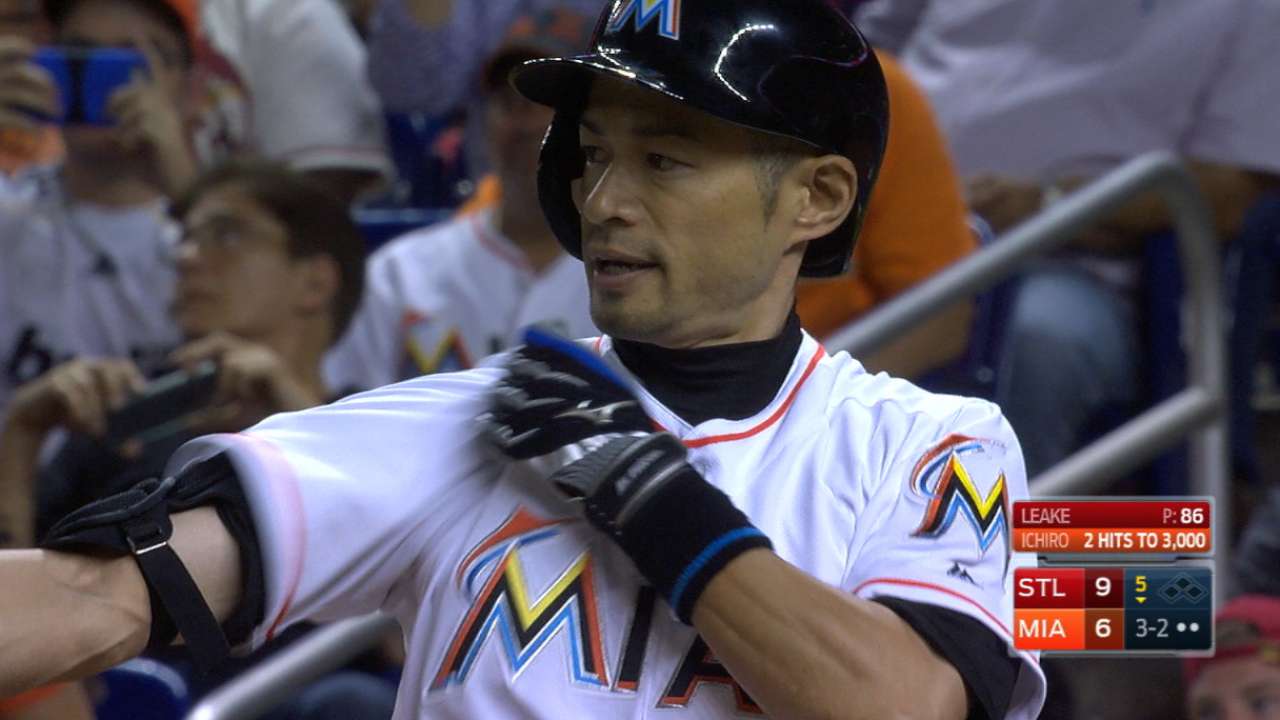 "It's just textbook fundamentals the way he plays," Mattingly said. "It's so lost nowadays. You just don't see it near as much. He's just so technically sound and plays the game the right way. It's really fun to watch."
Ichiro started in place of Christian Yelich, hitting third and playing left field. With all three Marlins starting outfielders healthy, Ichiro isn't scheduled to start on Saturday. The last time he started back-to-back games was nearly a month ago on June 28-29 at Detroit.
"I don't see him in there tomorrow with the lefty," Mattingly said on facing Cardinals starter Jaime Garcia. "[Yelich] is back. [Marcell Ozuna] is swinging the bat good. [Giancarlo Stanton] looks good. Tomorrow would not be that day."
Patrick Pinak is a reporter for MLB.com based in Miami. This story was not subject to the approval of Major League Baseball or its clubs.