Roster roulette: Padres add Rondon, Campos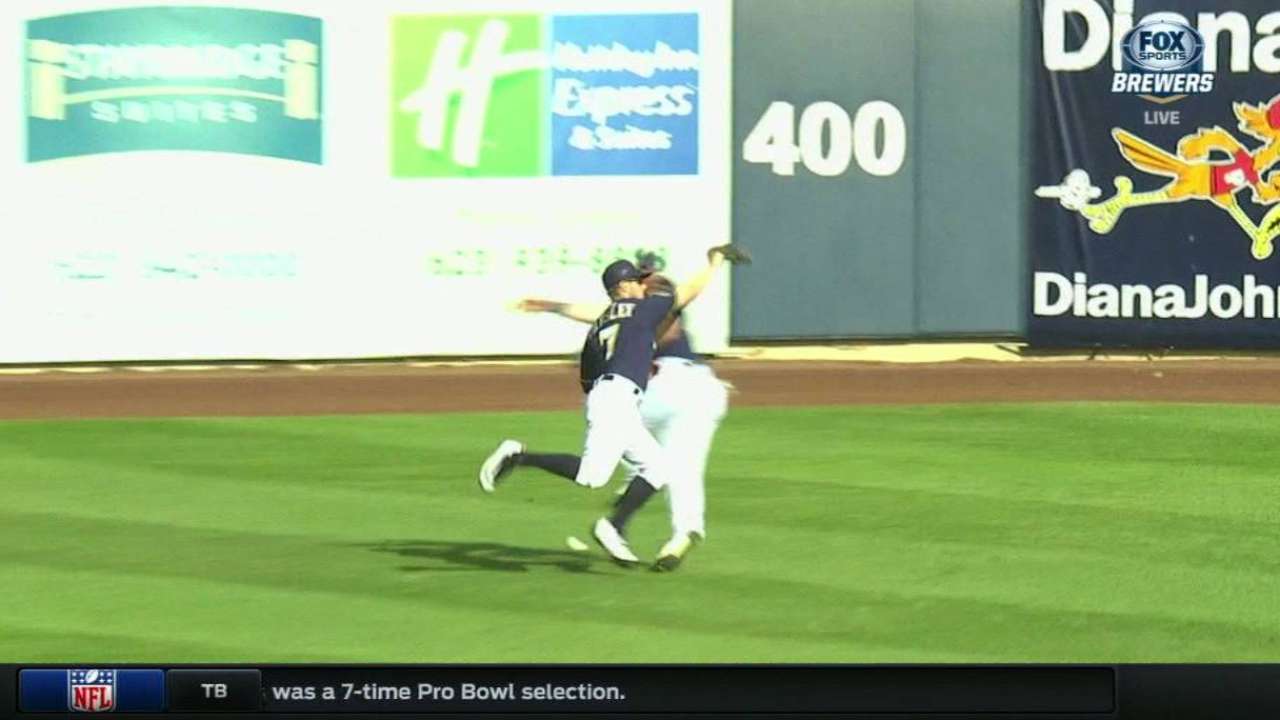 SAN DIEGO -- The Padres recalled No. 12 prospect Jose Rondon from Double-A San Antonio and right-hander Leonel Campos from Triple-A El Paso Friday, in the wake of a seven-player deal that sent Andrew Cashner and Colin Rea to the Marlins.
Rondon, a shortstop, isn't expected to get a lot of playing time at the moment, as his promotion could be just to give Padres manager Andy Green more flexibility with Yangervis Solarte on family leave.
"This isn't necessarily the dawn of the Jose Rondon era here at Petco," Green said, "but he's getting an opportunity to get on the baseball field, and he's in the big leagues. So whatever he takes from the opportunity and runs with it, it will be beneficial for his future."
Rondon went 0-for-1, grounding into a double play as a pinch-hitter in the fifth inning of Friday's 6-0 loss to the Reds.
Green compared the situation to Alex Dickerson, who was promoted to the big league team on several occasions before getting an opportunity to play regularly.
Rondon likely has a high ceiling thanks to solid or above-average hitting, running, fielding and throwing tools, with power being the sole glaring weakness in his game. He was hitting .279/.310/.386 this season in 376 at-bats with San Antonio.
"[I've] been working on a lot of stuff," Rondon said through an interpreter. "My defense; hitting obviously, in a general sense. Just focusing on my swing and pitch selection on the offensive side. And defensively, really trying to stick with a routine and establish a good routine."
For Campos, this will be his fourth stint with the Major League team this season. He has thrown 5 2/3 innings with the Padres, posting a 7.94 ERA compared to 44 innings and a 4.09 ERA with El Paso.
Changes in the starting rotation
Now that Rea and Cashner are out of the equation, Green will be going with Paul Clemens on the mound for Sunday's game, and newly acquired Jarred Cosart in Monday's series opener vs. the Brewers.
"I think that's been anticipated for a period of time now as we've talked about trying to get [Clemens] to the rotation," Green said. "It gives Jarred Cosart the opportunity to come in, throw a bullpen [Saturday] for [pitching coach] Darren Balsley, get acclimated a little bit and then throw on Monday.
"And we'll follow him up with Luis Perdomo on Tuesday."
Cosart started just four games for the Marlins this season, throwing 19 2/3 innings and posting a 5.95 ERA. Walks have hurt him, as he's issued 16 free passes compared to just 11 strikeouts.
Clemens has been used as a starter just once with the Padres this season, when he tossed five innings and allowed three runs to the Cardinals on July 20.
"Once you get here, you've got to keep them off-balance a little better," Clemens said. "So we're going to try to up that curveball usage rate, up that changeup usage. If I can do that consistently, keep hitters off-balance, I think I can throw six, seven innings a night."
The Padres will likely stick with an eight-man bullpen for a time -- they have 10 arms available in relief Friday -- with so many young pitchers in the rotation. Christian Friedrich is up to 87 innings after throwing just 58 1/3 in total during 2015, while Perdomo has thrown over 100 innings just once.
Given the amount of volatility in the rotation, Green said that the team would continue to explore options on the free agent market to help with the pitching depth at the Major League level.
"You've got some young guys, you've got some guys who haven't had a ton of innings in the recent past, so you want to protect those guys," Green said.
Carlos Collazo is a reporter for MLB.com based in San Diego. Follow him on Twitter @CarlosACollazo. This story was not subject to the approval of Major League Baseball or its clubs.